If there's a cake that I'm very fond of, that would be the pineapple cake. It's a classic in Chilean homes, many birthdays, afternoon tea time, meetings and celebrations that ended with a nice slice of this delicious recipe. My mother always prepared it, but I don't know if it was exactly like the one I bring to you here today, because as you may probably know there are always versions or modifications of these homemade recipes. It is delicious to remember how a meal (a cake in this case) can bring so many great memories back, and it's that fact that makes me understand the importance of what we serve at our tables, because that way we can create some history.
For this cake, if you would like to make one as tall as the one in the pictures below, I suggest you to make two simple sponge cakes. For the internal stuffing, I used layers of whipping cream, pineapples, and milk caramel (dulce de leche), but you can replace it with peach or apricot jam.
Print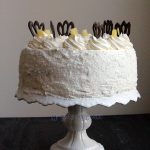 Pineapple cake
---
Total Time:

1 hour 25 mins

Yield:

2

0

1

x
FOR

1

SPONGE CAKE BASE:

6

eggs at room temperature

1 cup

of granulated sugar

3 tablespoons

of cornstarch

3 tablespoons

of flour

2 teaspoons

of baking powder

4 tablespoons

of cold water
FOR THE FILLING:

1

liter of whipping cream

3/4 cup

of powdered sugar

1 cup

of diced pineapple

1 cup

of milk caramel (dulce de leche), or peach or apricot jam.
FOR MOISTENING THE SPONGE CAKE:

3/4 cup

of water, or alternatively you can use pineapple juice (if using canned pineapple)

1/2 cup

of granulated sugar

1 tablespoon

of vanilla extract
FOR THE DECORATION:
Grated coconut, or chocolate chips
Melted chocolate chips to make figures
---
Instructions
Preheat the oven to 350°F (180°C).
Prepare a cake mold of 24 cms (9 inches), which should be buttered at the base and sides.
In a bowl or in the mixer, beat the 6 egg whites vigorously. After about 2 minutes of mixing, start gradually adding the granulated sugar until the mix thickens.
Then add the egg yolks one by one. Beat until well blended.
Then, in a separate bowl, mix the flour, cornstarch and baking powder.
Slowly add the dry ingredients to the mixture, and with the help of a wooden spoon or spatula, make "surrounding" movements, so that the mix gets enough air.
Add the spoonfuls of water. Join the mixture carefully, and then transfer it into the mold.
Bake for 25 minutes.
You should check if the cake is cooked in the center with the help of a wooden skewer. If it comes out dry, that means that the sponge cake base is ready.
Once ready, let the cake cool down.
Once the cake is cool, divide it into 3 equal parts (through its thickness, so that you get 3 circles). And if for some reason the cake didn't rise enough during baking, you can make one more sponge cake base.
Then, in a bowl, beat the cream until it gets the proper thickness, and then add the powdered sugar to it.
Prepare the moistening mix by mixing water with sugar and vanilla extract.
Moisten the first part of the cake well enough, and also on the sides.
Add a generous layer of cream, and then some chopped pineapple on top of it.
Then place the next layer of sponge cake on top, moisten it a little bit (just like the previous layer), and spread milk caramel (dulce de leche) or jam on top of it.
Place the last sponge cake layer, moisten it enough again, and thoroughly spread cream on top of it, as well as on the sides of the cake.
Leave some cream aside, so that you have enough to make a decoration to your liking over the cake.
On the sides of the cake, you may very carefully cover them with grated coconut or chocolate shavings.
For the chocolate chips, you can melt them in the microwave for 40 seconds. And with the help of a pastry bag or a Ziploc bag, you can make figures over parchment paper. Then place the chocolate figures into the freezer for a minute, and that's it, there will figures that you can use to decorate your cake.
Ideally, try to make the cake the day before, so that it achieves the correct consistency and mix of flavors.
Prep Time:

60 mins

Cook Time:

25 mins