This past weekend was very special in my home as we celebrated the first birthday of my daughter Camila. Thanks to her, my inspiration flowed with love and my idea was to make a beautiful birthday, which she may probably not remember much, but all that we did to celebrate her first birthday would be captured in photos. So, I decided the theme of the party with at least one month in advance, and that way I was able to finalize ideas with calm and in detail, as I don't have a whole lot of time during the week.
My first recommendation to develop the birthday idea is to choose the theme. It must be something you like or appeals to your baby, and I chose The Very Hungry Caterpillar, as it has been one of the first books my daughter liked to look at. Hence, the birthday color tones would definitely be green.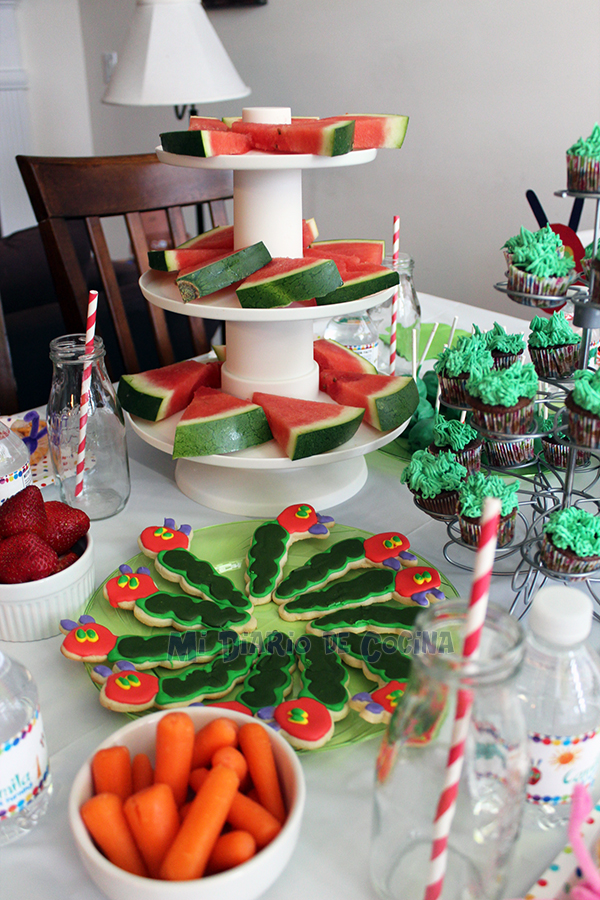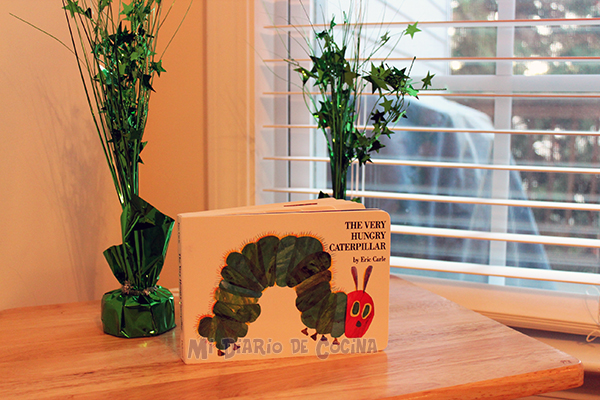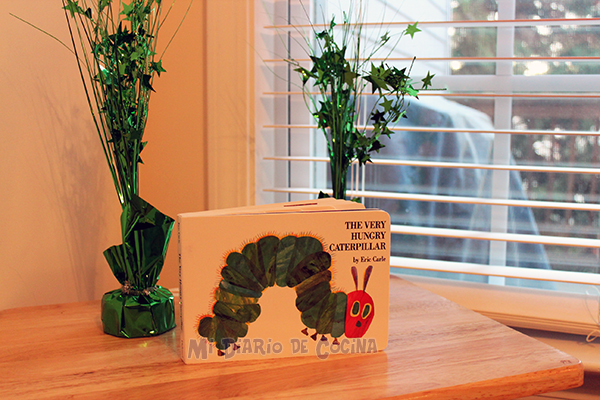 I decided to look for a cookie cutter in the shape of a caterpillar. Luckily, I found one and made this recipe for the cookies: http://www.midiariodecocina.com/en/easter-cookies/, they were a success.
For the mini cupcakes, I decided to simply make a couple of chocolate ones, with vanilla buttercream, and dyed them green. You can use the following recipe: http://www.midiariodecocina.com/en/chocolate-orange-mini-cupcakes/.
I made cake pops not only to decorate the table but also the cake, and with that making a caterpillar on top of it, as I didn't want to use fondant. I used the following recipe for the cake pops: http://www.midiariodecocina.com/en/cake-pops-for-my-baby/.
On the table, I put small plates with pieces of carrots and strawberries. I also included some watermelon chunks. It's good to encourage children since very young ages to enjoy fruits.
The other thing, even though green is the predominant color, there's no need to overload the table with the same color, which is why I used a white tablecloth to avoid overloading the decor.
I used glass bottles with a paper straw to decorate, but I also poured in there natural watermelon juice. There were not sodas or artificial juices.
I put a plate (for each child) with a butterfly wrapping some snacks, you can use any that you like. For the butterfly I used a small Ziploc bag, and I gave it shape with the help of a decorative crafts wire. (Some may ask what does the butterfly have to do with all this, but remember that at the end of the story the caterpillar turned into a butterfly). The kids can eat from whatever they choose to pick from the plate.
I also gave the children some small water bottles, and around the bottle I put a label about the caterpillar story, which included my daughter's name.
The cake, which by the way was very simple, was made of a sponge cake stuffed with dulce de leche (milk caramel) and cream, decorated with cream on the outside, and had some cake pops to form the caterpillar on top. As there was not a special candle about the story, I bought one that had the colors of the story itself.
For the birthday favors, or small presents to give thanks to the guests for coming, I used some white paper bags with a personalized label with the name of each child. Inside, I put assorted things, such as bubbles, stickers, etc.
I downloaded from the Internet some coloring pages about the caterpillar story, so that the kids can color them during the party.
On a big window that was next to the birthday table, I put a red balloon and 6 green balloons arranged to give the shape of the caterpillar. Well, that part was made by my husband and he made it look spectacular, as he put antennas and eyes to the red balloon. And for our little girl's chair, we decorated it with colored cardboard having the shape of the caterpillar too.
For the adults, I served a few dips with pita bread and tortilla chips. Then we served them pizza. Tasty and easy. I leave you here two recipes for these ideas: http://www.midiariodecocina.com/en/guacamole-and-hummus/ and http://www.midiariodecocina.com/en/base-dough-for-pizza/.
For the cake you can use this recipe, but beware, I suggest you better make both their sponge cakes of vanilla: http://www.midiariodecocina.com/en/carolina-cake/.