Always in the search of finding easy recipes for the visitors of this blog, is the reason why I tried to cook a whole chicken in the oven once again, as an idea for the Christmas' or New Year's dinner. This time I wanted to marinate it with soy sauce and rosemary, simple like that. I left it overnight in a Ziploc bag, but you can also put it in a large bowl in the refrigerator. The next morning, with the oven preheated, I put a little butter, salt and pepper over the chicken. And I got what I wanted, something simple and tasty. I should mention that in order to achieve the perfect golden color on the chicken, it's extremely important to make the oven very hot, to about 425°F (220°C) for the first half hour. Then, so that it doesn't burn, you should cover the chicken with aluminum foil and let the inside of the chicken cook for about 30 to 40 more minutes. I used vegetables as a side, which are always a good combination.
Print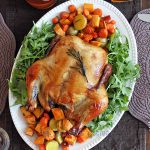 Baked marinated chicken with vegetables
---
Total Time:

1 hour

Yield:

6

1

x
1

whole chicken

1 cup

of soy sauce
Sprigs of rosemary

4 tablespoons

of olive oil

2 tablespoons

of butter
Salt and pepper to taste

1

large Ziploc bag, or a bowl
Mixed vegetables to your liking, I used sweet potatoes, yellow potatoes, carrots and arugula to decorate.
---
Instructions
Place a clean and dry whole chicken in a Ziploc bag or bowl, and completely cover it with all the soy sauce and some sprigs of rosemary. Marinate overnight.
Preheat the oven to 425°F (220°C).
Prepare a Pyrex baking dish with a tablespoon of olive oil.
Place the chicken on top of it, including the marinade (soy sauce and rosemary).
Season with salt and pepper.
Bake for 30 minutes, then check the browning of the chicken. If it hasn't browned correctly yet, leave it in the oven. Once it takes that golden color, cover the chicken with aluminum foil.
Lower the oven temperature to 400°F (200°C) and bake for about 30-40 minutes.
On another baking tray, put diced potatoes and carrots with olive oil, rosemary, salt and pepper. Bake for 25-30 minutes at 350°F (180°C).