This was one of those recipes that was outstanding for the blog. The last time I made this dish, I forgot to take pictures of the end result, LOL, and this time almost the same thing happened again. What happened is that my guests were waiting, and taking a couple of photos takes some time, but the pressure didn't really help much to allow me to properly concentrate to get the photos taken quickly, but it worked this time anyway. As you can see, this dish can be perfectly made for those who are far from our beloved Chile, you can find almost all the necessary ingredients, you can go to the big international supermarkets, Asian or Latin supermarkets, these usually sell fresh seafood.
This dish is easier than you think. It's very popular in southern Chile and of course there are many varieties in their preparation, details maybe. This recipe I'm bringing to you here is like my father-in-law makes it, so this post is dedicated to him for his willingness to share with me this recipe, for serving us so lovingly and with many delicacies every time we go visit to his home in Puerto Montt, Chile.
Print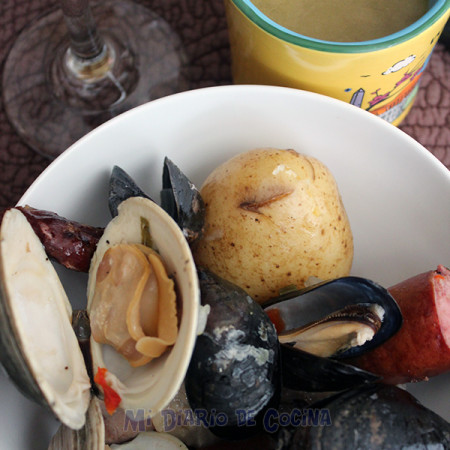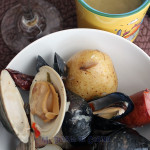 Pulmay (curanto in a pan)
---
Total Time:

45 mins

Yield:

6

1

x
3 tablespoons

of oil

1

medium onion

2

cloves of garlic

1

green onion

1

red bell pepper
salt and pepper

½

liter of beef broth

1

rack of smoked pork ribs

300 grams

of chorizo sausage

5

hot-dog sausages

2

large sausages

6

chickens drumsticks

1

kg of mussels

1

kg of clams

1

kg of pink clams (optional)

1

kg of large mussels (optional)

1

liter of white wine

1

dash of sherry (optional)

6

potatoes

1

cabbage
---
Instructions
Make a sofrito (stir-fry base sauce) in a large pot, by mixing oil, onion chopped into squares, chopped green onion, finely chopped garlic, and bell pepper chopped into small chunks. Set aside.
Then, in a separate pan, place the beef broth with the smoked ribs. When it begins to boil, turn off the heat.
Place the ribs into the pot having the sofrito base, and then add the beef broth, chicken drumsticks, potatoes, chorizo sausages, hot-dog sausages, large sausages, cover with a couple cabbage leaves, then add the shellfish on top, white wine, and a dash of sherry. Cover all with several layers of cabbage leaves, then with a kitchen towel adding some pressure, and then cover with the pan's lid.
Cook for about 30 minutes over medium low heat.
Serve the pulmay broth ideally on a mug, and then serve on a plate the shellfish, chicken, and the rest of the ingredients.
Prep Time:

15 mins

Cook Time:

30 mins