Utilizing the leftovers from the typical meals of the Chilean Independence Day celebrations, I considered ideal to prepare this recipe using such leftovers. During such celebrations is when Chilean people get enthusiastic about cooking, but mostly focusing on empanadas (Chilean calzone), pebre (a type of condiment sauce), choripanes (chorizo sandwich), and so on. But at the time when the meats are ready on the barbecue, at least I feel already full. This recipe is very traditional in Chile, a delicious soup. But if you do not have grilled meat, it can still be prepared with some meat that is previously seasoned and roasted in the oven.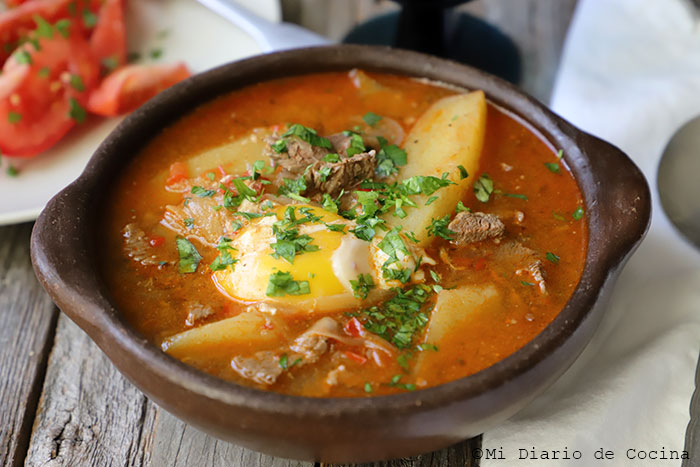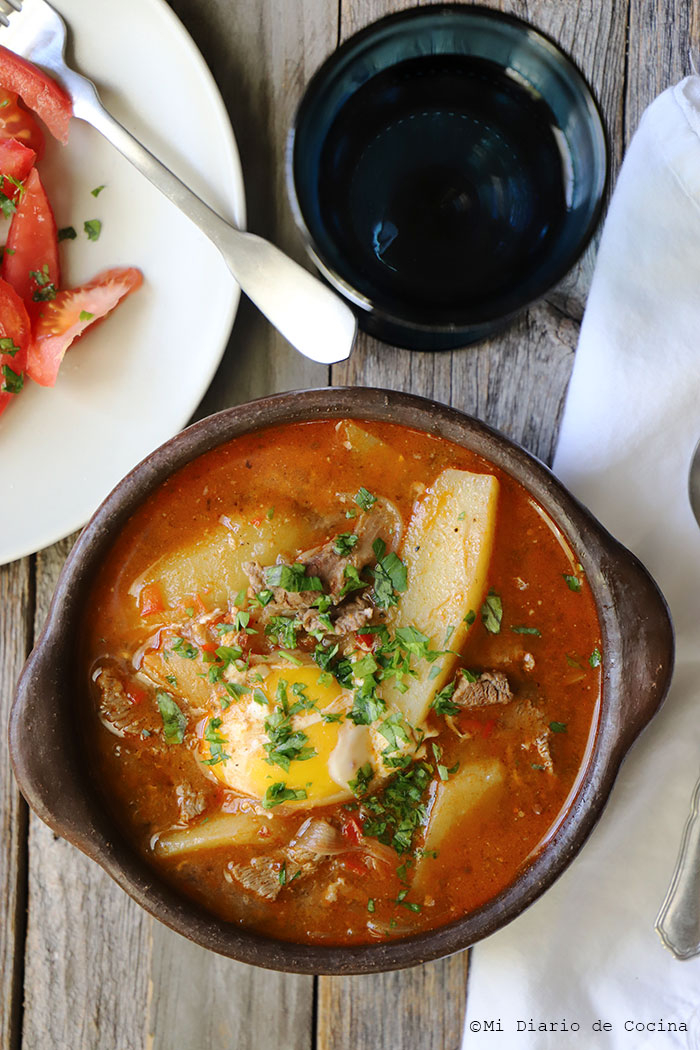 Print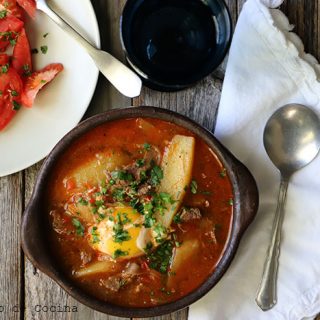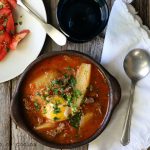 Chilean ajiaco
---
Total Time:

50 mins

Yield:

2

1

x
300 grams

of grilled meat, but you may add more if desired

2 tablespoons

of oil

1

large onion or

2

medium onions

4

medium-sized potatoes

2

cloves of garlic

1

small piece of red bell pepper

1/2 teaspoon

of oregano
Salt, pepper to taste
Merkén (smoked spicy chili pepper powder)
Chili pepper powder

1

egg per person

2 tablespoons

of chopped parsley

1

liter of beef broth or

1

beef bouillon cube
---
Instructions
Cut the meat into strips as well as for the potatoes (julienne cut). Set aside.
Cut the onions in fine julienne and then put them into a pan with oil. Fry for a few minutes, then add garlic and the bell pepper. Then add the meat and seasonings (salt, pepper, chili pepper powder, oregano, merkén). This is the time to also add the beef bouillon cube if desired. Then add the potatoes and finally add the beef broth or water.
Cook for about 20 minutes.
Meanwhile you can poach the egg or just cook it for 10 minutes.
Serve in a bowl, and you can choose to add the egg at the beginning or at the end. Then the broth and remaining ingredients. Finally add the chopped parsley and merkén (optional).
Prep Time:

20 mins

Cook Time:

30 mins