It took me a while, but I'm here with the first summary (so to speak) of what was my trip to Chile this year. I must confess I was not 100% convinced if it was the right time to travel, but after a good discussion with my husband, we decided that April was the right month, plus we were very lucky with the weather. As always, whenever we travel to Chile we arrange our itinerary well, as the time there always goes so quickly and it's inevitable to end up owing many friends a visit. But going around with two young children changes the whole picture, and they are certainly our priority.
The other thing is that we have our families distributed in different cities, hence it's necessary to also do domestic travel within Chile. But at this point I try to enjoy the trip as much as I can, and certainly having a different view especially on our Chilean gastronomy, I try to delight myself and discover everything that is happening in the country, gastronomically speaking. But I ran out of time, and there were some places pending for a visit.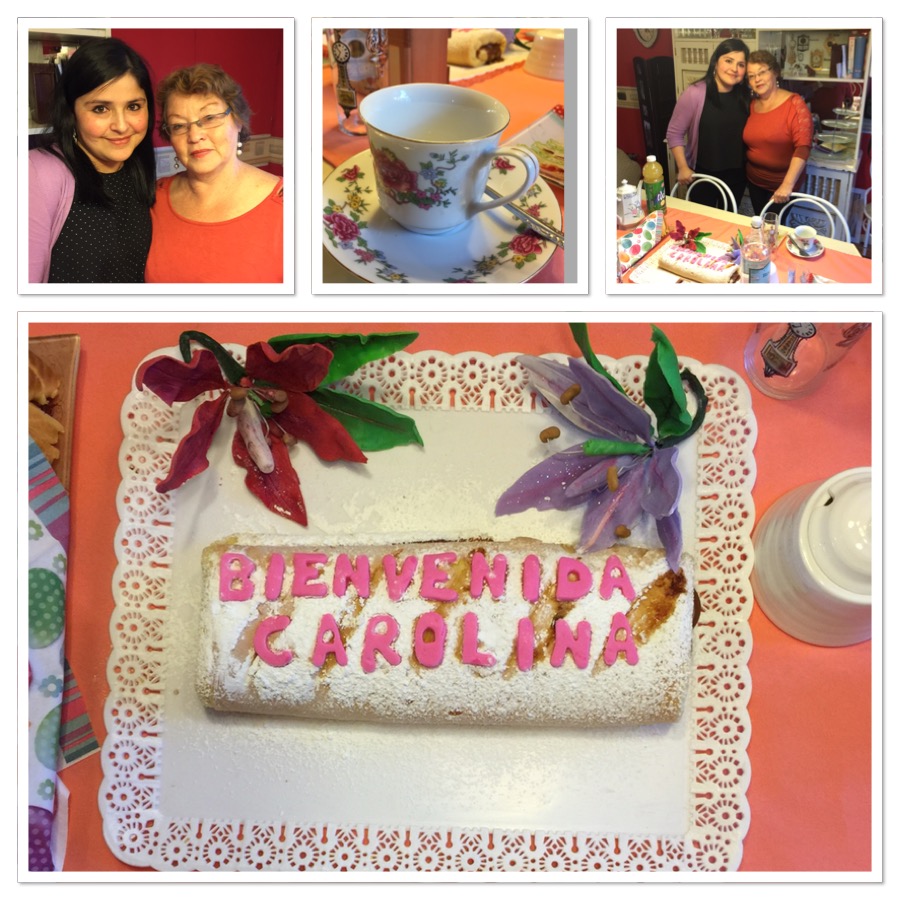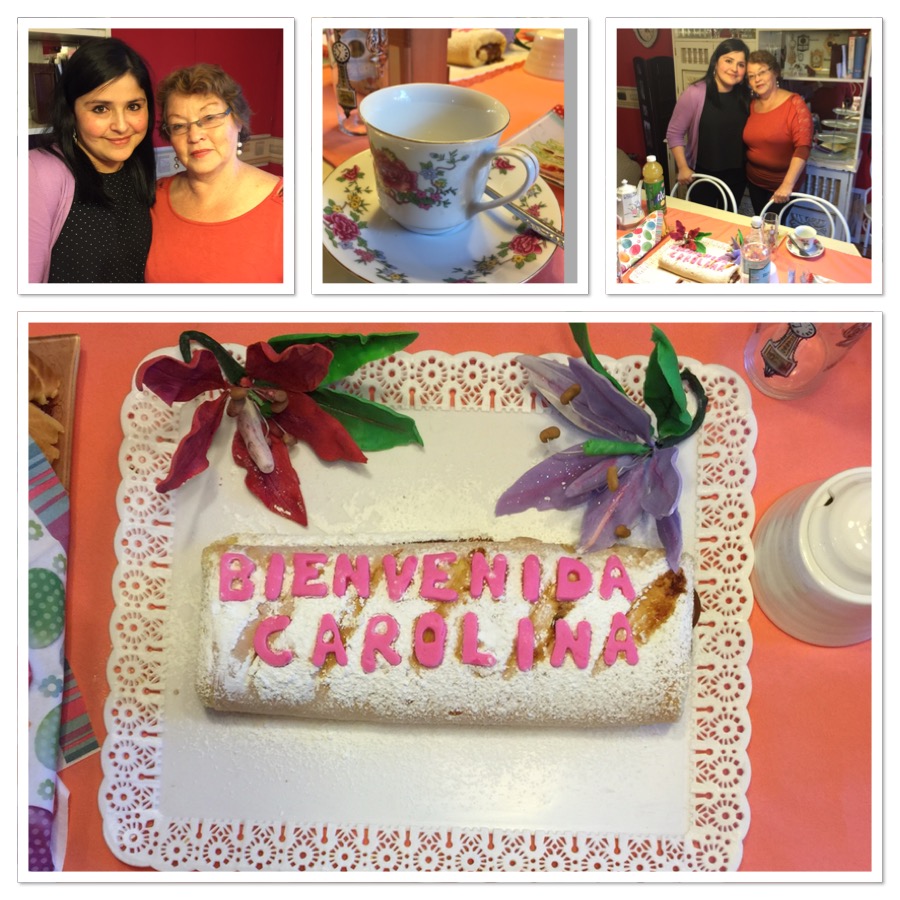 I continue this post now showing the evidence that I got together with Mrs. Juany Silva, from the commune of Pudahuel, in Santiago. You can't imagine the surprise that she prepared for me, a delicious Swiss Roll made from the recipe I have on my website. We enjoyed a very nice meal at tea-time, with many details and a good conversation. I thank you for your graciousness, sympathy, and kindness for welcoming and inviting me for dinner. It makes me so glad to share some time with the followers of this blog. Thank you very much again and all those who participated.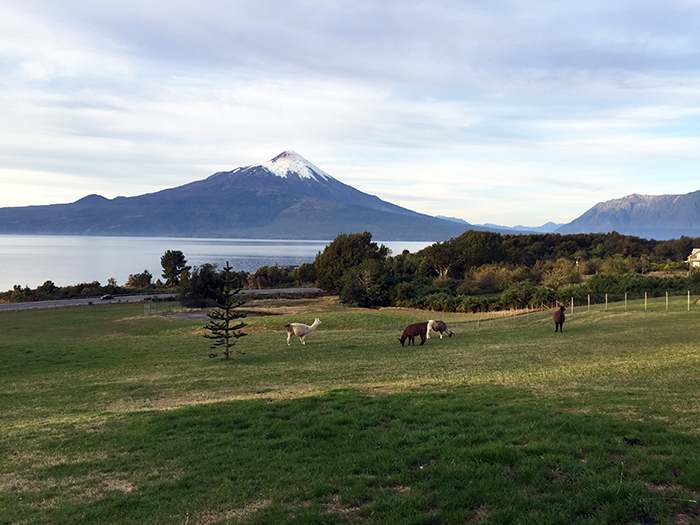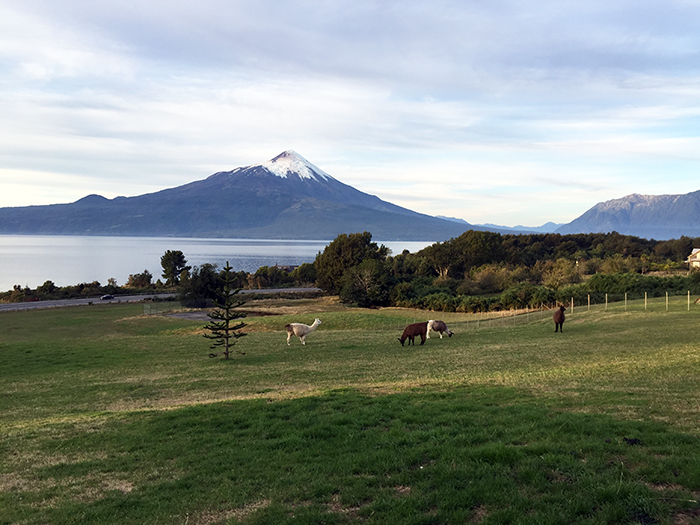 This picture above looks like a postcard, just a couple of days before the Calbuco volcano erupted. This beautiful area is called Ensenada, and the volcano that can be seen on the picture is called Osorno volcano. This area got unfortunately covered in volcanic ashes. Here we stopped to eat in a restaurant that features the famous German "onces" (i.e. tea-time meal).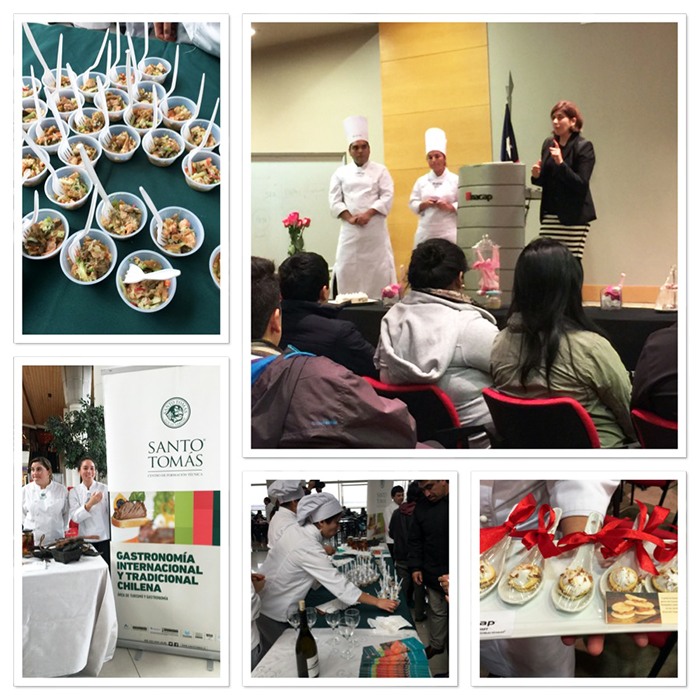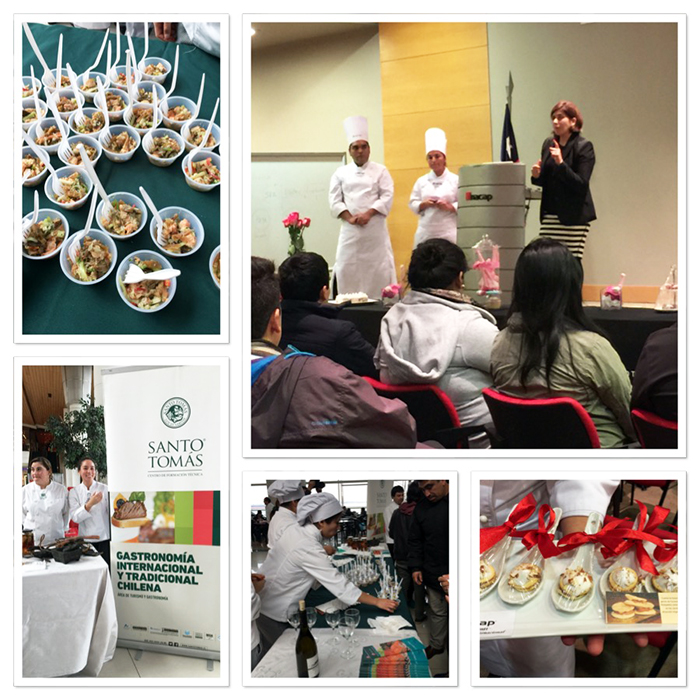 This photo above represents what was my celebration for the "Day of Chilean cuisine". Such date caught me while I was in the city of Puerto Montt, so I couldn't go to "Ñam" gastronomic event in Santiago (one of the most important culinary events of the year). But I must tell you that my April 15th was very productive, since in the morning I went to a tasting of a delicious ceviche with cochayuyo (a Chilean seaweed), offered by the University of Santo Tomás, and I was able to talk to a couple of teachers and exchange some ideas. And then, in the evening, I went to a workshop offered by the Inacap learning institute, mostly to their third-year gastronomy students (but still open to the general public). It was interesting to learn about their vision and proposal about how we can make our pastry products to popularize at a commercial level. By leveraging the broad gamut of pastry products that Chile has, and if an initiative is taken to work in a different way, the same products could perhaps reach wider markets. I hope that the new generations in gastronomy take seriously the task of empowering the Chilean cuisine, but to a higher level (this I may elaborate more on another post that I'm willing to do as soon as I can).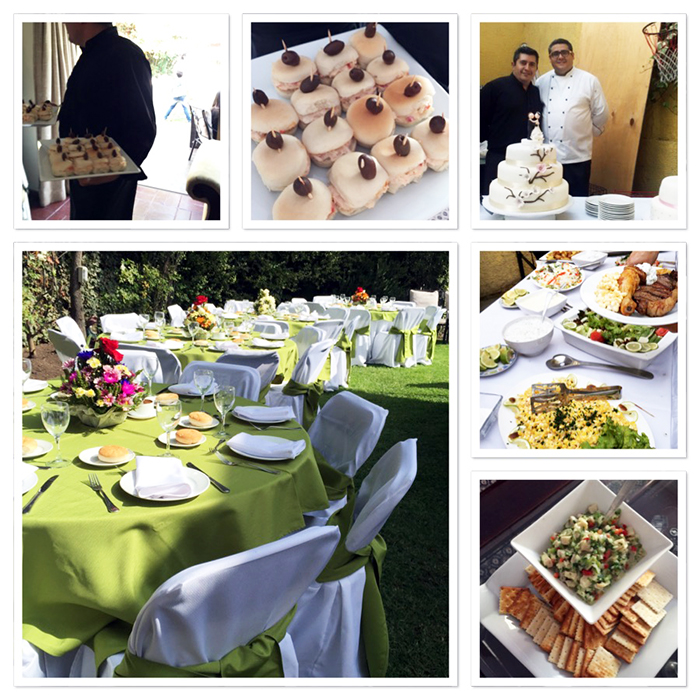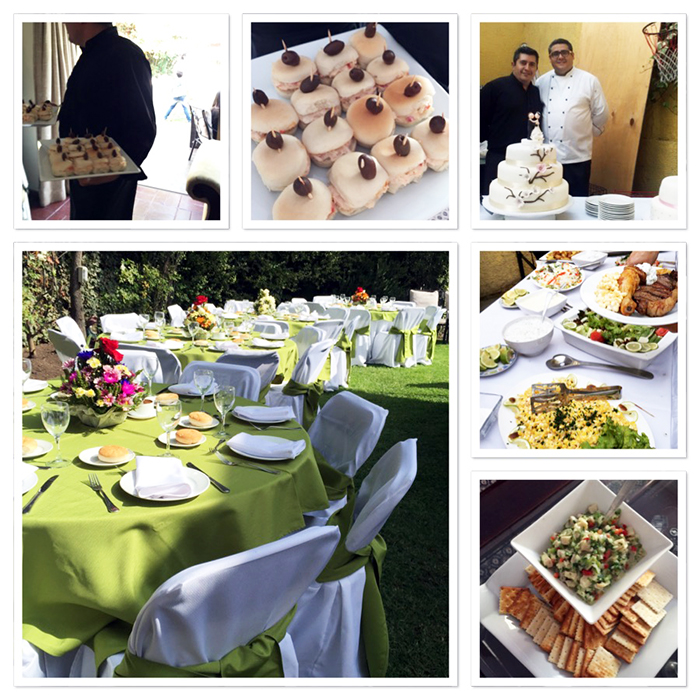 The gentlemen you see above are Cristian and Fabián, they are caterers, are not very famous yet, but they should be, because they offer an impeccable service, and I can assure you that I am very strict with these kind of things, I love efficiency. So, if you need catering service in Santiago, please let me know and I'll forward you their contact information, as they adapt very well to your actual needs.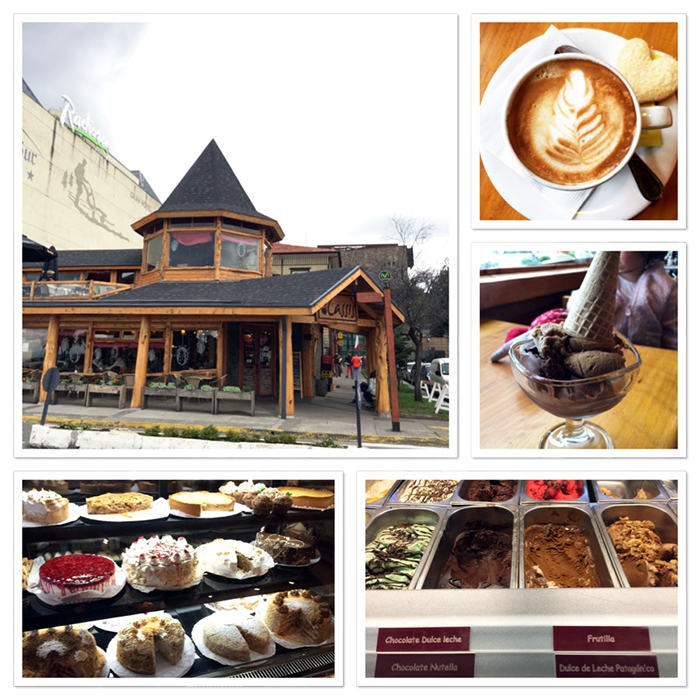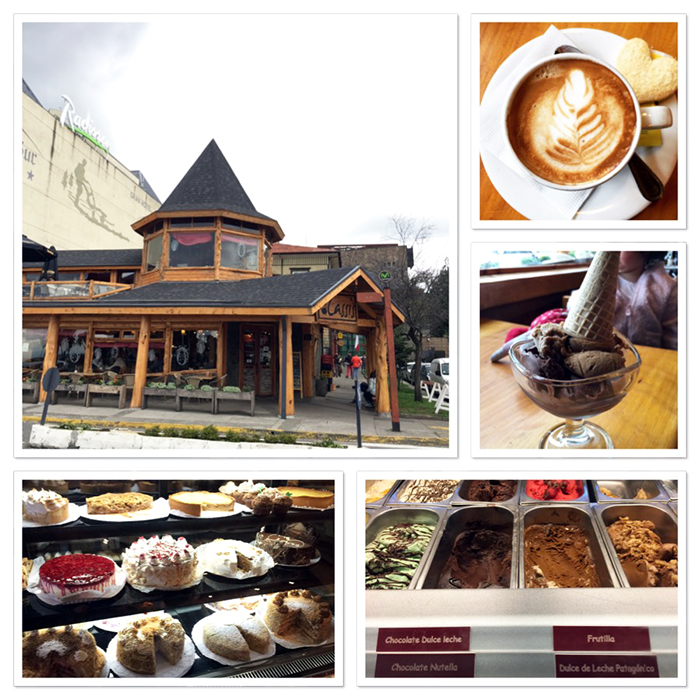 We also went to the city of Puerto Varas, and since the weather that time was kid of rainy, we went to the Cassis restaurant to sweeten ourselves a little bit.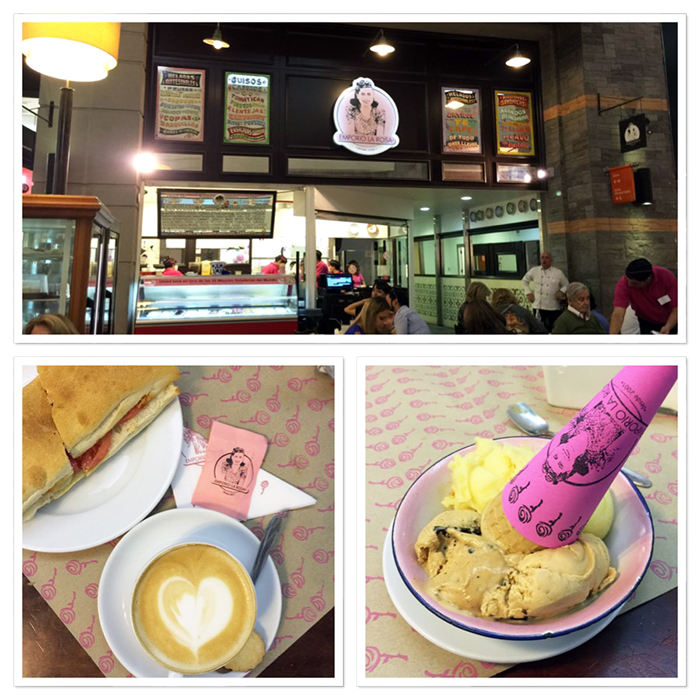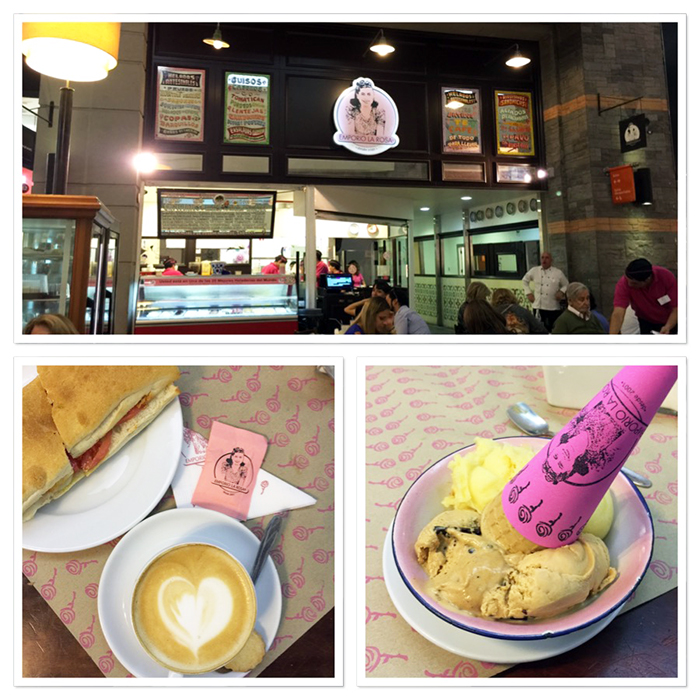 Then, in Santiago, we went around on several places, such as the "Parque Araucano" (Araucanian Park), where my children had a great time. It's a huge and modern park in the commune of Las Condes. And right across the street is the "Parque Arauco" mall, which is quite big and more appealing every time I go there, and it has many stores tailored for the "Chilean socialite", so that they don't miss much about traveling. As my aim was always to be on the lookout of stores or restaurants that may grab my attention is that we visited the "Emporio La Rosa" restaurant on that mall, and it was great to see how they have been able to open many locations. I particularly liked their ice creams, but the sandwich I had was not exactly what we ordered, unfortunately they made a mistake, but the waitress who took care of us was so kind and attentive that none of that mattered.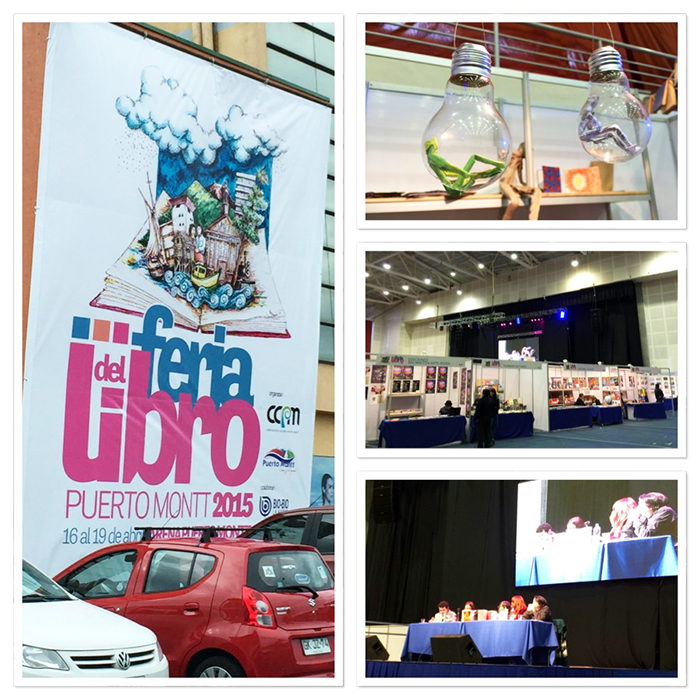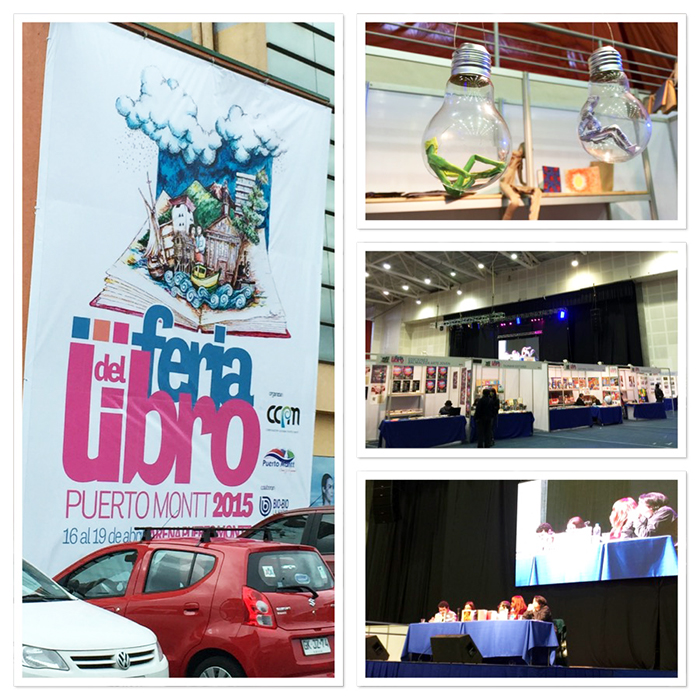 We were able to visit the "Book Fair 2015" event that was being held in the city of Puerto Montt. It was OK, but I actually had higher expectations.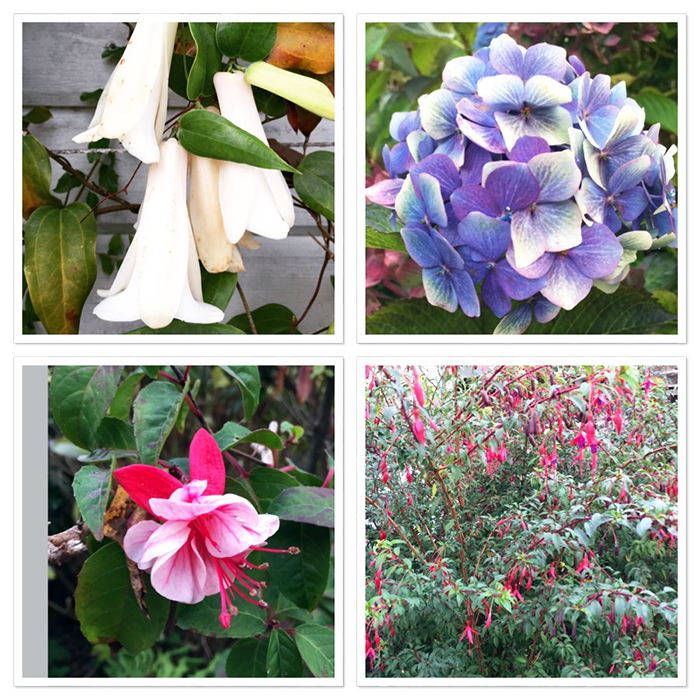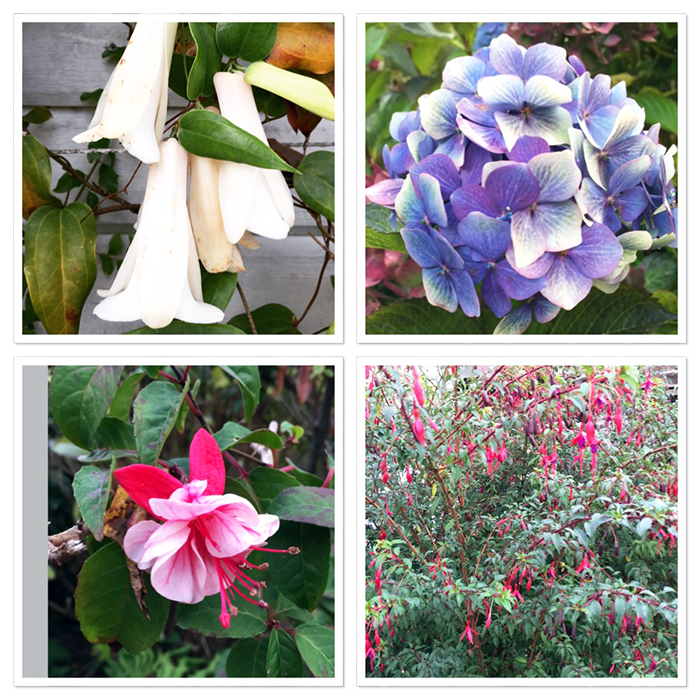 Look at these beautiful flowers in the garden from the house of my in-laws.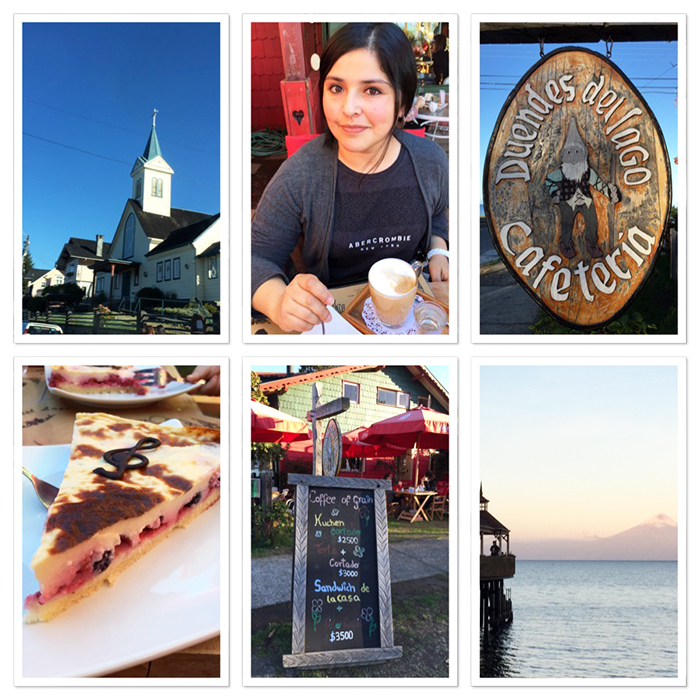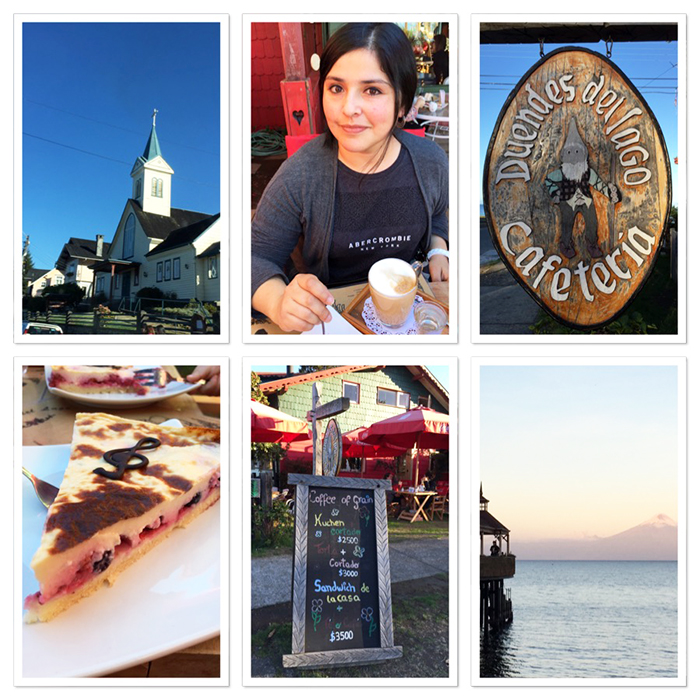 I have to mention here about this restaurant we visited in the city of Frutillar, because we were really taken care very well, and because their "café cortado" (a type of latte coffee, very popular in Chile) was excellent, besides of the variety of kuchenes (German cake) they had. So, if you go to Frutillar, don't forget to visit the "Cafetería Duendes del Lago" (Elves from the Lake coffee shop).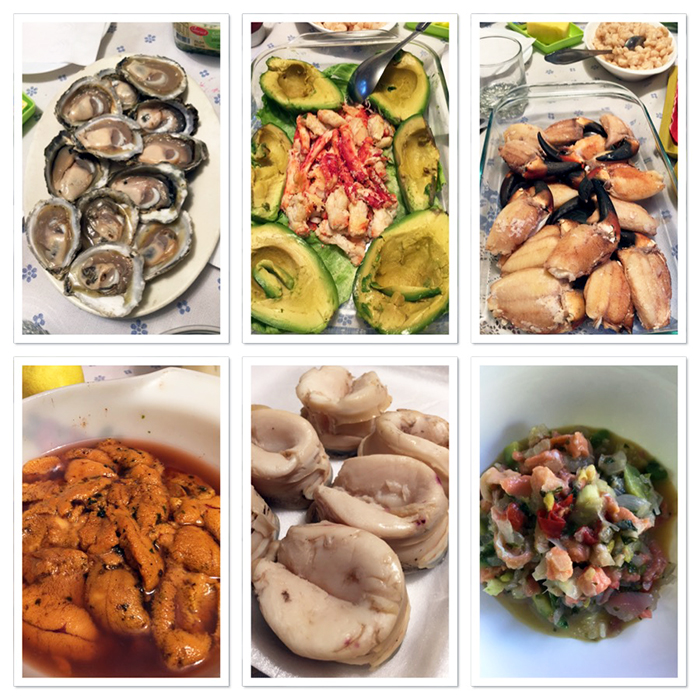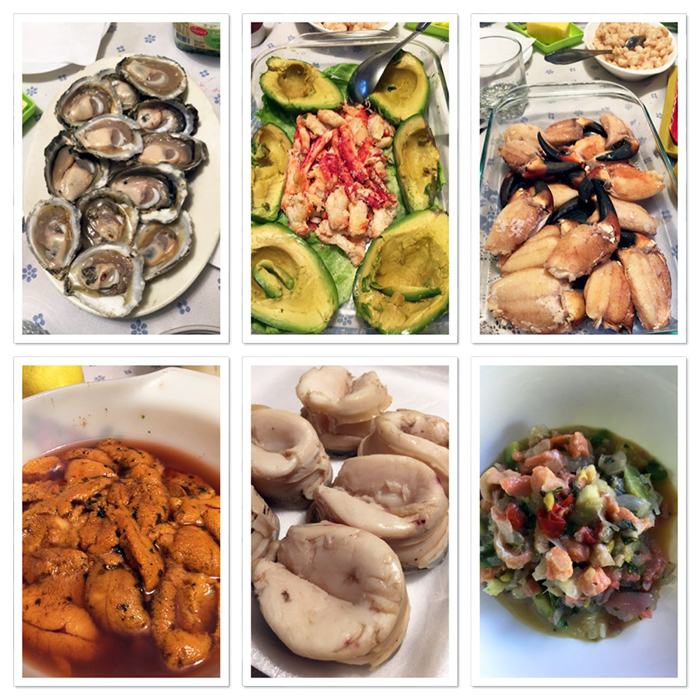 I thank for these photos above to my father-in-law. I mean, I took them, but all this exquisite food was with what we had to "sacrifice" ourselves :-). He makes an incredible ceviche, but he of course adds his own spin on it, and that helps making it phenomenal. And that's what I like so much about him, that he improvises a lot in the kitchen, and he always tries to add his own touch to the traditional flavors.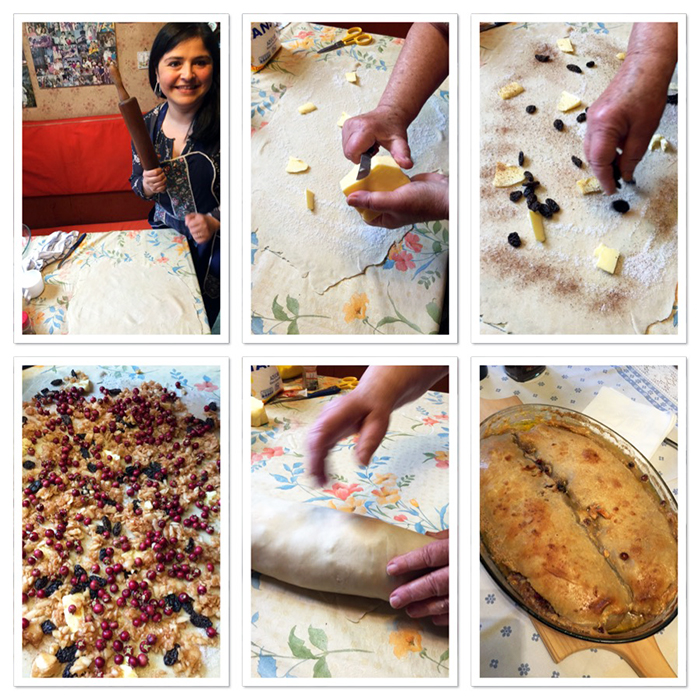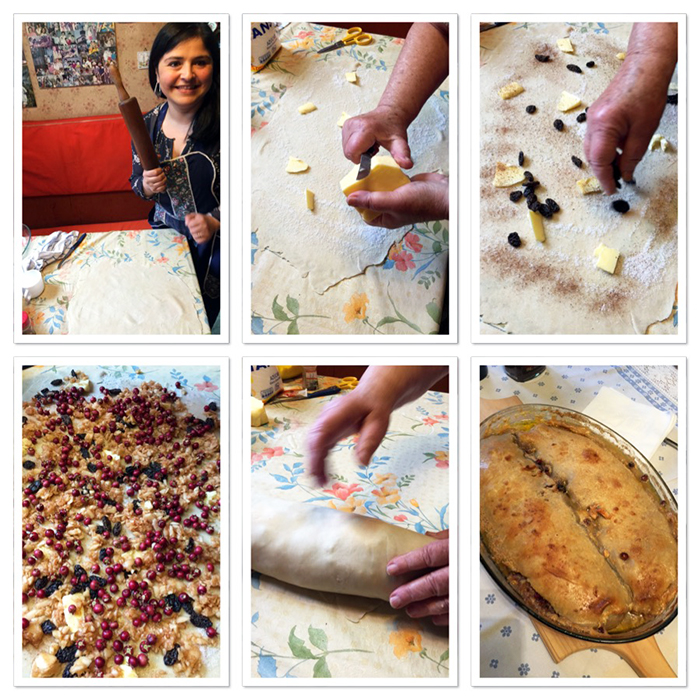 One of the things that I enjoy the most from the south of Chile, is when I get to be with my in-laws, as both of them cook, but especially my father-in-law who has good cooking skills, and I have learned a lot from him. What you see in the picture above was the moment that I helped my mother-in-law to stretch the dough to make an apple strudel, and this time my mother-in-law decided to add her own spin on the recipe and she added murtas to it (a popular type of berries that grow in the south of Chile).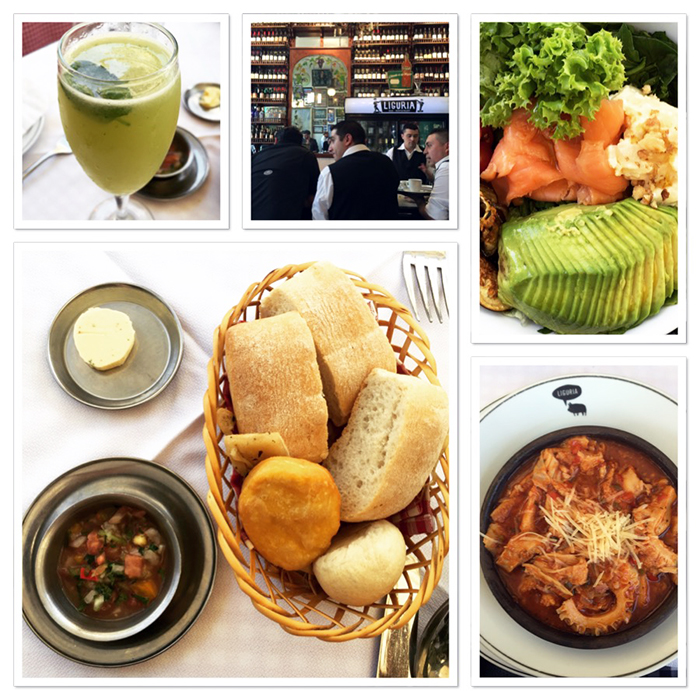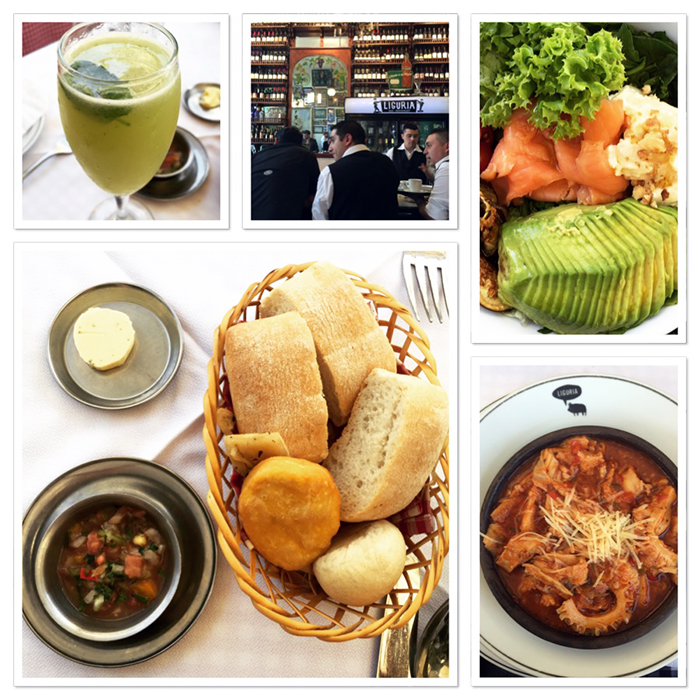 I finally was able to go to the Liguria restaurant this time, and I went with my best friend, lucky me. We ordered a basil pisco sour, and it was amazing, I recommend it. She ordered "Callos a la Madrileña" (Madrid-style Tripe), and I ordered an awesome salad with smoked salmon. For me, the prices are good, considering that the portions are large and the quality of its menu is quite good. They have a sensational bar, and we were taken care really well.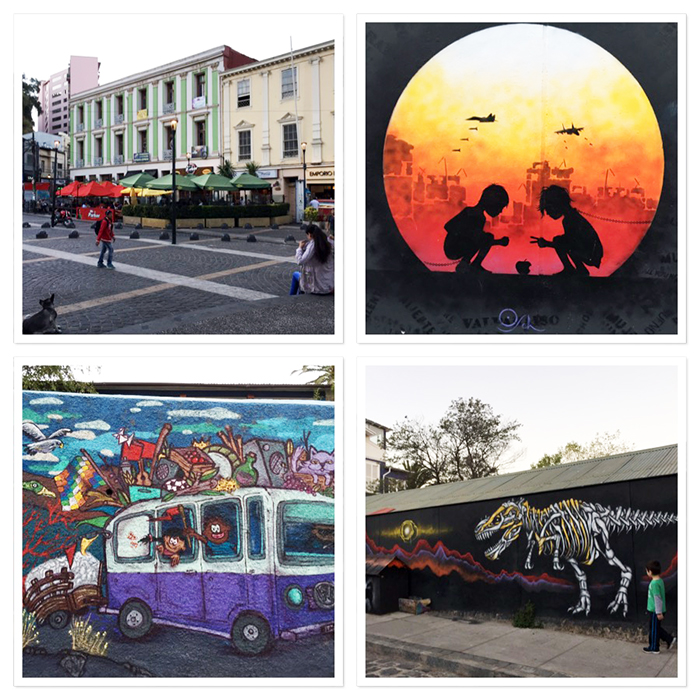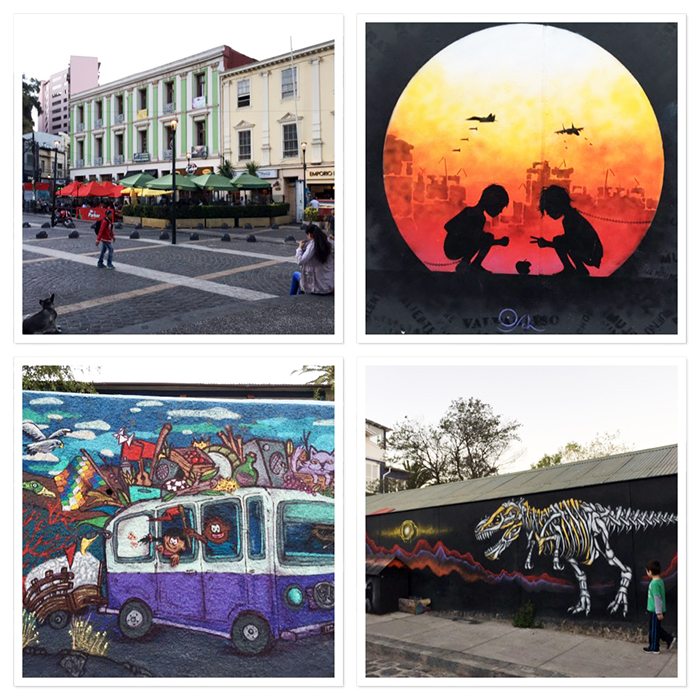 In the city of Valparaiso, I liked the variety of new places, such as many cafes, small and very cool resturants, between the hills named Cerro Alegre and Cerro Concepción there is a wide range of these places, as well as stores that sell very beautiful craftsmanship. There are also many murals on the streets that are very well made and with different messages, for whoever wants to see them. There were many tourists around, as usual. What was kind of sad, though, was seeing downtown Valparaiso with messy graffiti doodles everywhere, as well as being so neglected.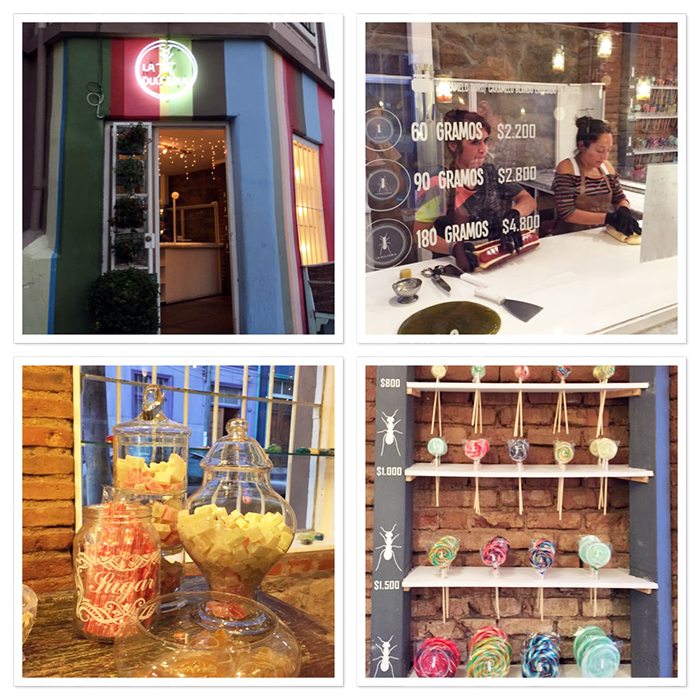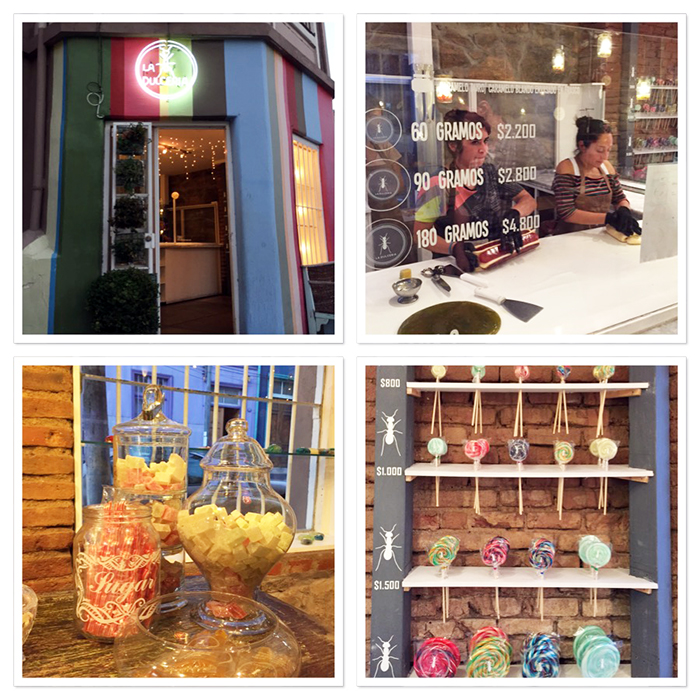 In our walks by my dear Cerro Alegre (Happy Hill) in Valparaíso, is that I found this place called "La Dulcería" (namely "The Candy Store"). As you can see in the pictures, you can actually see there how they make a variety of sweets. My kids certainly were the happiest.
We also rode the trolley, and at least once we got to ride on an elevator (outdoors wooden elevators used to go up/down some hills) for my children to live the experience of what was so common for me everyday in the past.
In a second post related to this trip is where I'm planning to explain some details about the Chilean cuisine.