This shop has been compensated by Collective Bias, Inc. and its advertiser. All opinions are mine alone. #DipYourWay #CollectiveBias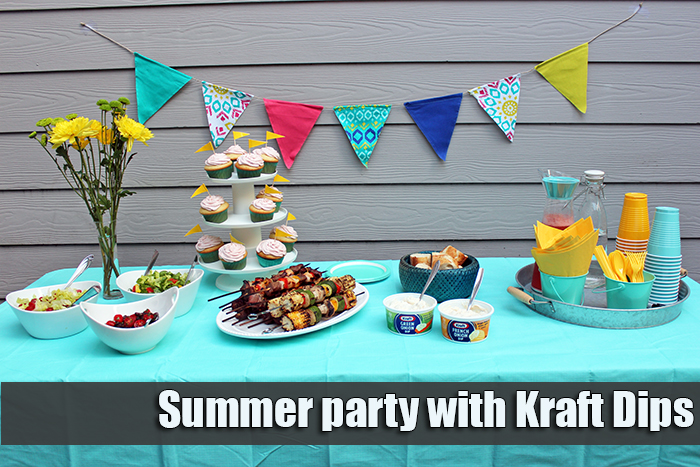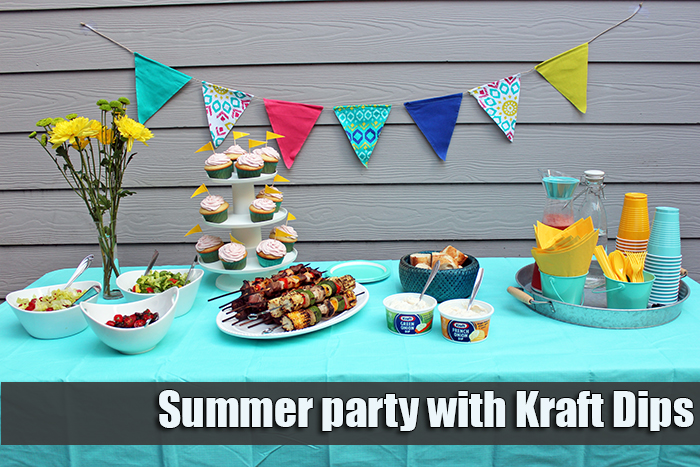 Summer is the ideal time of the year to meet with family, friends, or just to do something special at home. It's the time in which children are on vacations, and in spite of how exhausting it can be to come up with things to do, it also has its entertaining side. That's why this time I wanted to organize a small party at home for my friends.
And the simple or informal things don't necessarily have to be less glamorous, as with small details we can achieve a colorful, tasty, and diverse gathering. And what better than cooking something on the grill, like these skewers of meat and vegetables with dips from Kraft. For that reason, I went with my kids to Walmart, and on the dairy section we found the 3 varieties of Kraft dips: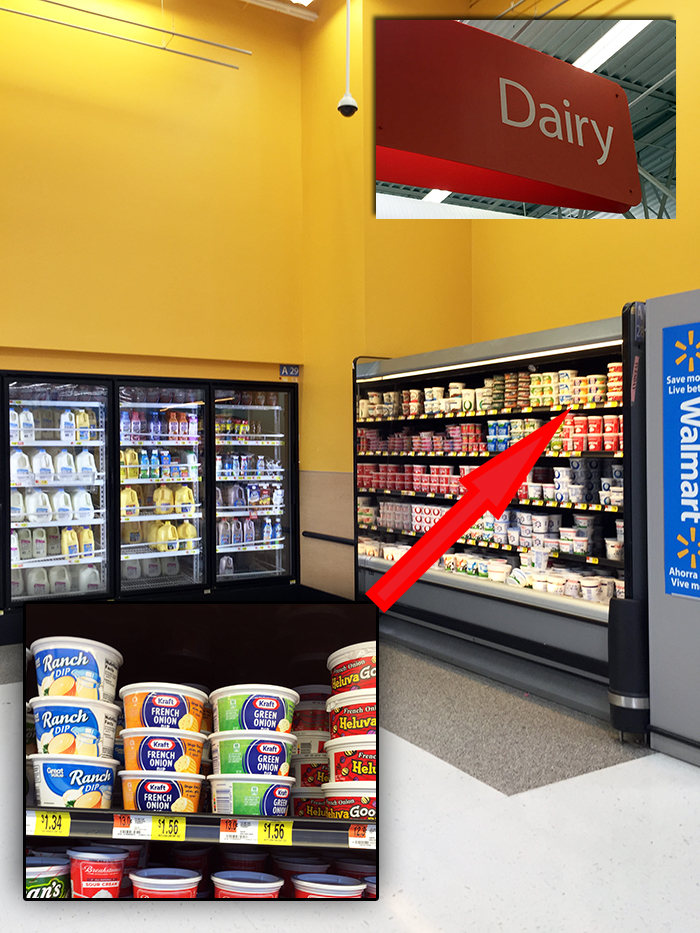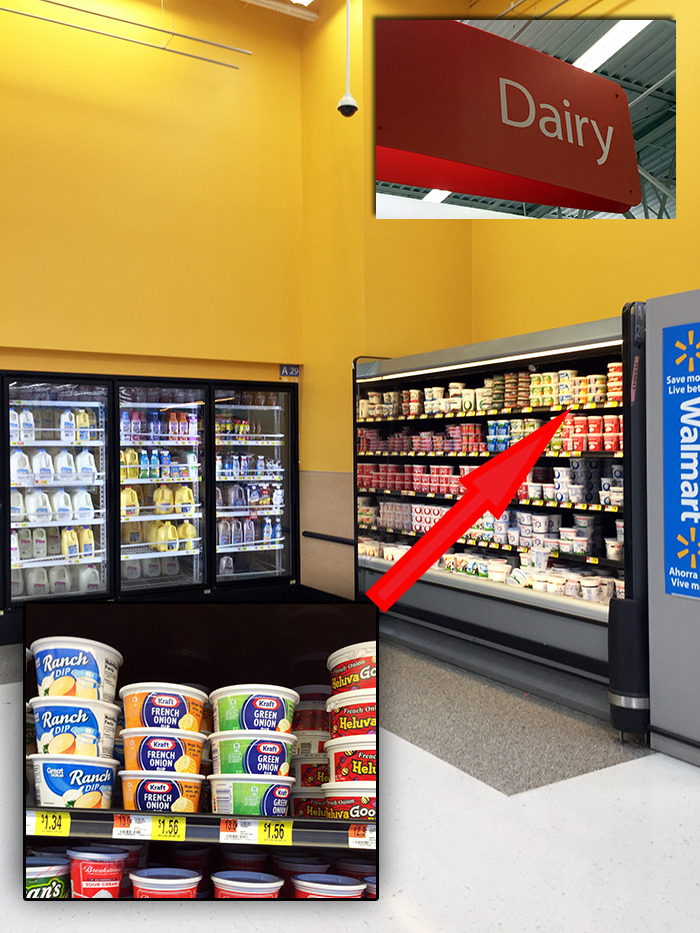 For this occasion I only used the Green Onion and French Onion dips to go with the skewers that I cooked on the grill, as they were perfect to give a special flavor to the meat and vegetables. It really is a very good mixture that you should try. Also, now with their new re-imagined packaging, they make a good fit to the overall table décor.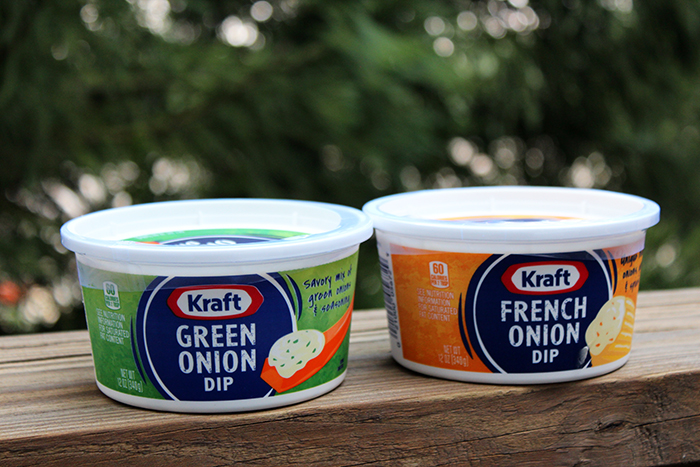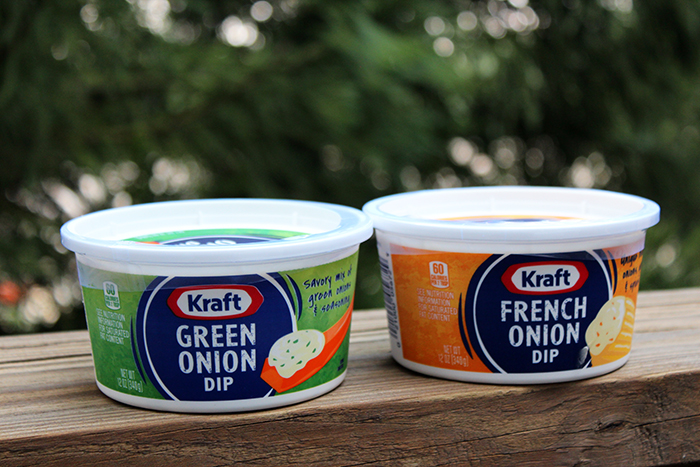 Every time we want to organize a party with some details, we can do something memorable. Particularly, one of the first things I focus on is to define the colors I want to use for the decor. This time I chose yellow and turquoise, to achieve a fabulous and very eye-catching contrast, ideal for the summer.
I bought some simple yellow flowers, to give warmth to the occasion, since the flowers always brighten the atmosphere. The other thing that I always add are those little tin buckets that are generally multipurpose. One is meant to be set with napkins on the table, because it uses much less space than a regular napkin holder.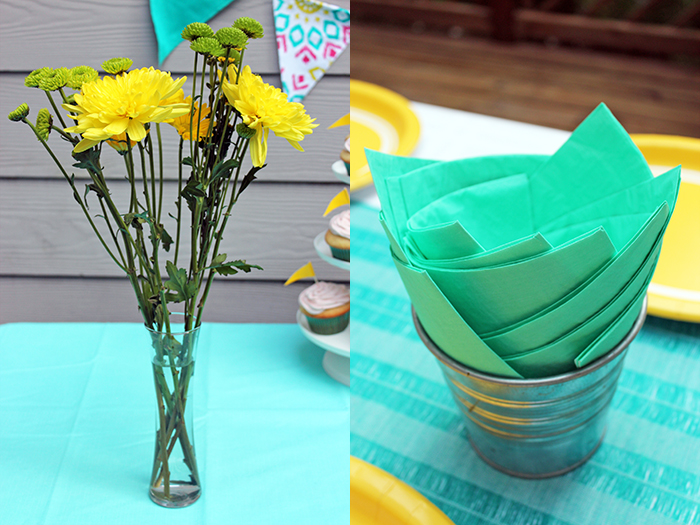 When there are many guests, or there are children among them, it is best to use plastic cups. Since they can now be found in many colors, I chose to have both colors in order to give a touch to the refreshments tray on the table.
* A very useful tip, if you decide to actually use plastic cups, is that you may always want to have a marker next to them, so that guests can write their names on the cups, and that way not getting confused among the cups from other guests.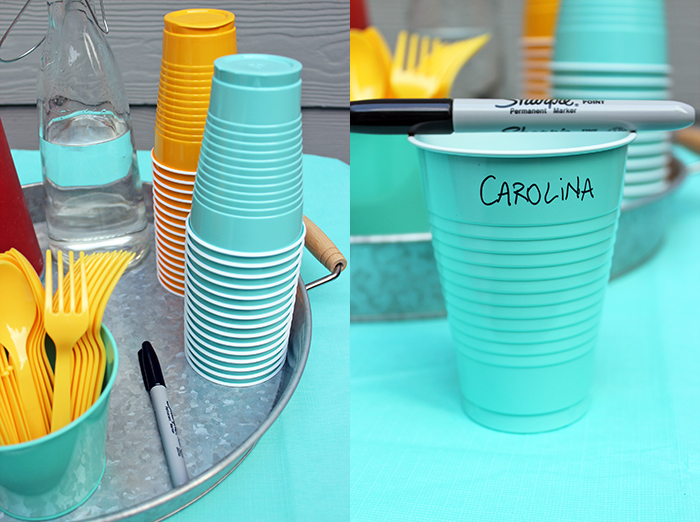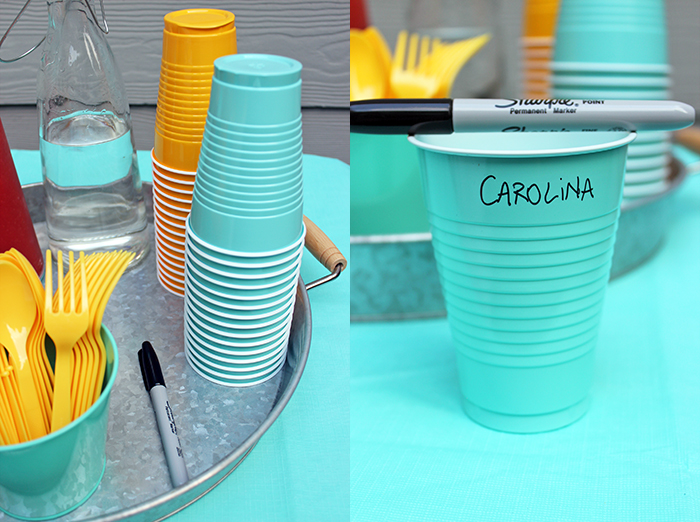 For this skewers recipe, I used the following:
VEGETABLES SKEWERS:
Corn, cut into pieces
Red and yellow bell peppers, cut into small slices
Mushrooms
Zucchini, cut into slices
Finally, you should place them on skewer sticks, either made of metal or wood. You can sprinkle the skewers with a little bit of cooking spray. Once cooked on the grill, serve them with Kraft French Onion Dip.
MEAT SKEWERS
A piece of beef (for grilling), cut into pieces
2 chicken breasts, cut into pieces
1 onion, cut into small slices
Red and yellow bell peppers, cut into slices
Bacon, each strip cut into three pieces.
Start by placing each ingredient on the skewer sticks, in any order that you like. You can also spray the skewers with some cooking spray, and put a little bit of salt before taking them to the grill. Once the skewers are ready, serve them with Kraft Green Onion Dip.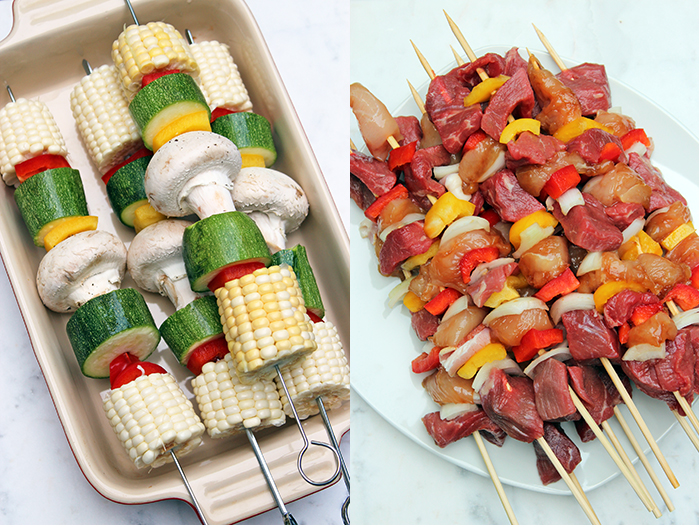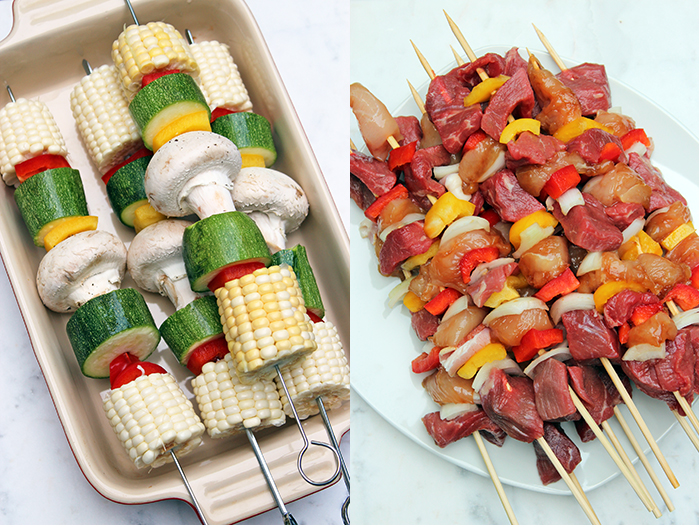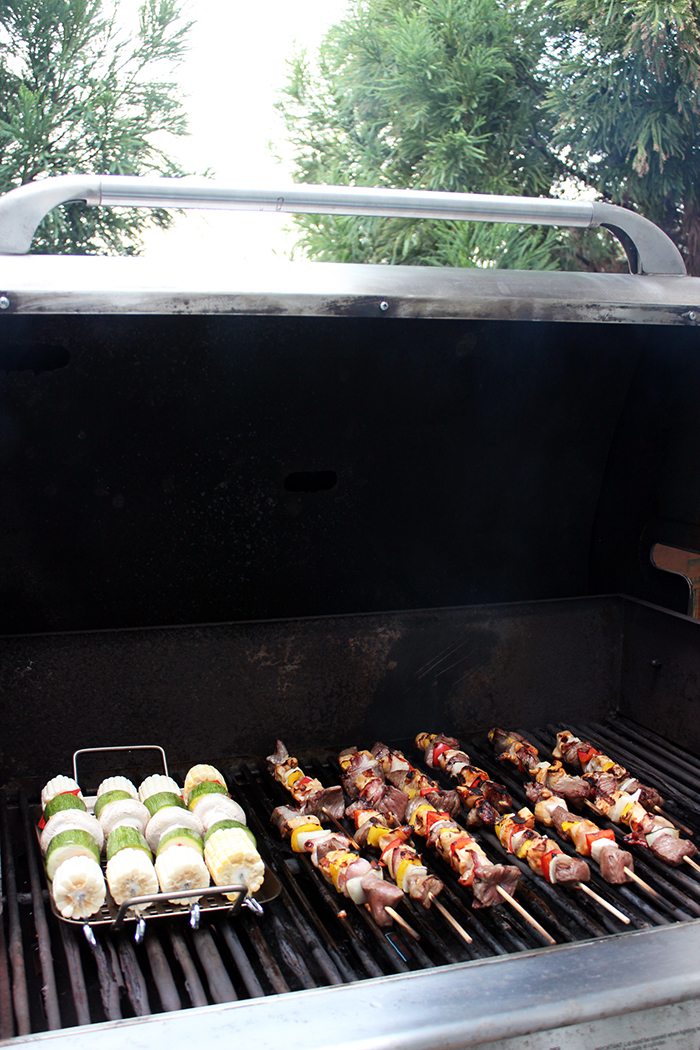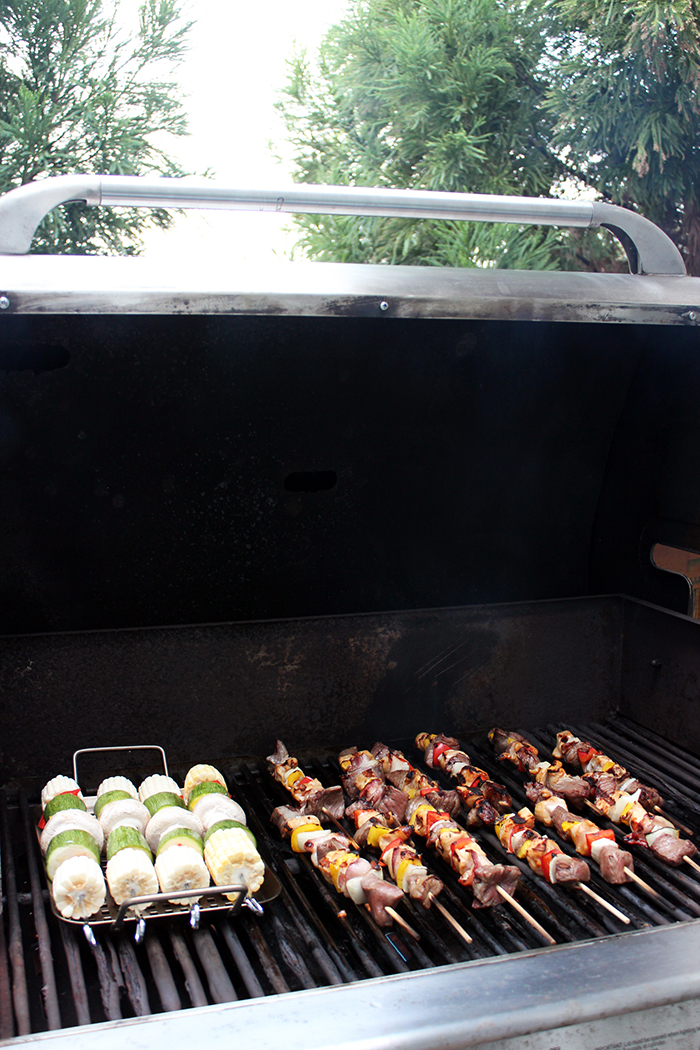 A refreshing idea is to prepare a natural juice, and a good alternative is to mix strawberries cut in halves, water, 2 tablespoons of sugar or a sweetener that you like, lemon juice, ice, and put all these into a blender. Without a doubt you'll get a juice that is colorful, tasty, and refreshing for your party.
Another important and ideal detail for this party is to place pieces of bread in a basket. This bread is excellent to enjoy with the skewers.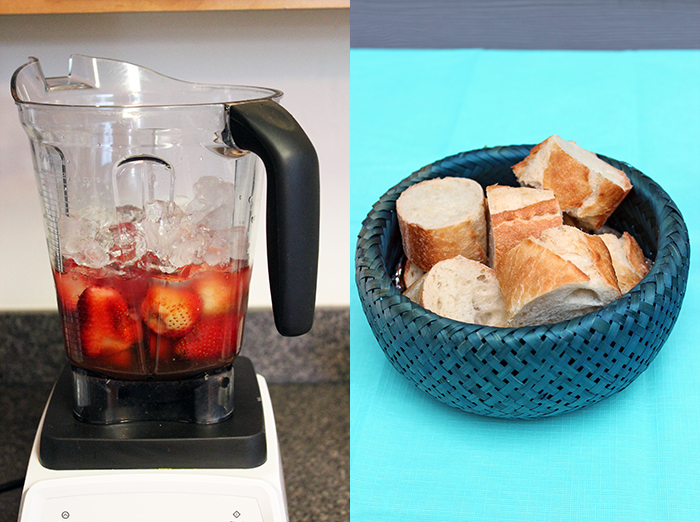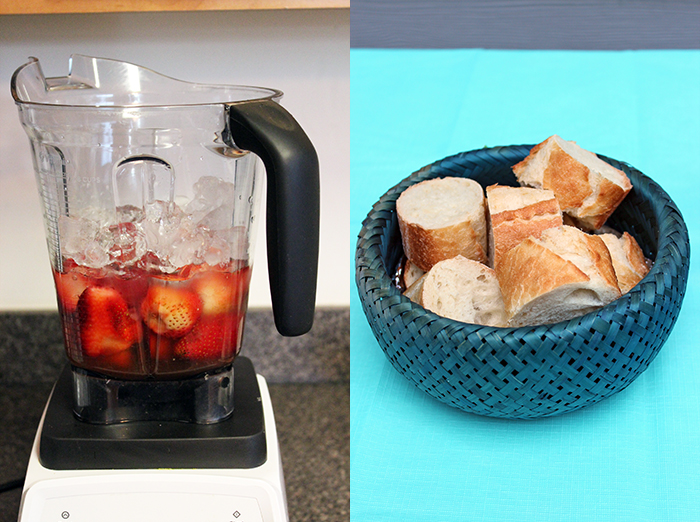 As there can be no party without something sweet, I chose to make these delicious lemon and strawberry cupcakes. Also, a nice decorative detail are those small cupcake flags that go on top, which are very easy to make. You just need toothpicks, print the file from the link I provide below, and then you'll need to cut the flags, and use a glue stick to join both sides together around the toothpick, so that you can also decorate your cupcakes.
DOWNLOAD THE CUPCAKE FLAGS HERE.
Print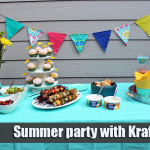 Lemon and strawberry cupcakes
---
Total Time:

35 mins

Yield:

1

2

1

x
1/2 cup

of oil

3/4 cup

of granulated sugar (brown sugar can also be used instead)

2

eggs

2 tablespoons

of lemon zest

2 1/2 cups

of flour

1 teaspoon

of baking powder

1/2 cup

of liquid milk

1 1/2 cup

of heavy whipping cream

1 cup

of strawberries

1/2 cup

of granulated sugar
---
Instructions
Mix the oil and the 3/4 cup of sugar in a bowl. Add the eggs and stir well.
Add the lemon zest to the mix. Then also add the flour and the baking powder gradually, together with the milk.
Fill each cupcake mold with the mixture, and bake for 20 minutes.
Meanwhile, grind the strawberries together with the 1/2 cup of sugar. This should make a sauce.
Whip the cream until it gets a firm consistency, and then slowly add the strawberry sauce.
Decorate each cupcake with the strawberry cream.
Prep Time:

15 mins

Cook Time:

20 mins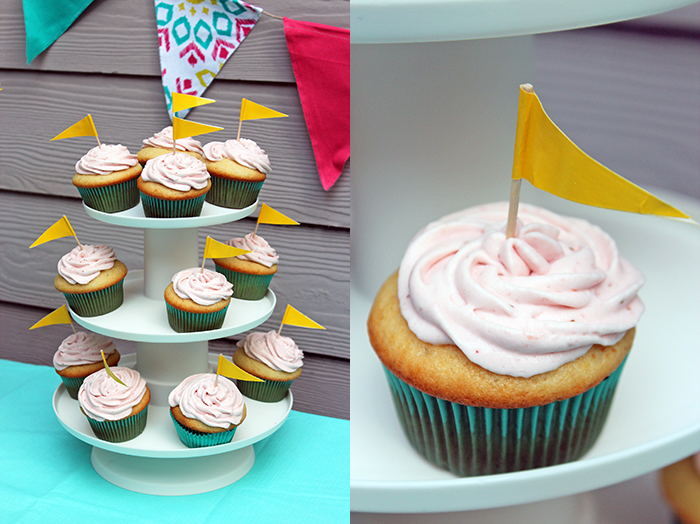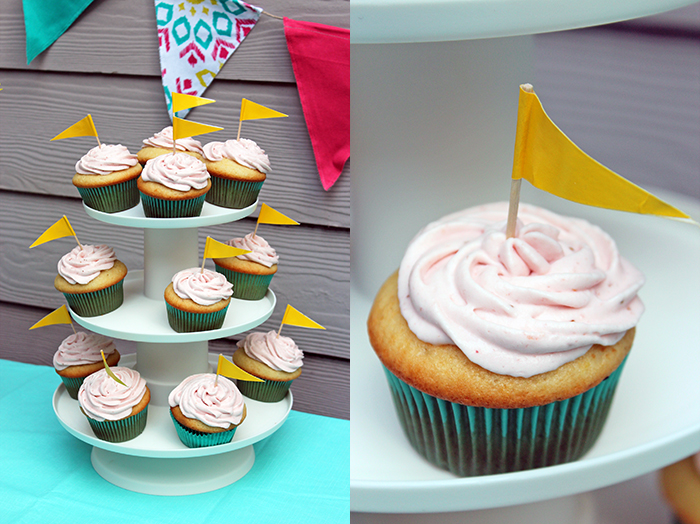 The salads are always refreshing, light, and are an ideal side. This time I made two lettuce salads, one I prepared with slices of bell peppers, and the other with cherry tomatoes. For both, I made a dressing of olive oil, lemon juice, and salt. I also prepared a third salad, made of black beans, cherry tomatoes, parsley, salt, pepper, and balsamic vinegar.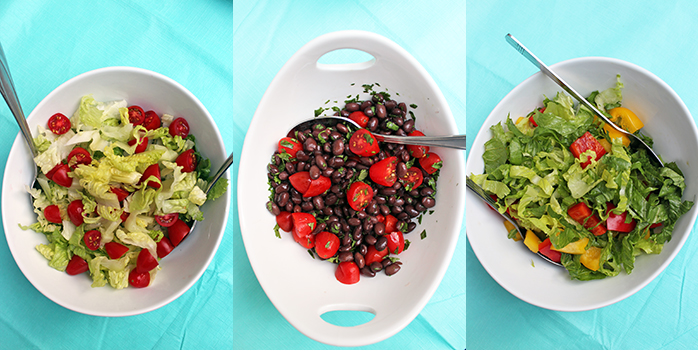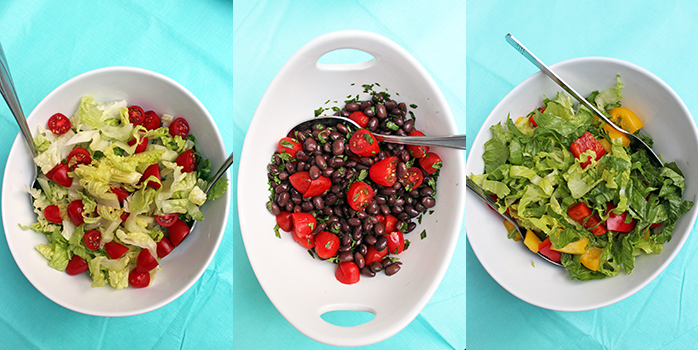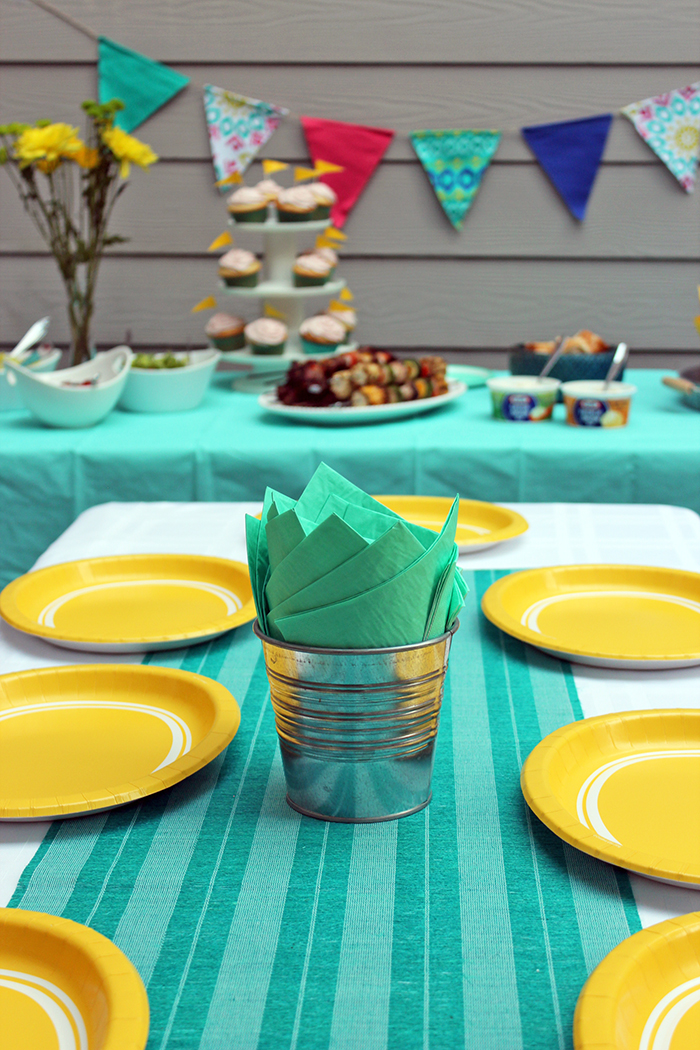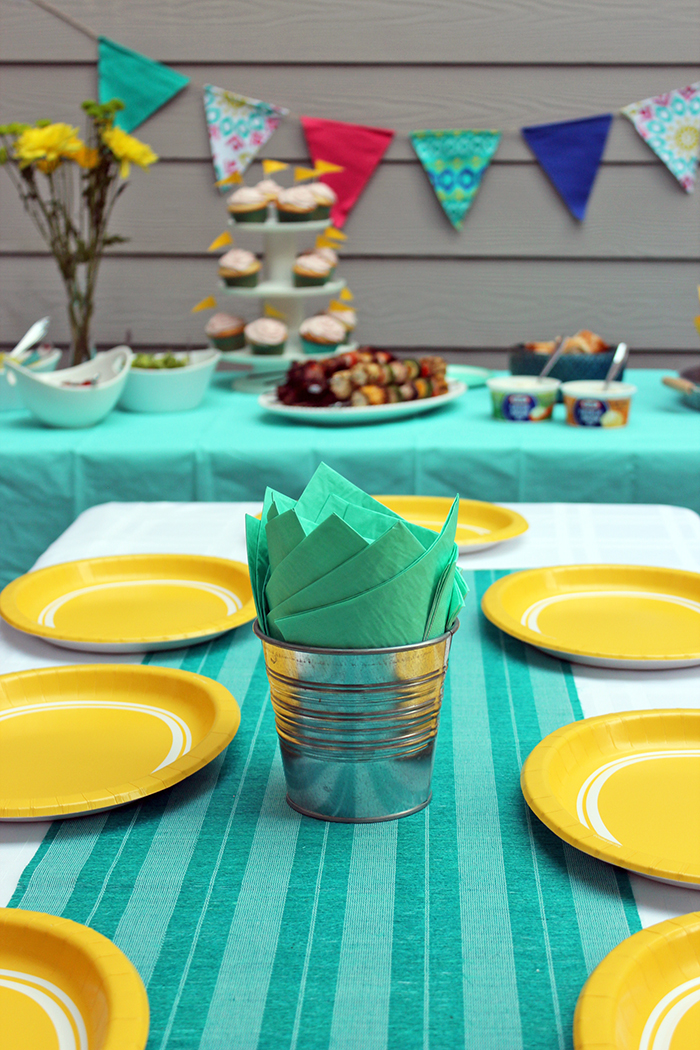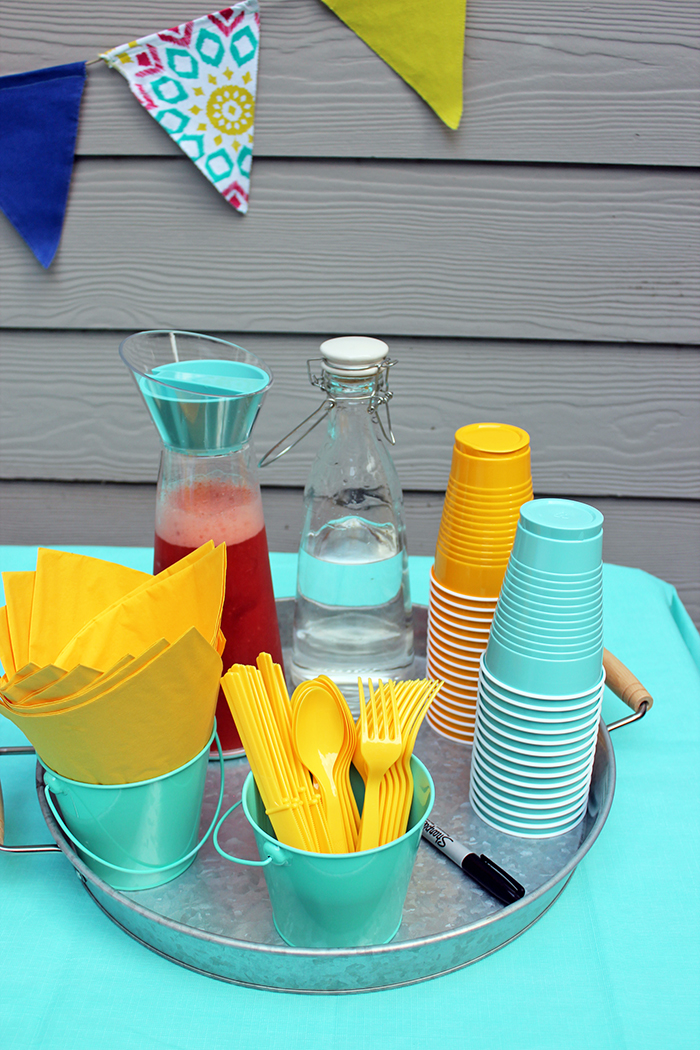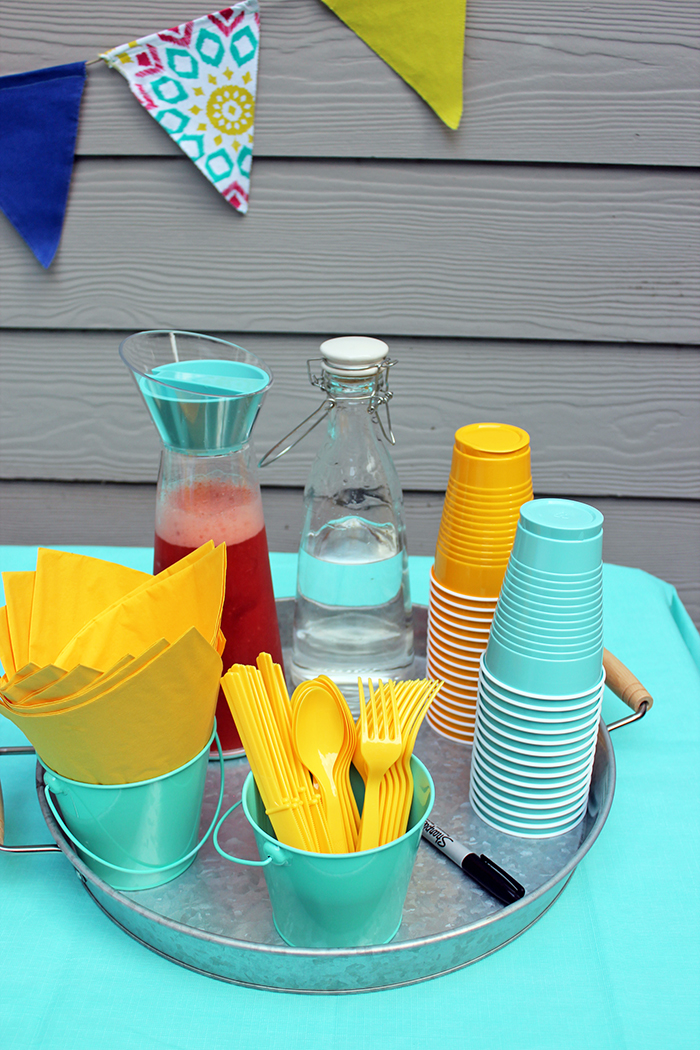 I definitely recommend enjoying these delicious skewers with the dips from Kraft, because besides of giving them an even better flavor, it's a nutritious and balanced dip, which makes it a good choice for our meals.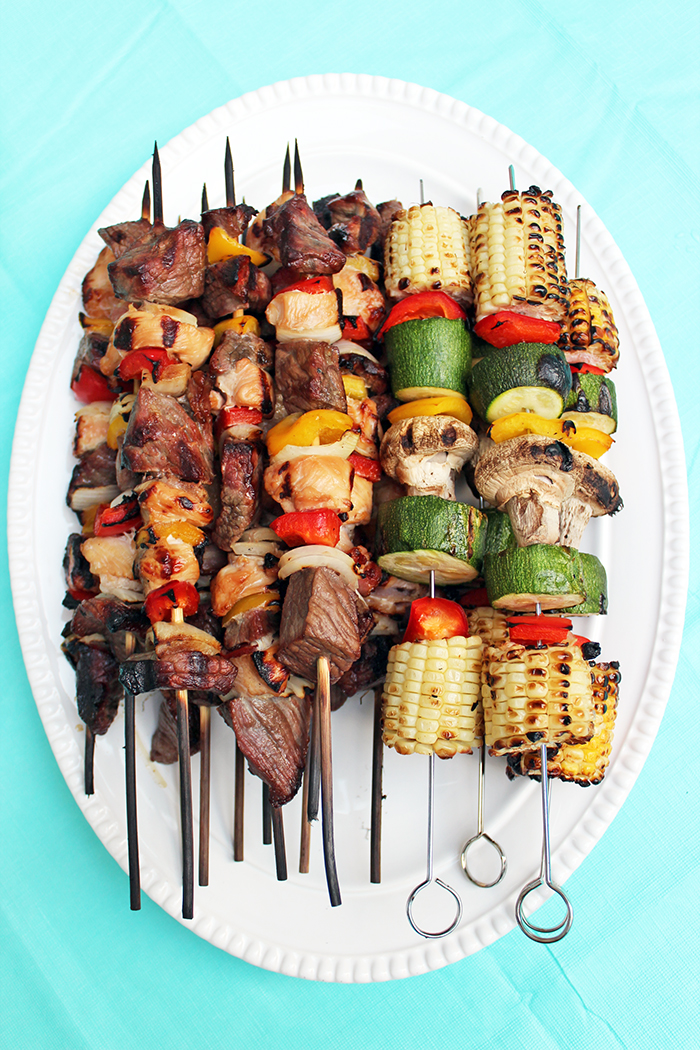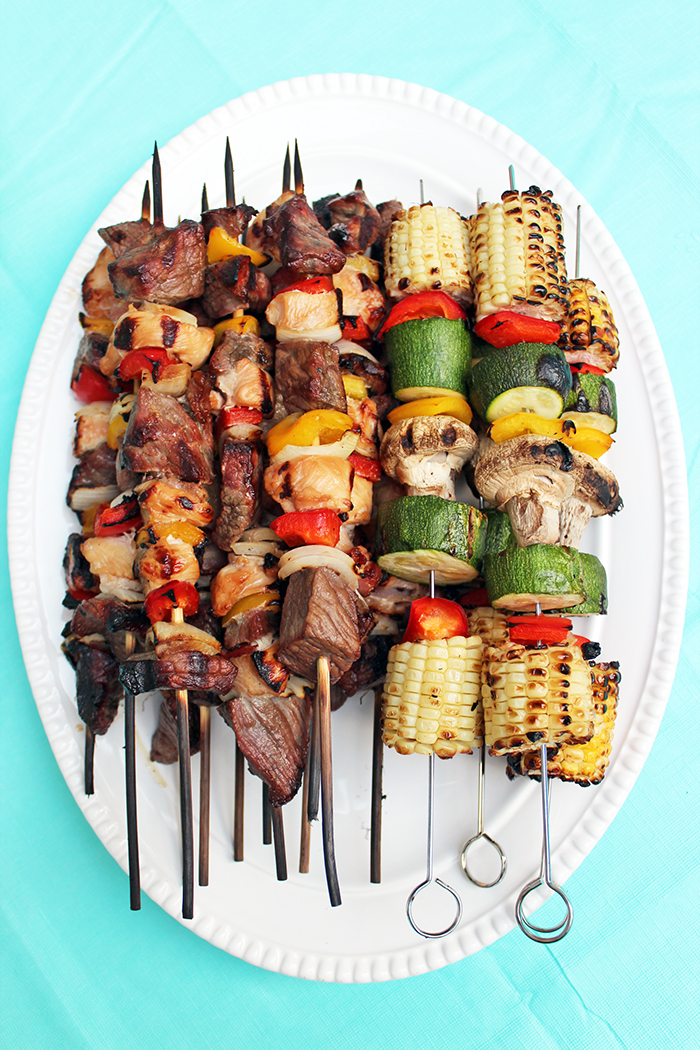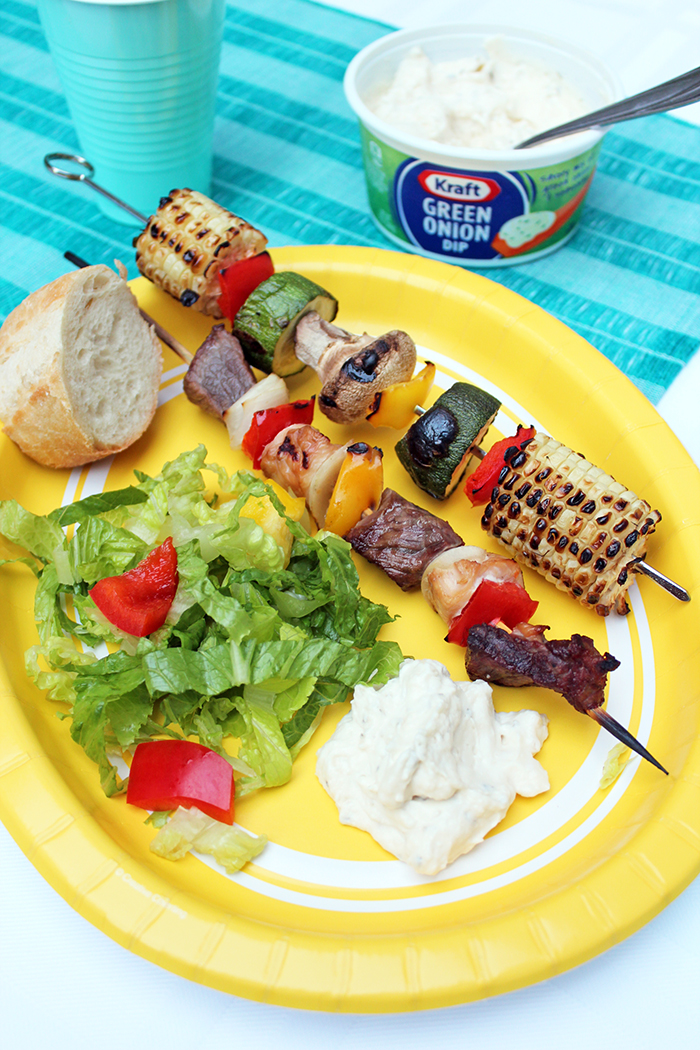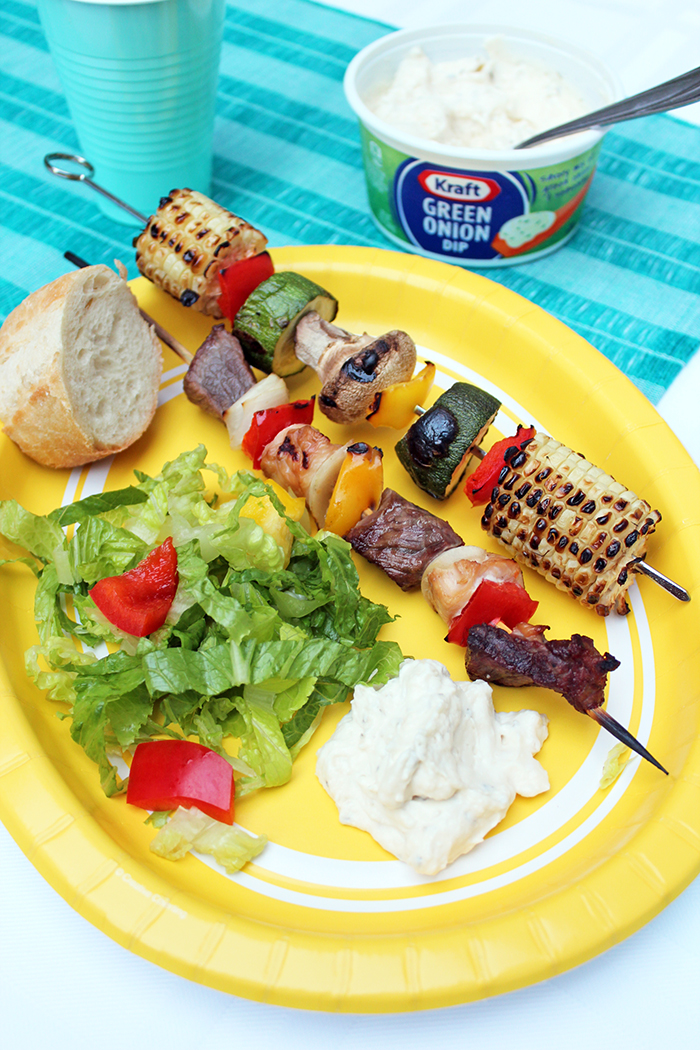 Be sure to check out more delicious recipes at Kraft.com. I'd love to hear your favorite in the comments section of this post!