This pantrucas recipe is one of those that when tasting it one feels magically brought back to the flavors of childhood. This particular recipe was so delicious that my husband just had to get another serving. I must confess that when my mother had this dish on the menu, that didn't make me very happy, but luckily my tastes have changed a lot, and all these Chilean soups such as the carbonada, cazuela, and the pantrucas featured on this post, are an integral part of our culinary culture. This is actual home cooking, the one from our mothers and grandmothers. Those are recipes that are passed from generation to generation. And especially when one lives away from Chile, these are the flavors that bring the satisfaction of enjoying a little bit of Chile on the table.
I would like to clarify a couple of things, first that there are several versions of this recipe, all similar, but I assure you that the one I present here will not disappoint you. Another thing is about the broth to use for this recipe, and there are 3 options for this: I chose to buy a very good broth made of organic meat. A second option is to buy bones with meat concentrate, and cook with plenty of water for an hour, then you can use that broth for the pantrucas. The third option is to use a meat bouillon cube, those that are typically sold in Chile, dissolve it in water, and add that to the broth. This last option is my least preferred one, but I still give it as an alternative.
The servings for this recipe is for 2 or 3 people. It all will depend on how big the portions are.
You may probably also like some of my other Chilean recipes, such as Chilean ajiaco or Chickpeas with scallops.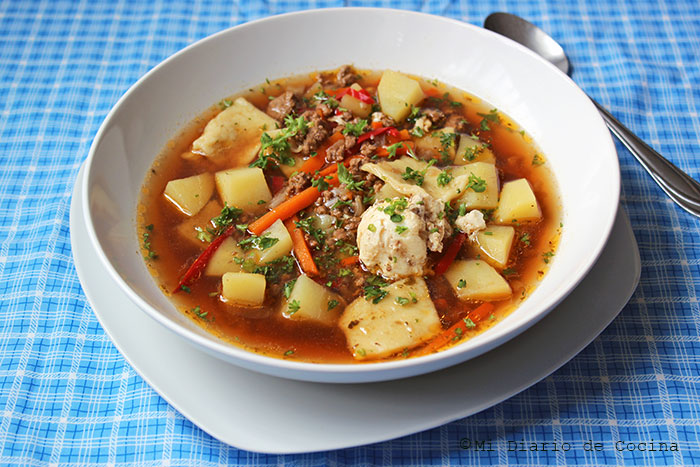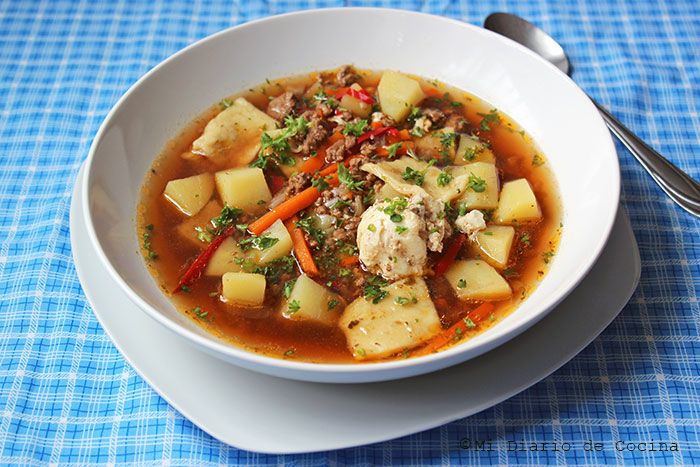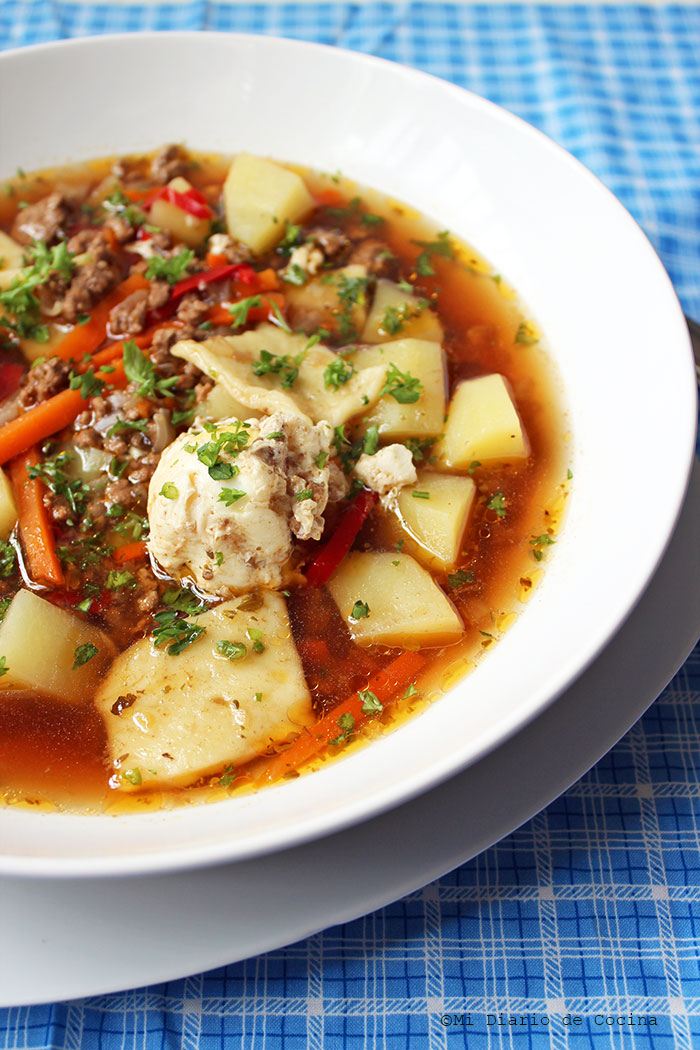 If you don't want to miss any new recipes posted in Mi Diario de Cocina, you can subscribe HERE. Remember that you can follow me through Facebook and  Twitter. Or if you like the pictures and want more cooking ideas, you can also find me on Instagram and Pinterest.
Print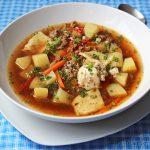 Pantrucas, Chilean recipe
---
Total Time:

40 mins

Yield:

2

-3

1

x
1 tablespoon

of oil

1

medium onion, chopped into small squares

1

or

2

cloves of garlic, finely chopped

200 grams

of ground beef

1

carrot, cut into strips

1/2

red bell pepper, cut into strips

1 teaspoon

of oregano

1/2 teaspoon

of ground cumin

1 teaspoon

of chili powder or paprika

2

medium potatoes, peeled and cut into squares

1

liter of beef broth
Salt, pepper to taste

3/4 cup

of all-purpose flour without baking powder

1

egg

1/4 cup

of warm water

2

eggs (these are used to serve the pantrucas and are optional, added at the end)
Fresh cilantro or parsley, chopped
---
Instructions
In a saucepan, fry the onion and garlic in the oil for about 3 minutes.
Add the meat and cook for about 2 more minutes. Immediately add the carrot, pepper, and seasonings: oregano, cumin, and chili powder. Be careful with the salt, as the broth is usually salty already.
Add pepper to taste.
Stir the whole mix well, and add the potatoes, in addition to the beef broth.
Cover the pot and cook for at least 5 minutes over medium heat.
Meanwhile, prepare the dough for the pantrucas: put together all the ingredients, i.e. flour, egg, and water, and then form a uniform and smooth dough. The amount of water can vary, and if you need a little more, then you can just add it to the mix.
Once the dough is formed, stretch it with the help of a rolling pin, then cut strips lengthwise and then further into small squares, as seen in the photos.
Add the pantrucas (i.e. the dough squares) to the broth, and cook for about 10 more minutes.
When everything is ready, add one or two whole eggs without stirring the broth, let them cook a little.
Serve the pantrucas hot, with chopped cilantro or parsley on top.
Prep Time:

20 mins

Cook Time:

20 mins