This Zucchini and tomato tart is one of those recipes that may surprise, besides of being perfect for those who have problems with the gluten, since the base dough-base is actually made with almond flour. Of course, if you don't have problems with gluten or you find it difficult to get almond flour, you can use another cake base that is explained HERE. But the fact is that you don't need to have gluten problems in order to enjoy other healthier flours, and this particular dough-base has a very special flavor, which combines perfectly with the filling.
This tart recipe has some little details that will give a much more special flavor, and please trust me when I say that it's very easy to prepare, it quite straightforward and its presentation looks beautiful, as you can see on the pictures.
There is one important detail I suggest you to do: when you slice the tomatoes and the pumpkin, add some salt on top and have some paper towels absorbing liquid from them for a while, as this will prevent them from releasing water during cooking.
You may also want to see my recipes of Quiche of artichokes and sun-dried tomatoes, and Pascualina tart.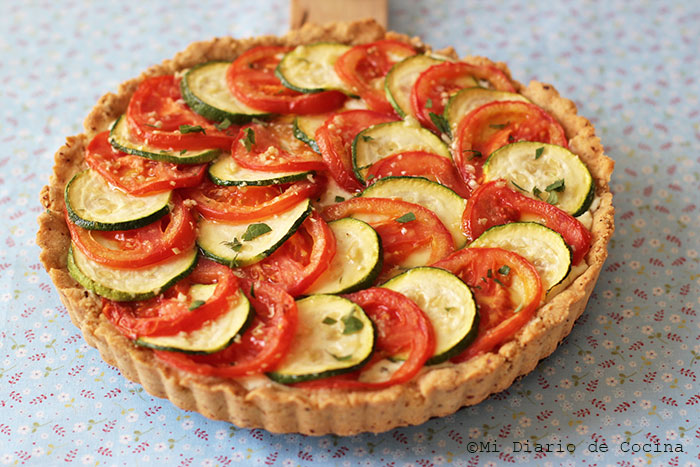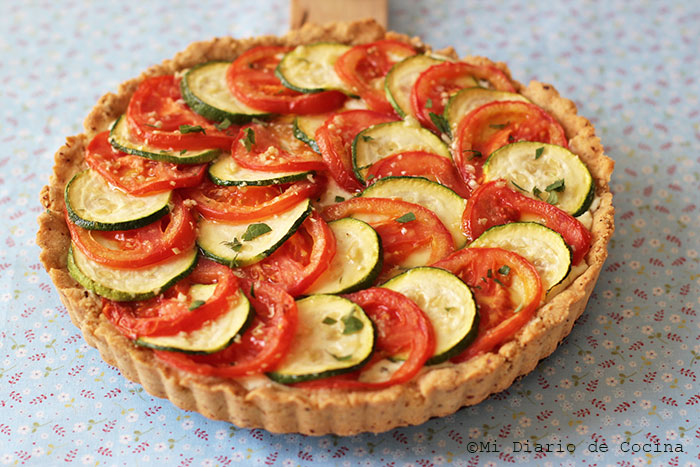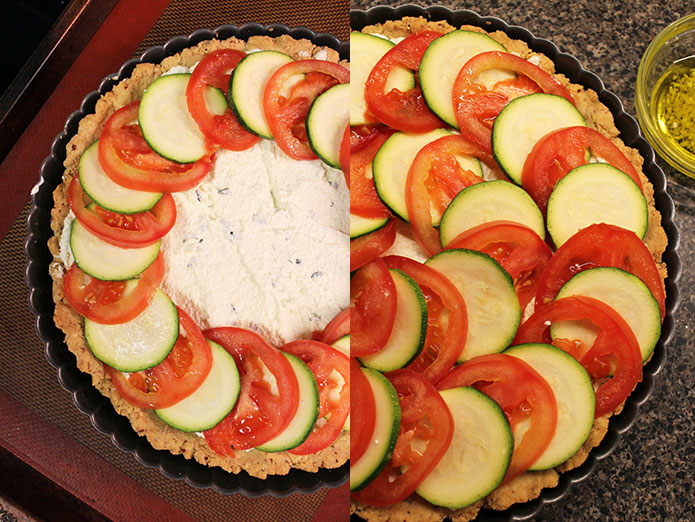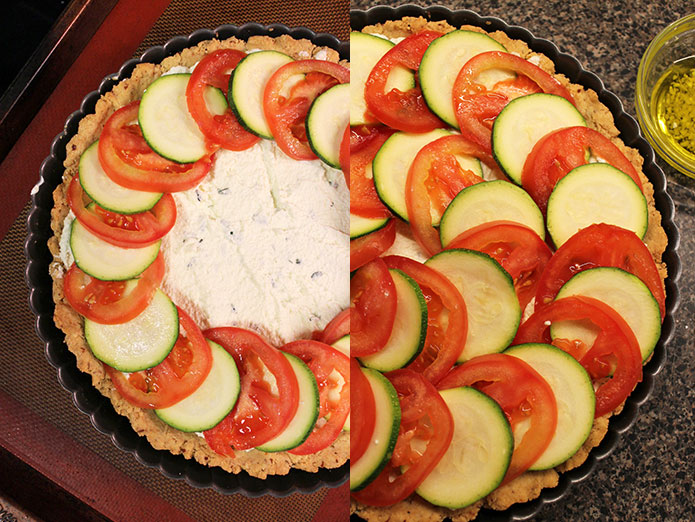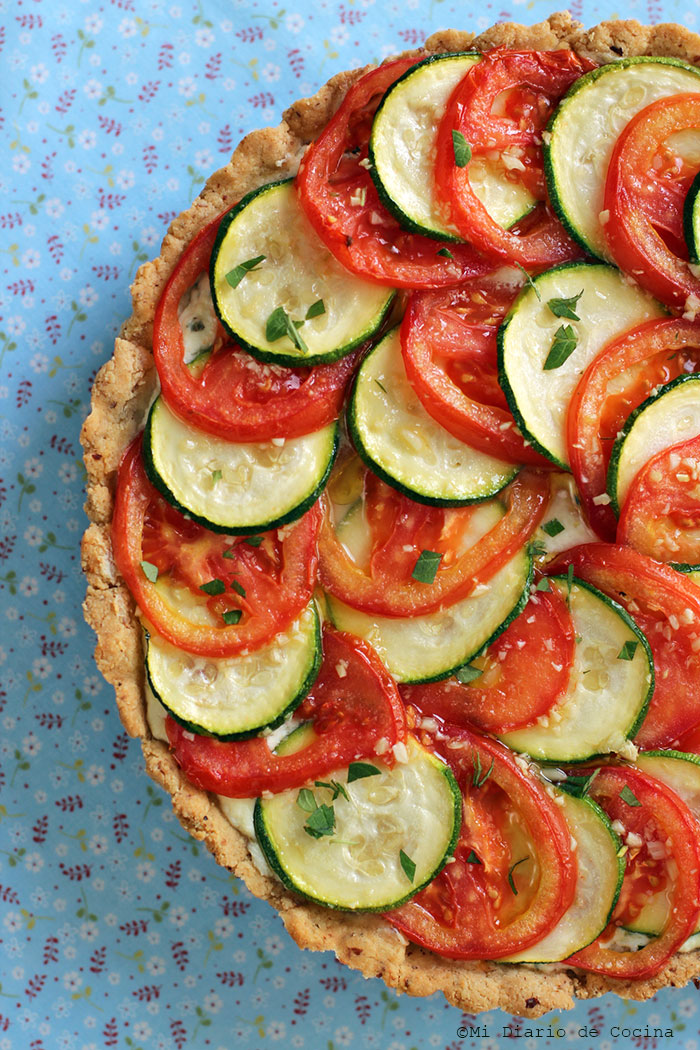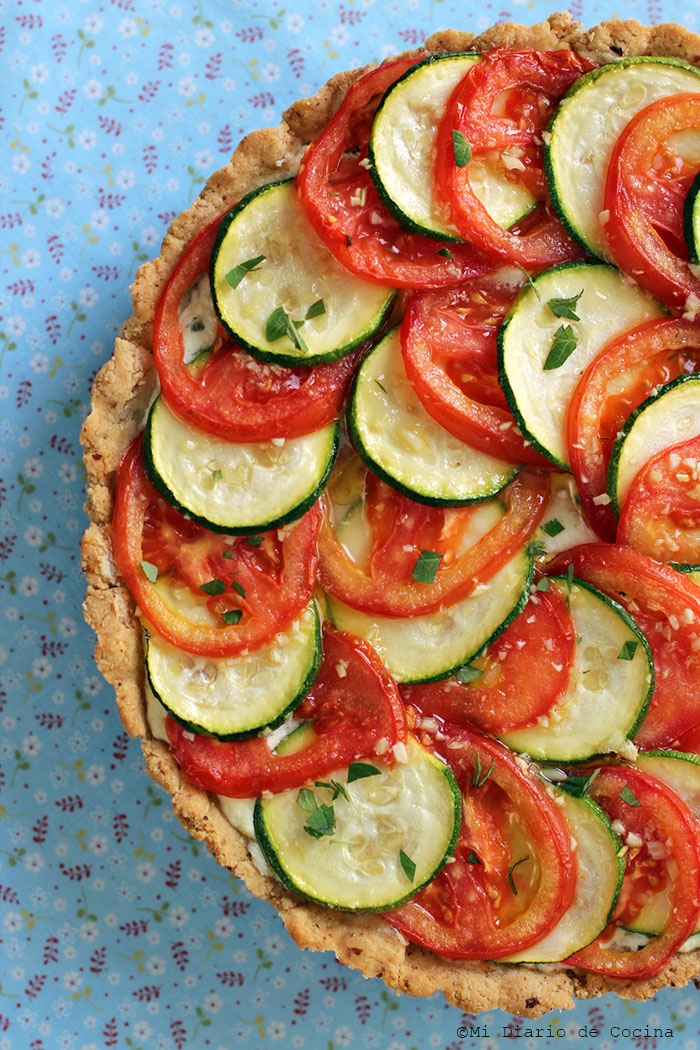 If you don't want to miss any new recipes posted in Mi Diario de Cocina, you can subscribe HERE. Remember that you can follow me through Facebook and  Twitter. Or if you like the pictures and want more cooking ideas, you can also find me on Instagram and Pinterest.
Print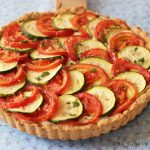 Zucchini and tomato tart
---
Total Time:

1 hour 20 mins

Yield:

8

1

x
INGREDIENTS FOR THE BASE DOUGH:
2 cups

of almond flour

1/2 cup

of cornstarch

2 tablespoons

of coconut flour

1/4 teaspoon

of baking soda

1/2 teaspoon

of salt
Pepper to taste

6 tablespoons

of olive oil

1

egg white

1 tablespoon

of water

2 teaspoons

of lemon zest

1 teaspoon

of lemon juice
INGREDIENTS FOR THE FILLING:
3

small tomatoes

1

zucchini
Salt and pepper to taste

3 tablespoons

of olive oil

1

clove of garlic

1 cup

of ricotta

1 tablespoon

of lemon juice

3 tablespoons

of basil

2 tablespoons

of oregano (ideally fresh)
---
Instructions
PREPARATION OF THE BASE-DOUGH:
Preheat the oven to 350°F (180°C).
Butter a mold of 24-26 cms (10 in).
In a bowl, mix the dry ingredients: almond flour, cornstarch, coconut flour, baking soda, salt, and pepper.
In another bowl mix the oil, egg white, water, lemon zest, and lemon juice. Mix everything very well, and add this to the mixture of dry ingredients. Form a uniform, even dough.
Spread the dough in the mold, leaving edges on the sides.
Bake for 25 minutes.
PREPARATION OF THE FILLING:
Cut the tomato into not-very-thick slices, and do the same with the zucchini. Place all these slices on absorbent paper. Put salt on top and leave wait for them to release liquid.
Meanwhile, chop (finely) the garlic clove and mix with 2 tablespoons of olive oil. Then, in another bowl, add the ricotta cheese and mix it with 2 tablespoons of chopped basil, oregano, 1/2 teaspoon of salt, and 1 tablespoon of olive oil. If you like you can add pepper. Mix well.
Once the dough is ready, place the ricotta mixture on top of it, then place a slice of tomato, zucchini on top of the ricotta filling, and keep repeating this until completing the whole tart, as seen in the photos.
Use a brush to add on top a layer of the mixture of olive oil and garlic.
Bake for 25 minutes.
Before serving, sprinkle some chopped basil and oregano over the food.
Prep Time:

30 mins

Cook Time:

50 mins