Over the years these cupcakes have gained quite some popularity, and there are several versions of this recipe. However, after reading several of these recipes, I made my own version, but without changing the essence of the recipe itself. The result: an almost addictive cupcake!
The key to achieve that characteristic reddish color is to use gel-based colors.
I consider that these delicious cupcakes are perfect for celebrating Valentine's.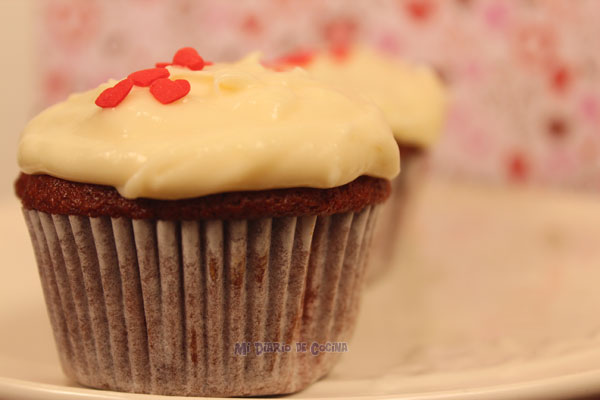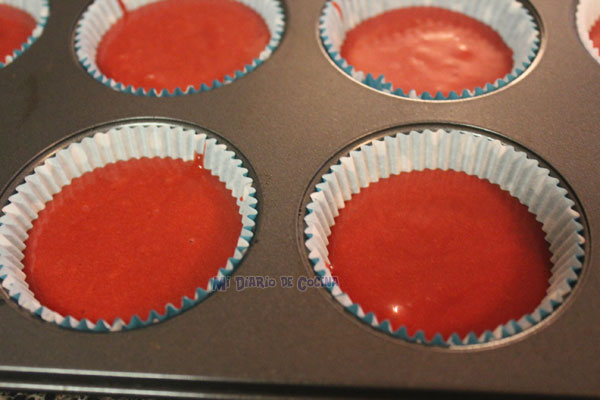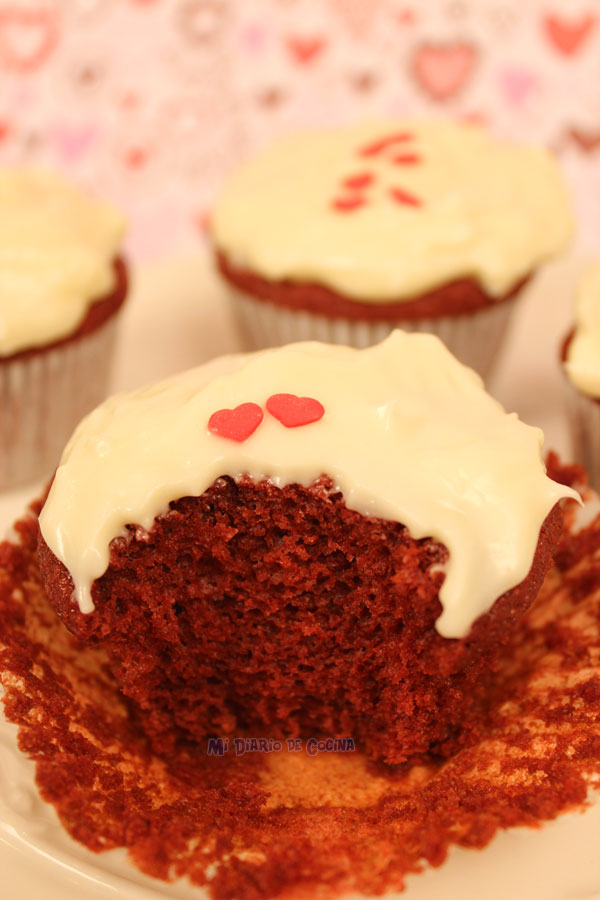 INGREDIENTS: (FOR 12 REGULAR-SIZE CUPCAKES)
1 1/4 cups of all-purpose flour without baking powder
1 tablespoon of dark cocoa powder
1 teaspoon of baking powder
1/2 teaspoon of salt
3/4 cup of granulated sugar
3/4 cup of vegetable or canola oil
1 egg
1/2 teaspoon of red gel-based color
1 teaspoon of vanilla extract
1/2 cup of liquid milk
A pinch of baking soda
1 teaspoon of white vinegar
Frosting: 125 g (4.4 oz) of cream cheese, 1 tablespoon of butter, 3/4 cup of powdered sugar, and 1/2 teaspoon of vanilla extract.
Preheat the oven to 350°F (180°C). Place paper liners in the metal mold for cupcakes.
In a bowl, mix the flour, baking powder, cocoa powder and salt. Set aside.
In another bowl or in the mixer, beat the sugar and oil until well combined, then add the egg. Add the gel-based color, and vanilla extract.
Then slowly add the flour mixture, alternating with milk.
In a small bowl, mix baking soda with vinegar, which then shall be added to the mixture. Mix all very well.
Fill the cupcake molds up to 3/4 the volume of each mold (as seen in the second picture).
Bake for 20 minutes.
Prepare the frosting by joining the cream cheese, butter, sugar, and vanilla extract together.
When the cupcakes have cooled down, decorate the tops with the frosting any way you like.