This delicious carrot cake is ideal for Easter time, in case you want to finish your lunch in a brilliant way, then this may be the perfect dessert. Now, if what you're looking for is something appropriate for the afternoon tea or coffee, then this is also an excellent choice. The taste of the cake is very special, flavorful and moist thanks to the carrots and seasonings. This is a simple version of this popular cake. I wanted to do it in two molds, therefore the cooking process is faster by dividing the mixture into two, but you can also use a smaller pan and divide the mixture into 3 portions, and that way you can get a taller cake with 3 layers.
The decoration on top should be to your taste and imagination, you can give the cake much more color. In my case I decided to decorate it in a very simple way, with just some chocolate eggs. I hope you enjoy this delicious cake.
You may also want to see my recipes of Apple pie or Pineapple cake.
If you don't want to miss any new recipes posted in Mi Diario de Cocina, you can subscribe HERE. Remember that you can follow me through Facebook and  Twitter. Or if you like the pictures and want more cooking ideas, you can also find me on Instagram and Pinterest.
Print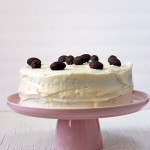 Carrot cake
---
1 cup

of vegetable (or canola) oil

1 1/2 cup

of brown sugar

6

eggs

1 tablespoon

of vanilla extract

3 cups

of all-purpose flour, without baking powder

1 teaspoon

OF ground cinnamon

1/2 teaspoon

of baking soda

1/2 teaspoon

of salt

1 teaspoon

of baking powder

1/2 teaspoon

of nutmeg
A pinch of ground cloves

2 1/2 cups

of grated carrots

1/2 cup

of chopped walnuts (optional)

2

packages of cream cheese, 8 oz (

226 grams

each)

125 grams

(

4.4 oz

) of butter

1 tablespoon

of vanilla extract

4 cups

of powdered sugar
---
Instructions
Preheat the oven to 350°F (180°C).
Butter 2 molds of 22 cm, also ideally place parchment paper in the bottom of each mold.
In a bowl, mix the oil with the brown sugar, beat until an homogeneous mix is achieved. Add the eggs one by one, as well as the vanilla extract. Beat for about 2 minutes.
Meanwhile, in another bowl, mix the dry ingredients: flour, baking soda, cinnamon, salt, baking powder, nutmeg, and cloves.
Add to the above mixture slowly and at a medium speed. Beat until everything gets well combined.
Then add the grated carrot, mixing only with a spoon. If you like you can also add chopped nuts or raisins, but this is entirely optional.
Divide the mixture into two equal portions, and place them into each mold.
Bake for about 30 minutes.
Meanwhile, prepare the frosting by mixing well all the following ingredients: cream cheese, butter, vanilla, and powdered sugar. Refrigerate.
Once the cake bases are ready and cooled down, place one of them at the base, and on top of it add a generous portion of frosting. Place the other cake on top, and then finally cover the entire cake with frosting.
The decoration is to your liking. In my case, I put some small chocolate eggs.
You can also stick ground walnuts on the sides of the cake.
Ideally, let the cake stand for a while before serving.
Prep Time:

30 mins

Cook Time:

30 mins