I like that my blog is diverse, because that simply makes it entertaining. Not locking oneself into the same type of food helps with having the possibility of tasting an endless number of flavors and textures, mixes that perhaps we never thought would exist.
As I said in other posts, my goal is to give a very wide space to healthy and tasty cuisine. This time I wanted to practice once again with the vegan flavors and achieve a kind of cheesecake with totally natural and uncooked ingredients, very different from what people are used to, and which doesn't have much to do with the traditional cheesecakes. This recipe of Vegan strawberry cheesecake is worth doing if you are eager to try something sweet, and you can also make it in a square mold and then cut in small pieces, perfect for any occasion.
You may also like my recipes of Vegan chocolate cheesecake and No-Bake Pineapple Tart.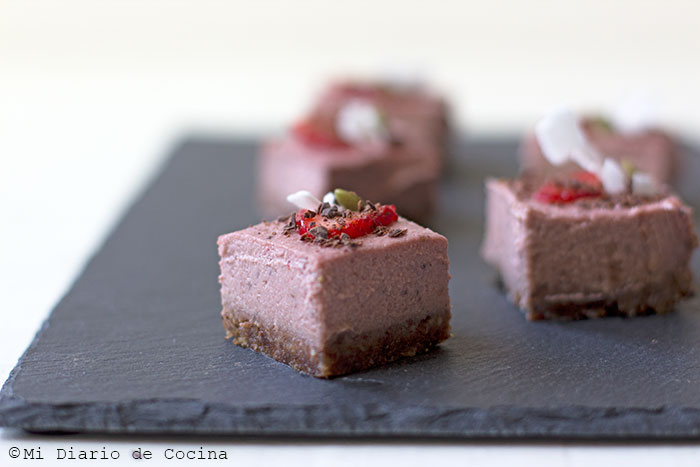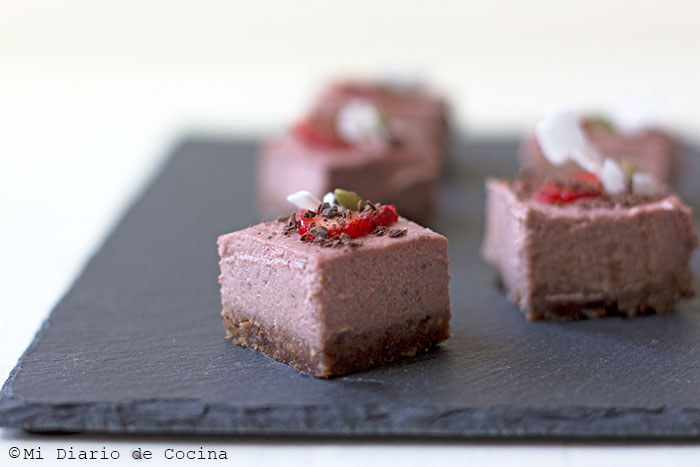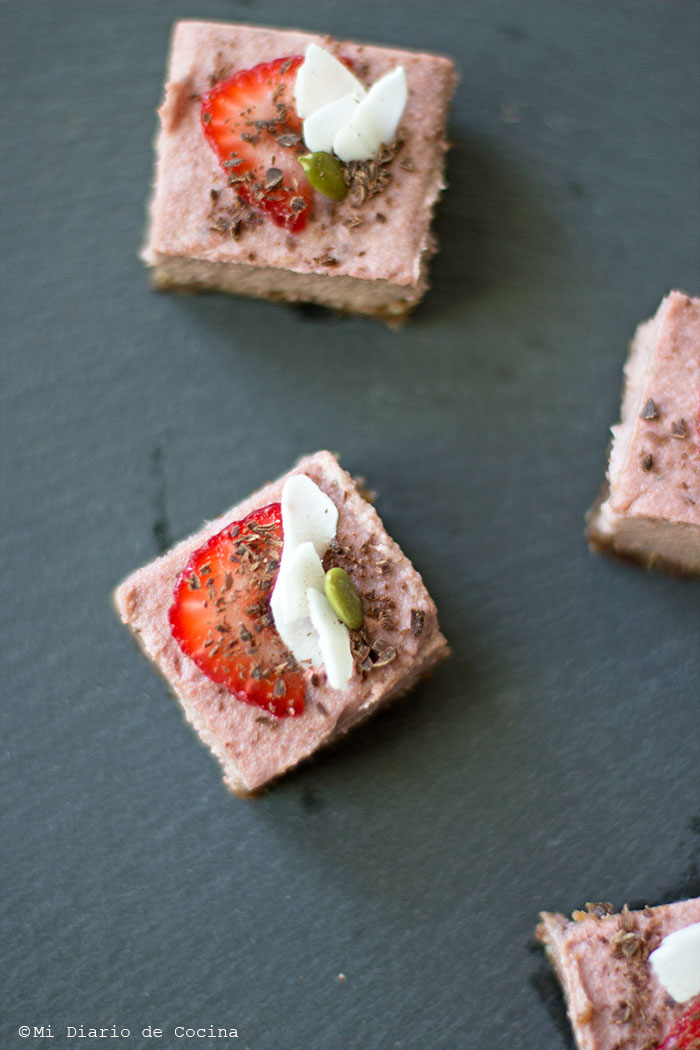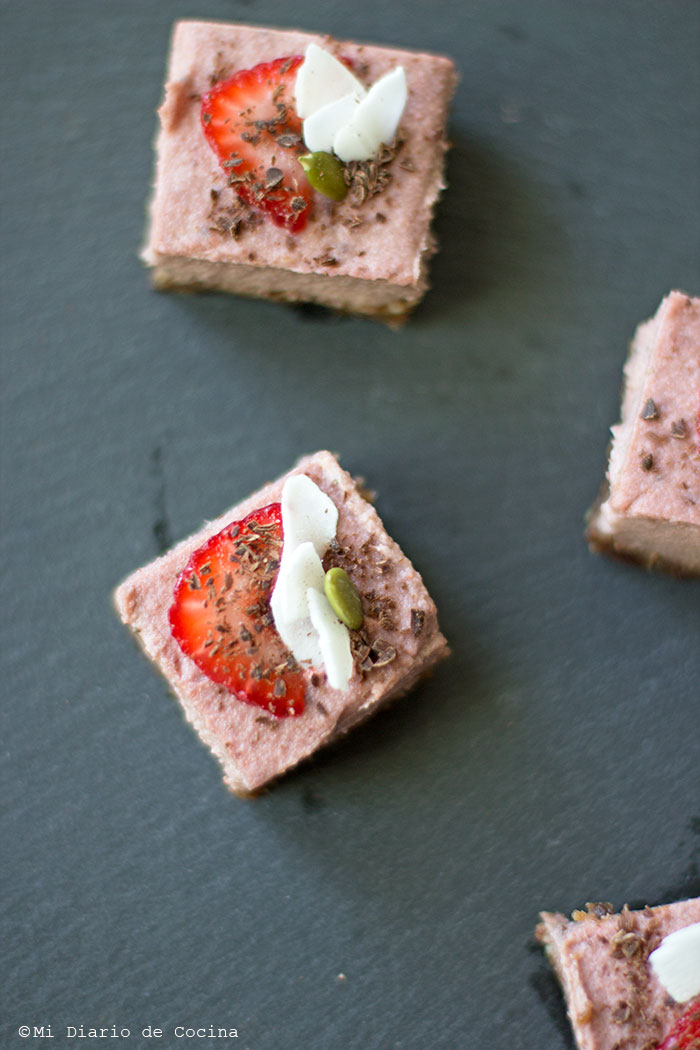 If you don't want to miss any new recipes posted in Mi Diario de Cocina, you can subscribe HERE. Remember that you can follow me through Facebook and  Twitter. Or if you like the pictures and want more cooking ideas, you can also find me on Instagram and Pinterest.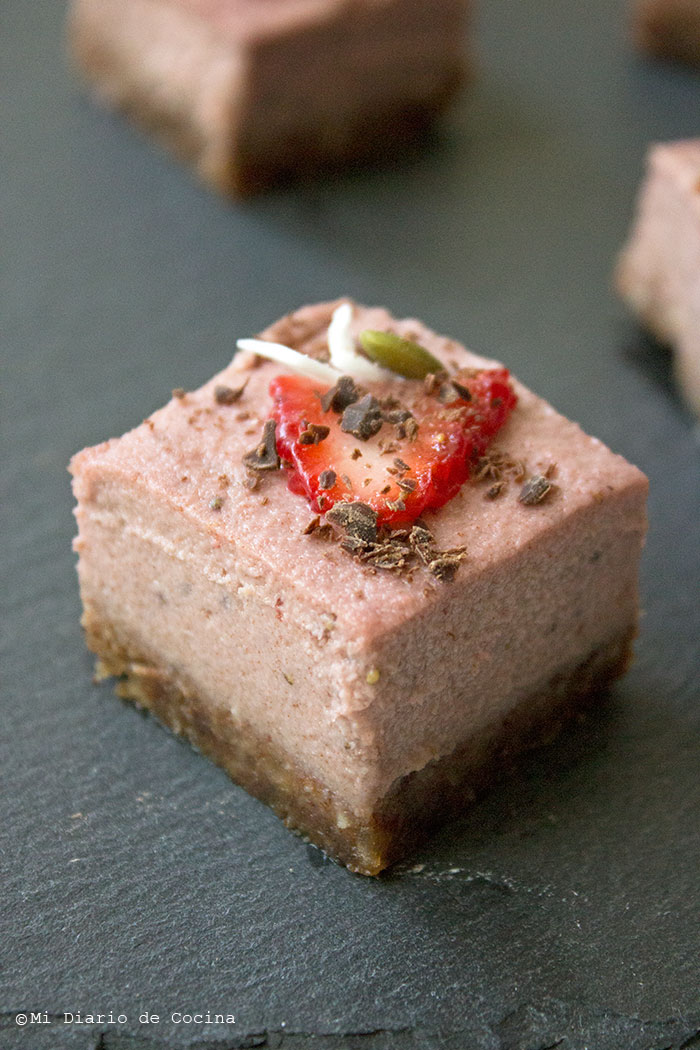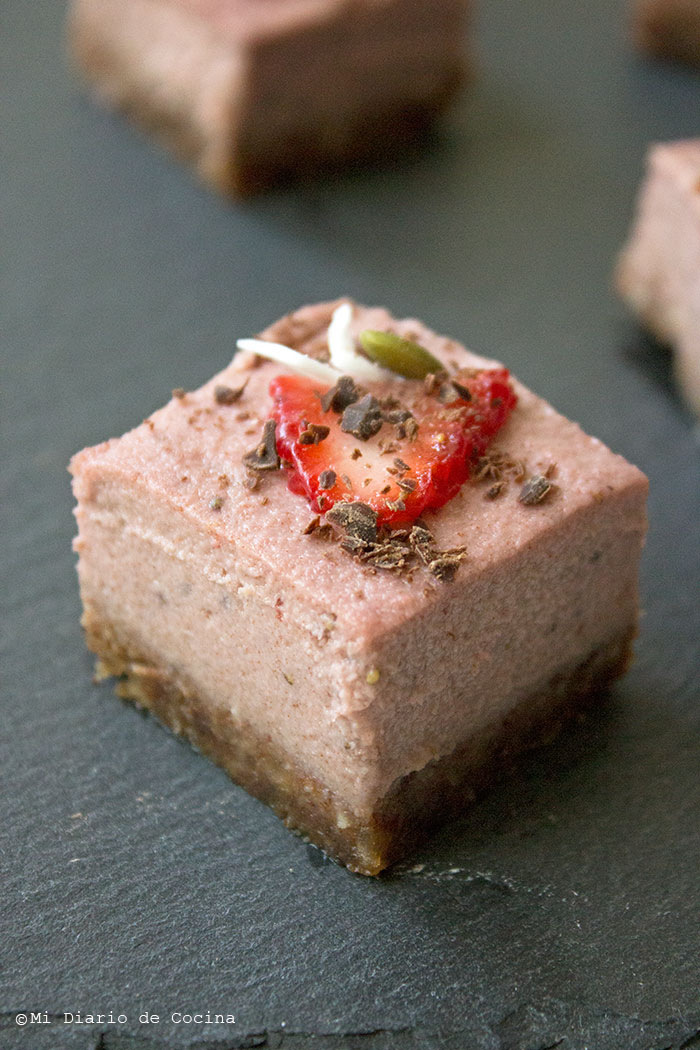 Print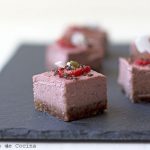 Vegan strawberry cheesecake
---
BASE INGREDIENTS
1 cup

of almonds

6

dates, pitted and chopped

1 tablespoon

of cocoa powder (sugar free)

1 teaspoon

of almond butter or peanut butter

1/4 teaspoon

of vanilla extract
A pinch of salt
INGREDIENTS FOR THE FILLING
1 cup

of cashew nuts, soaked in water for at least 3 hours

2 cups

of clean strawberries and without green leaves

5

dates, pitted

1 tablespoon

of maple syrup or honey

1 teaspoon

of lemon juice

3 tablespoons

of melted coconut oil
A pinch of salt
---
Instructions
In a food processor or blender, process the almonds to be ground, but still having some small pieces. Then add the cocoa, almond (or peanut) butter, and salt. Then process this mixture.
Spread this mixture in the base of a square mold of approximately 20 cms (about 8 inches) sides.
Take to the freezer for 30 minutes.
Meanwhile prepare the filling: drain the cashew nuts, place them in a blender, and process them along with all the other ingredients of the filling (except coconut oil). You can add more dates if you want to achieve a sweeter taste. Then add the melted coconut oil, and unite it well to the mixture.
Distribute the filling over the base of our cheesecake, and bring to the freezer for at least 3 hours.
Once ready, cut into small squares, and you can decorate with pieces of strawberries and seeds.