This is part of a sponsored collaboration with National Pork Board and DiMe Media. However, all opinions expressed are my own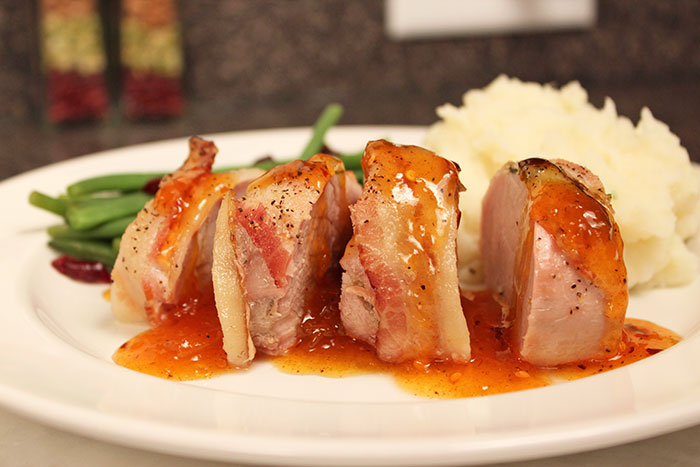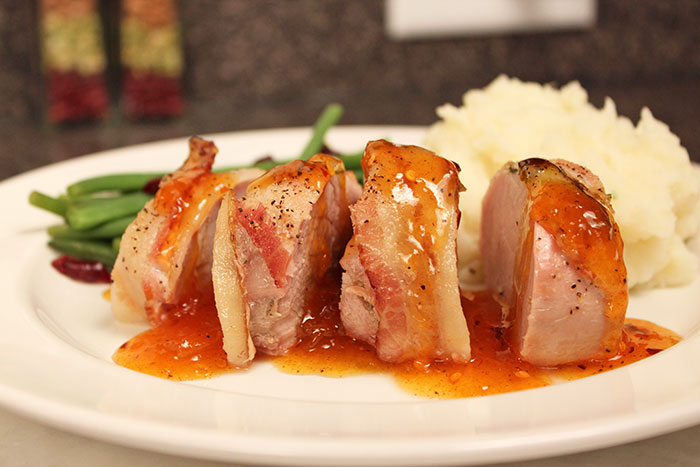 This holiday's season incites one to gather with the people that one loves the most, and enjoy nice meals together. I particularly like to always surprise my family and friends with different foods every year. Sometimes it becomes more difficult to be spot on in regards to finding a recipe that could satisfy everyone's taste.
In this occasion, "Pork Te Inspira" (i.e. "Pork Inspires You") lent me a hand with that, and thanks to them I managed to find a very delicious recipe to share with you, and best of all is that it's very easy to prepare. That's why I chose Pork loin with apricot sauce and rosemary, a delicacy that will definitely get people talking about it.
Perhaps many will not imagine how is it possible to mix something sweet with pork, but believe me, it happened to me too. The first time I tried something similar I did it with much disbelief, because to be quite honest, I never imagined that this mix could actually taste good. But to my surprise, it surpassed any expectations or fears that I might have felt. That is why I invite you to try, and give your taste buds an opportunity to enjoy different things and mixes. Because of that is why I like Pork Loin, since it is a versatile meat, easy to work with, and you can make a variety of preparations for any occasion. I must also mention that I found the perfect combination for this Pork Loin recipe, accompanying it with a side of mashed potatoes and garlic mix, and with a bit of chives and green beans.
This is a simple preparation, you can perfectly make it ahead of time, and then just heating your plate at the time of serving.
As for the sauce that goes with the Pork Loin, it is a mixture of sweetness and spiciness, which tastes great. You have the option of using fresh very-ripe apricots and turn them into jam, or definitely using a good quality apricot preserve. This is an important point for this recipe, in order to achieve and exquisite recipe, and enjoy Sabrosos momentos.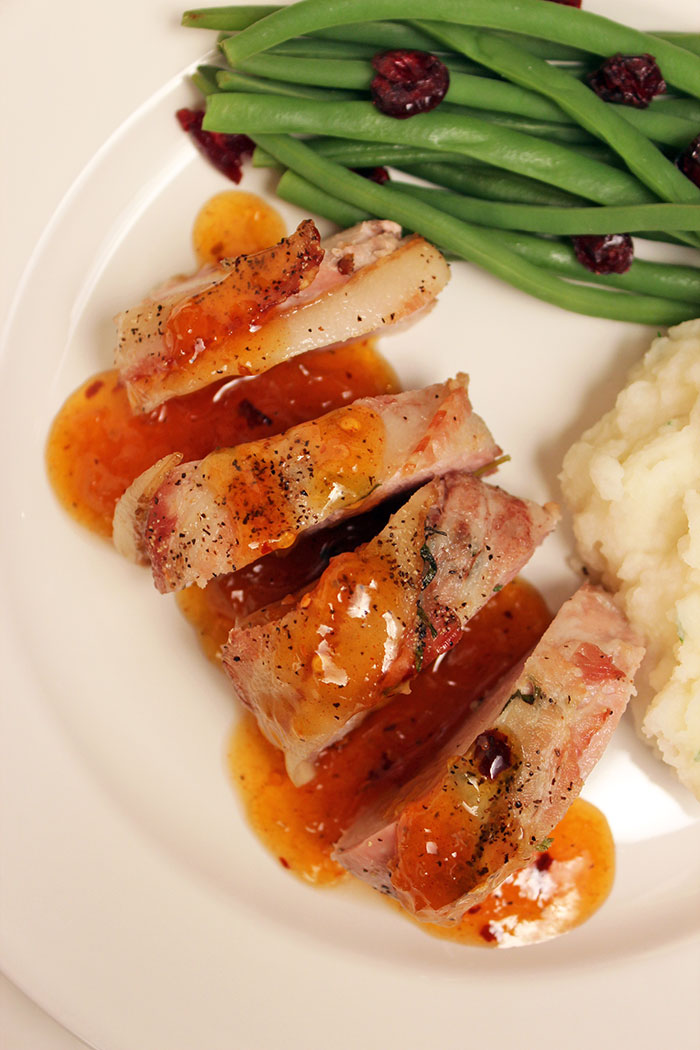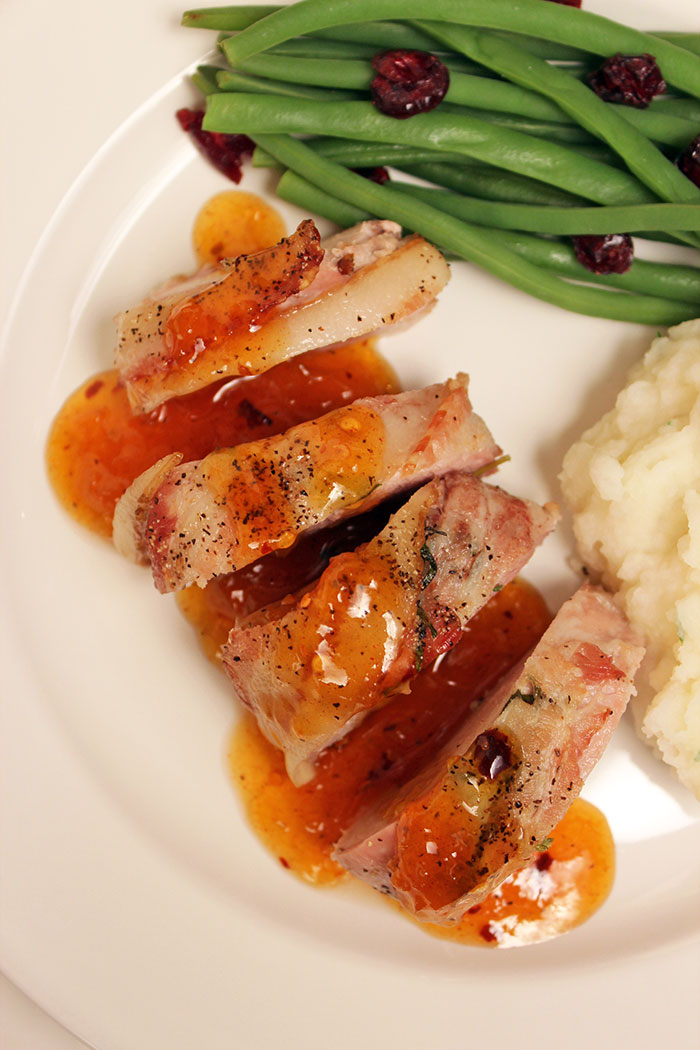 Print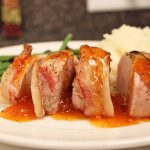 Pork Loin with Apricot Sauce
---
2

lbs of pork loin (i.e. 2-piece bag, of

1

lb each)
Salt and pepper
Rosemary

6

bacon strips

1 tablespoons

of olive oil

1 cup

of apricot preserve

½ teaspoon

of salt

½ teaspoon

of black pepper

1 teaspoon

of paprika

1 teaspoon

of crushed red pepper
Juice of

½

lemon
---
Instructions
Preheat the oven to 350°F (180°C).
Add salt and pepper to each piece of pork loin, then add some rosemary leaves and wrap each piece around 3 bacon strips.
Add a little bit of olive oil on top, and bake for 40 minutes.
If you have a food thermometer, you can measure the internal temperature of the pork loins, which should be at 145°F (62.8°C) when fully cooked.
Meanwhile, prepare the apricot sauce by bringing the preserves to the heat in a pan, add salt, pepper, paprika, and crushed red pepper. Let this cook for 3 minutes.
Once ready, cut the pork loin into medallions, and serve with the apricot sauce on top.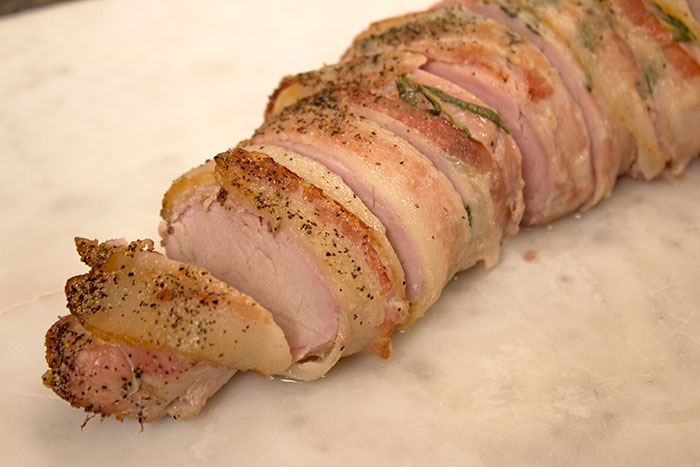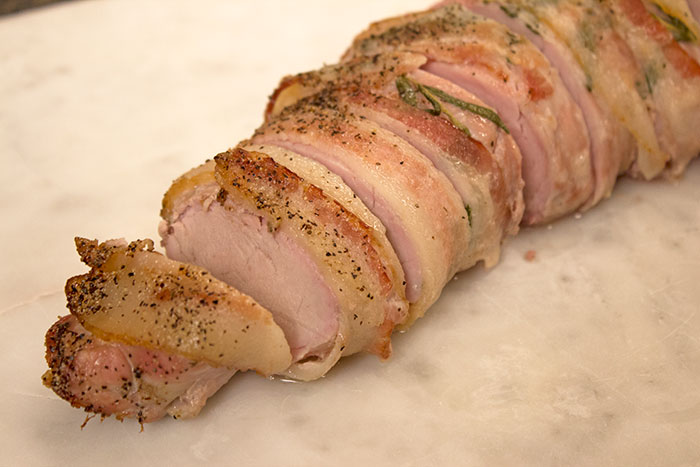 Whenever you ask yourself how to prepare your pork meat, visit PorkTeInspira.com, or follow them via Facebook, Twitter, or Instagram.