Today I present to you a delicious alternative of Pancakes for breakfast, these are not the crepe-like pancakes we often see in Chile, these are the traditional Pancakes that are usually served in many restaurants in the United States. I think the most popular ones are made with buttermilk and are round and fluffy, served with a ball of butter on top. From that base there are a series of alternatives and combinations, and I think that for all tastes.
This time I bring you two flavors, for those who want to enjoy something sweeter or salty or both.
The mixture of these pancakes you can let it stand the night before in the refrigerator and cook it the next morning. The idea is that they be served warm with the toppings that you want, but the options that I give you now are wonderful as is.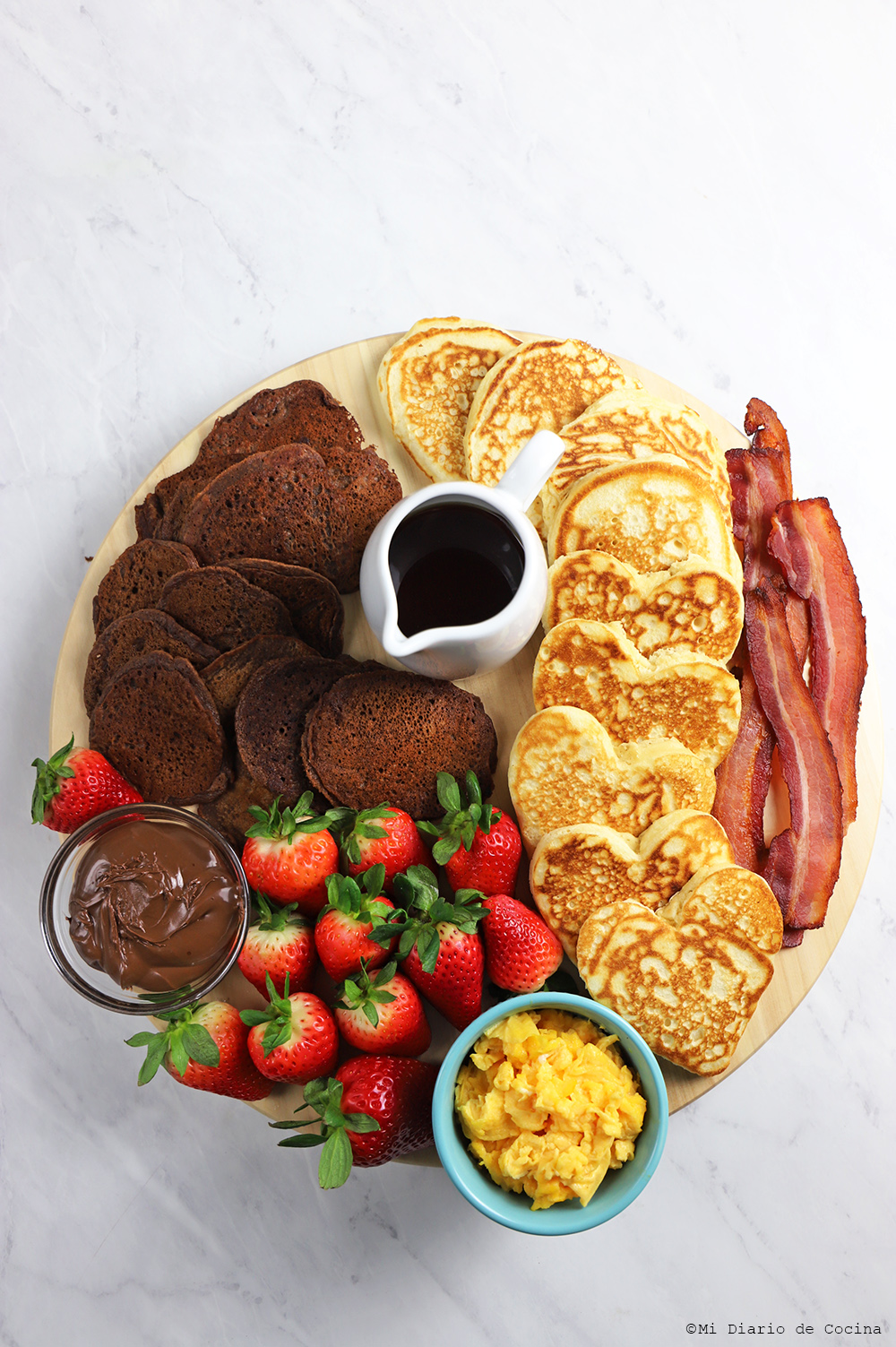 For the fluffy and more traditional pancakes, I simply used a heart-shaped mold, which is placed in the pan and then the mixture is added, when the bottom is cooked it comes off a little and you can remove the mold and flip the pancake to cook other side. But this is only if you want to use some kind of mold of this type. Otherwise, you can just use a spoon and add small portions of the mixture to the pan.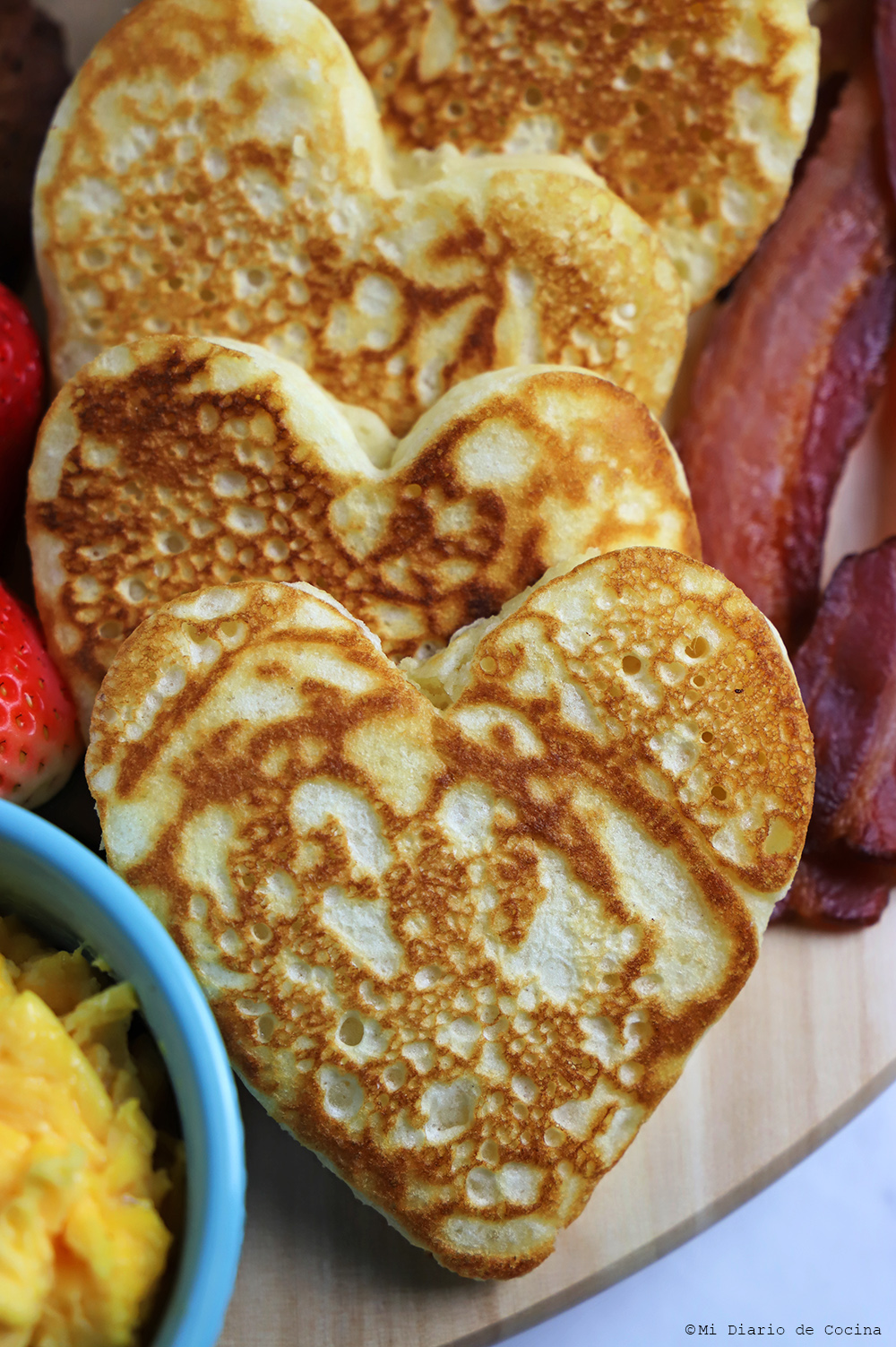 The fluffy pancakes, in this case I mean those that are heart-shaped, have a neutral flavor, therefore they can be combined with sweet or savory accompaniments.
Regarding the bacon links, I put them on a tray that could go into the oven at 350°F (180°C) for about 10 to 12 minutes.
The scrambled egg, I just put spray oil in the pan and cooked them over low heat and stirred until I got the desired point. There are people who add butter or cream, it is optional, and it gives a quite nice texture to the egg.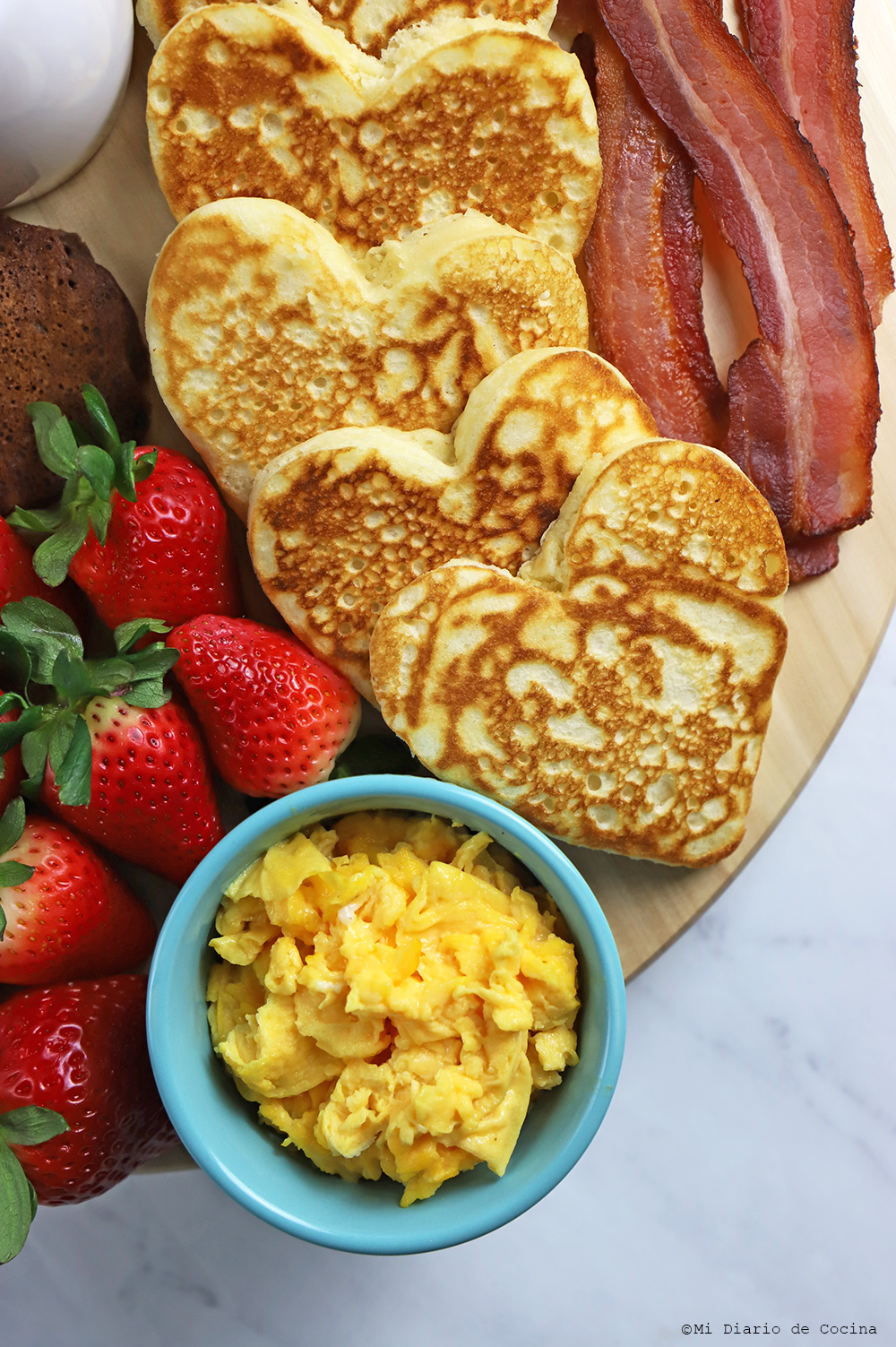 Chocolate pancakes are definitely to be combined with sweet toppings, such as fruits, jams, or (in this case) Nutella.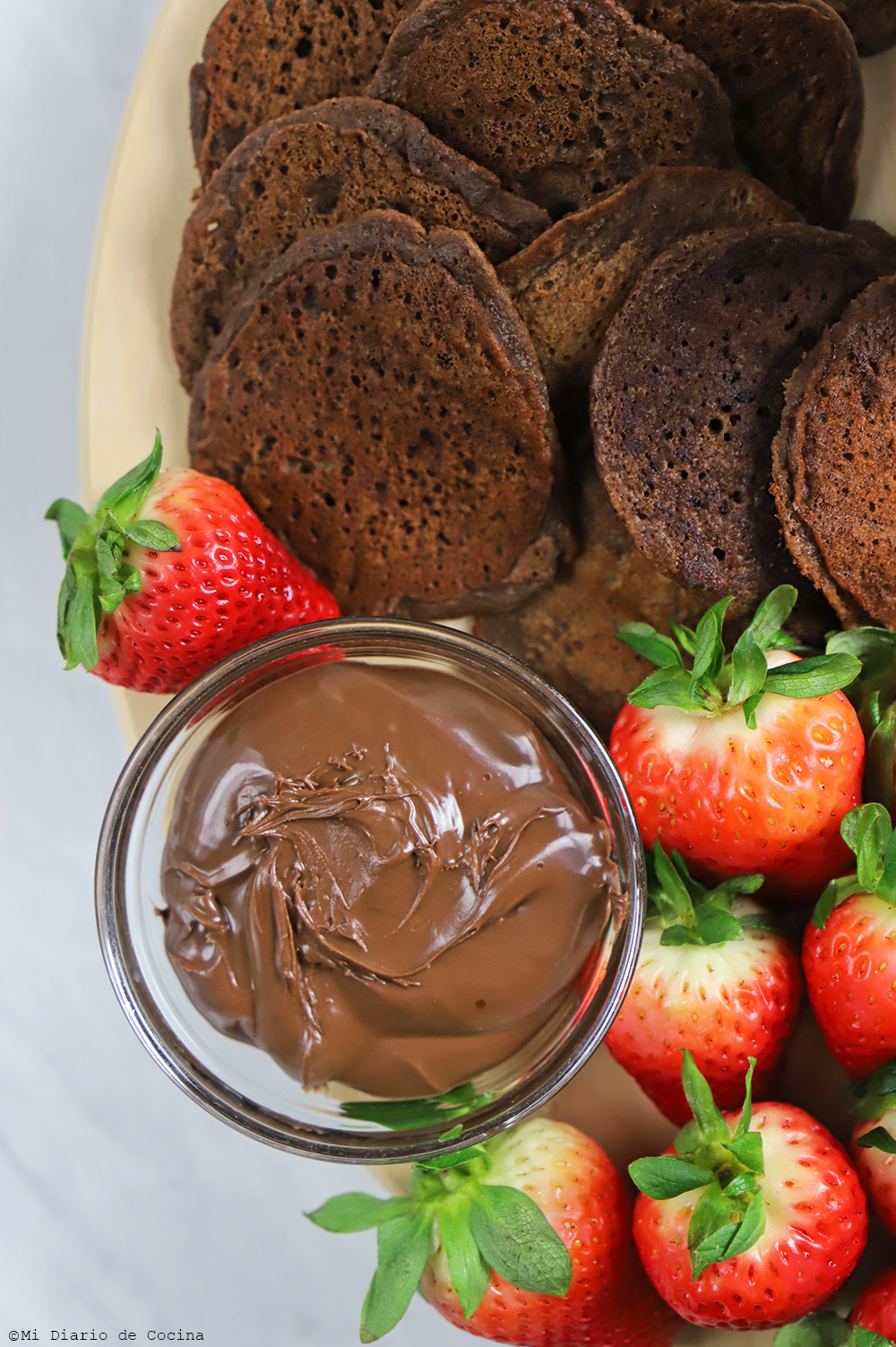 You may be interested in seeing the recipes of Pancake with Ham, Corn & Avocado or Quinoa pancakes.
Print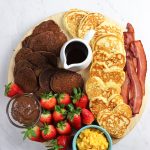 Pancakes for breakfast
---
Author:

Total Time:

25 min

Yield:

25
Description
To accompany these delicious pancakes, they can be served with scrambled eggs, bacon, strawberries, Nutella or syrup.
---
Fluffy pancakes
🔹 1 1/2 cups all-purpose flour
🔹 1 tablespoon granulated sugar
🔹 1 tablespoon baking powder
🔹 1/2 teaspoon salt
🔹 1 1/4 cup milk + 1 tablespoon lemon juice (mix and let it stand for 10 min)
🔹 1 egg
🔹 1 tablespoon butter, melted
=================
Chocolate pancakes
🔹 1 cup of flour
🔹 1/4 cup bitter cocoa powder
🔹 1/3 cup granulated sugar
🔹 1 teaspoon baking powder
🔹 1/4 teaspoon salt
🔹 1 egg
🔹 1 cup of milk + 1 tablespoon of lemon juice (mix and let it stand for 10 min)
🔹2 tablespoons butter, melted
---
Instructions
FOR BOTH MIXTURES, SAME PREPARATION MODE:
In a bowl mix the dry ingredients (flour, sugar, baking powder and salt)
In another bowl mix the liquid ingredients (buttermilk, egg and melted butter)
Add this mixture little by little to the other bowl, mix everything until well integrated.
In a frying pan with a little oil or cooking spray, cook the pancakes for 2 minutes per side.
Serve accompanied by what you like the most, it can be sweet or salty things or a mixture of both as seen in the photos.
Prep Time:

20 min

Cook Time:

5 min

Category:

Breakfast

Cuisine:

American
Keywords: breakfast, pancakes, chocolate
This delicious idea is perfect for sharing a tasty breakfast or weekend brunch with the family, or simply when you want to start your day with something yummy. Pancakes take little time to prepare themselves, it is just waiting to cook several at the same time, and if they have two pans, the process will be much faster and easier.