I felt a huge curiosity to figure out the taste of these scones as soon as I learned that the recipe had rosemary on it. And of course, this herb is usually utilized more for salty preparations. And I had the pleasant surprise that the mix of the dough with rosemary and a touch given by the apricot jam was truly exquisite.
These scones are super easy and quick to make, perfect for tea time.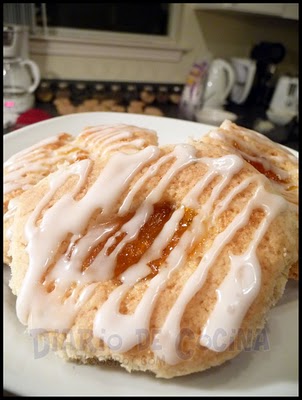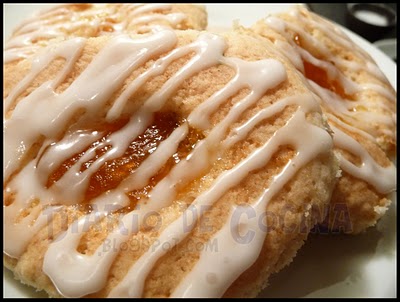 INGREDIENTS:
2 cups of flour
1/2 cup of granulated sugar
2 teaspoons of baking powder
1 tablespoon of finely chopped rosemary
A pinch of salt
70 g (2.5 oz) of margarine (ideally without salt)
1/2 cup of apricot jam
1 cup of heavy whipping cream
FOR THE ICING:
1 cup of powdered sugar
The juice of a large lemon
Drops of water, if necessary
PREPARATION:
Preheat the oven to 190°C (375°F)
Mix all the dry ingredients, including the rosemary. Cut the margarine into small pieces and mix with the above (you may use the hands to do so). Then, carefully add the cream to the mix.
Once the dough is ready, stretch until it gets to 1.5 cm (0.6 in) thick.
Cut the dough into circular shapes (for the scones). Then, in the middle of each of these circles, push down a little with the help of an scoop (e.g. like the one used for ice cream) or a finger, to fill that small space with jam.
Bake for 18-20 minutes.
Remove from the oven, let them cool down, and finally decorate with icing.
PREPARATION FOR THE ICING:
In a bowl, mix the sugar, lemon juice, and water (if necessary).