This year I received an invitation from Sprouts supermarkets here in the United States, to become an ambassador during these months of year-end festivities. And the truth is that the experience has been very good, as I've been able to get to know much more the products that the Sprouts supermakets offer to their clients, and that way seeing the large number of organic products they have, as well as their variety of fruits and vegetables. It's nice to visit this supermarket, not only because it has several locations, but it also fits perfectly in my blog at this time, as I've been trying to largely focus in making healthier recipes, especially with good quality products.
Sprouts Farmers Market is a healthy grocery store offering fresh, natural and organic foods at great prices. Sprouts offers consumers a complete healthy grocery store experience featuring fresh produce, bulk foods, dairy, meat and seafood, bakery, vitamins and supplements and more. The bright, open stores showcase fresh-baked goods, eclectic beer and wine, and thousands of natural, organic and gluten-free groceries.
In November I also participated in a cooking class given by the dietitian Marisa Moore, and sponsored by Sprouts with their fantastic products. Best of all is that the class was presented in one of the locations of The Cook's Warehouse. Everything was very nice, and I got to meet other bloggers from Atlanta.
In this class we were able to get inspired to come up with more nutritious ideas when thinking about the year-end holiday menus. This can be a challenge, which is why I chose these recipes that I bring you here today.
* I should mention that this post was made thanks to a gift card I received from Sprouts, in order to buy all the products that I used in these recipes, but all the opinions are 100% mine.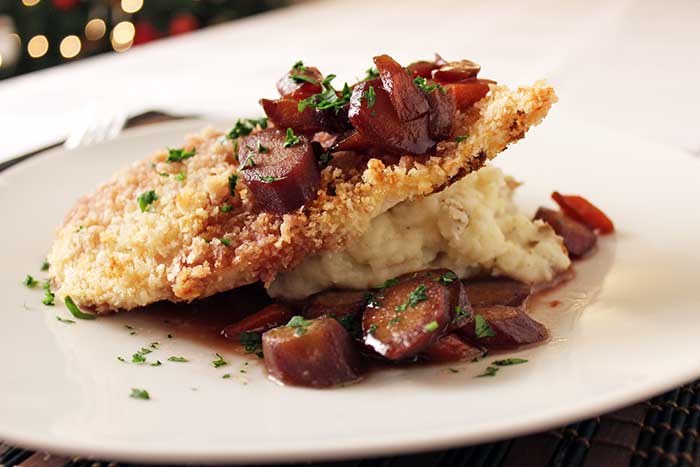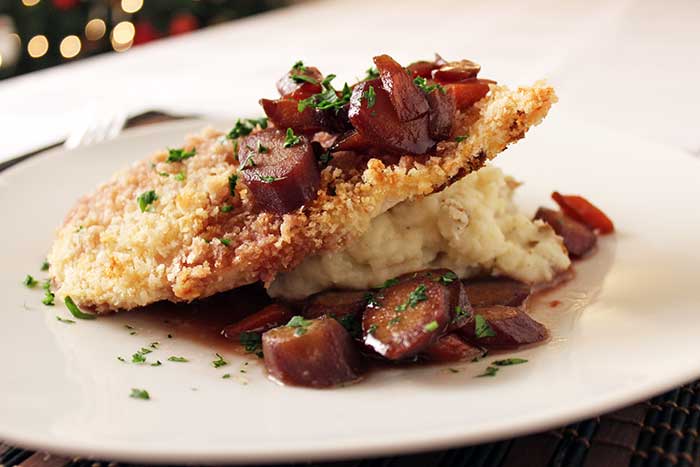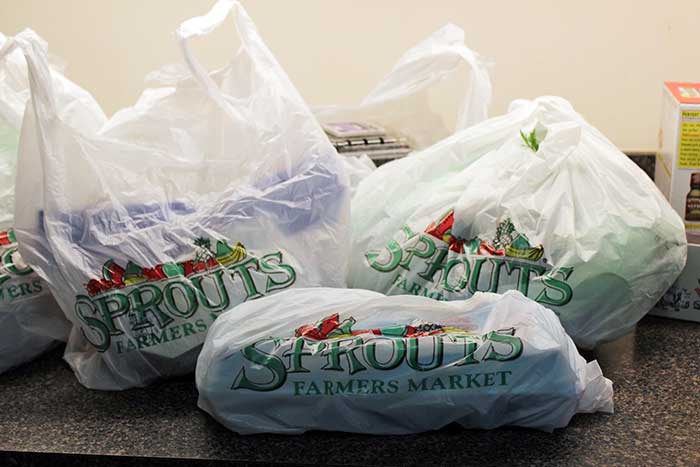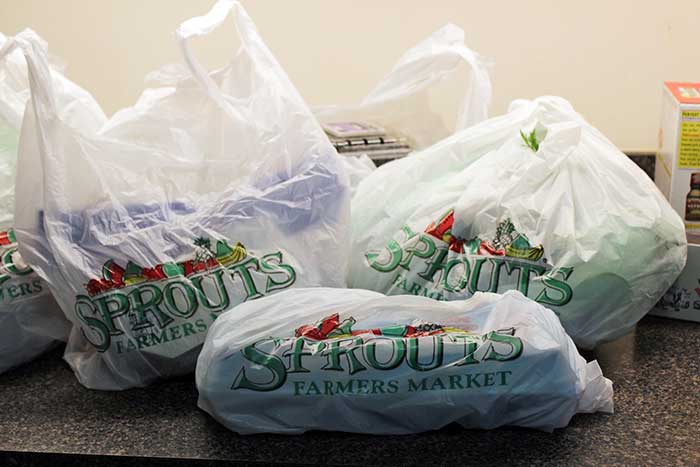 Even though I prepared a main-course dish, ideal for year-end festivities, I also wanted to prepare an appetizer, ideal as a pre-dinner snack. This version is very similar to the one presented by Marisa in her class.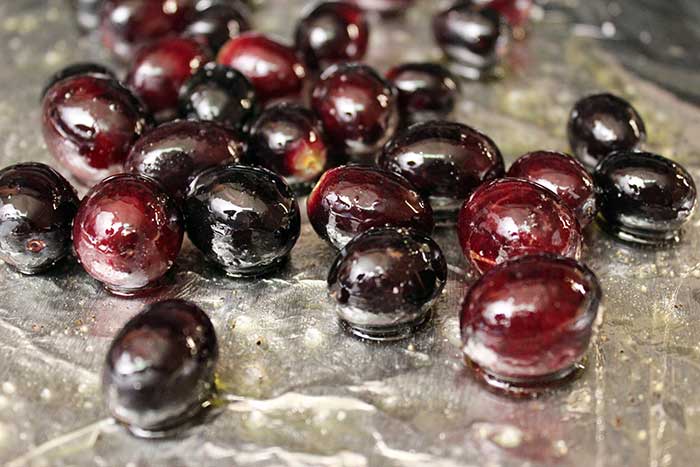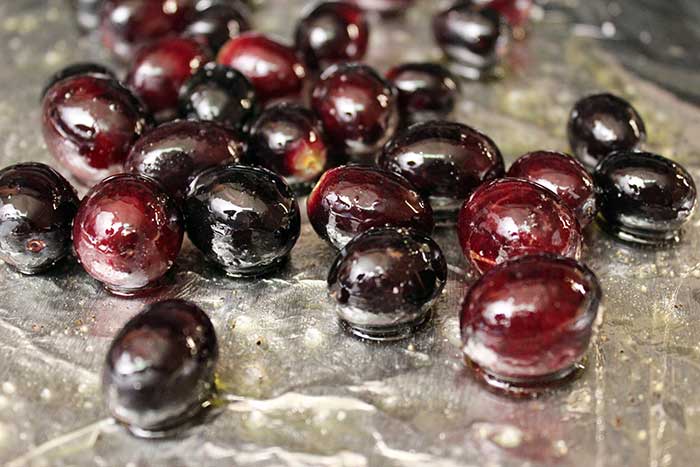 These organic carrots have a fabulous taste, and you can also find the traditional organic carrots in Sprouts.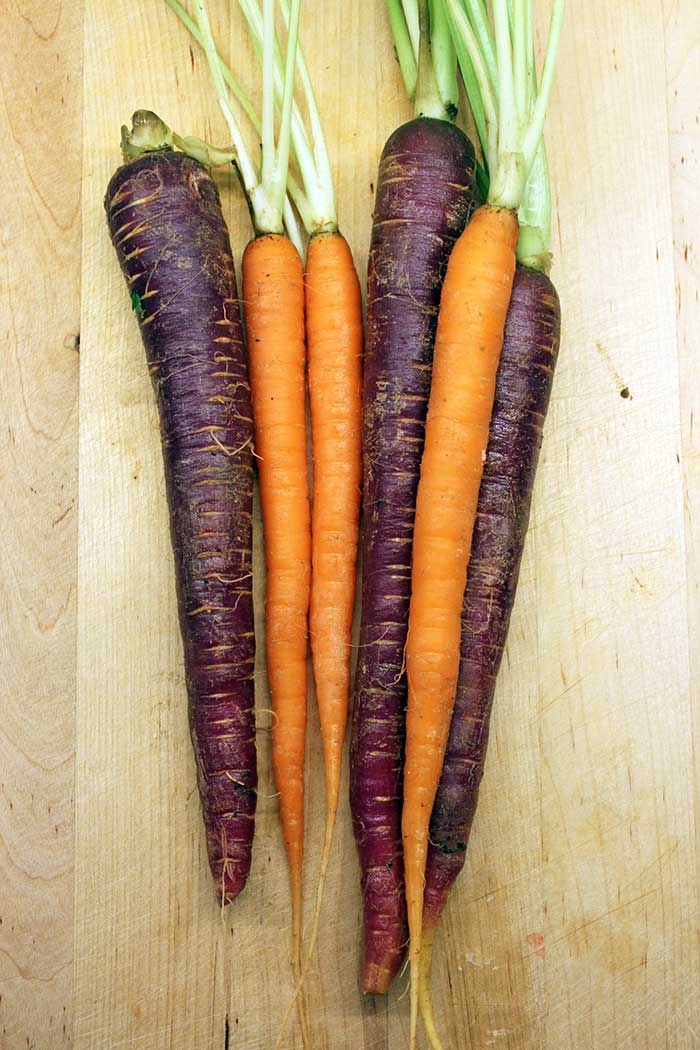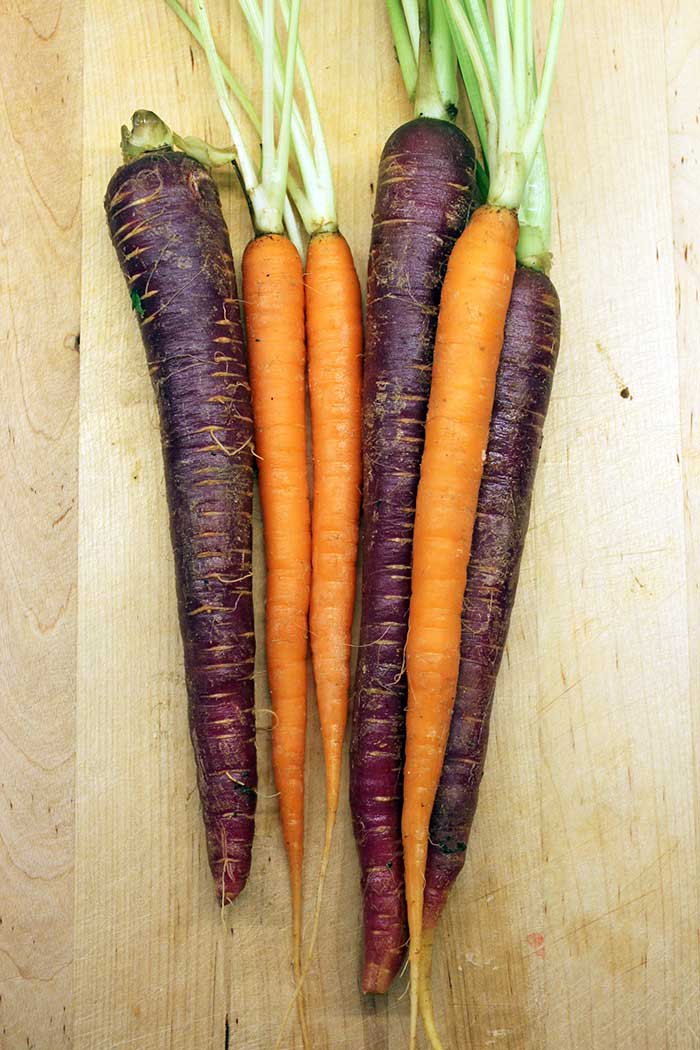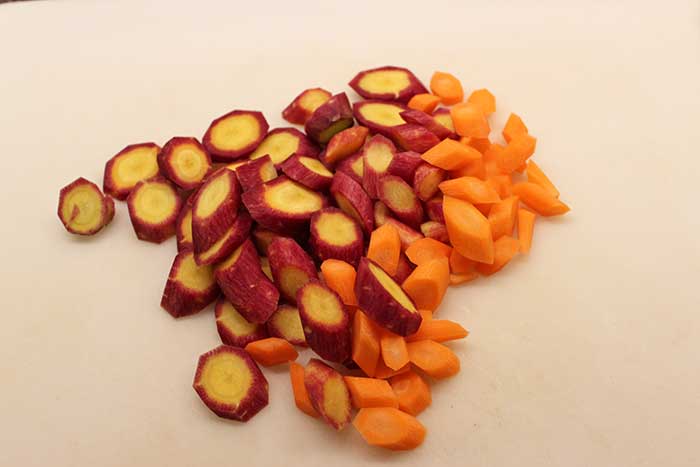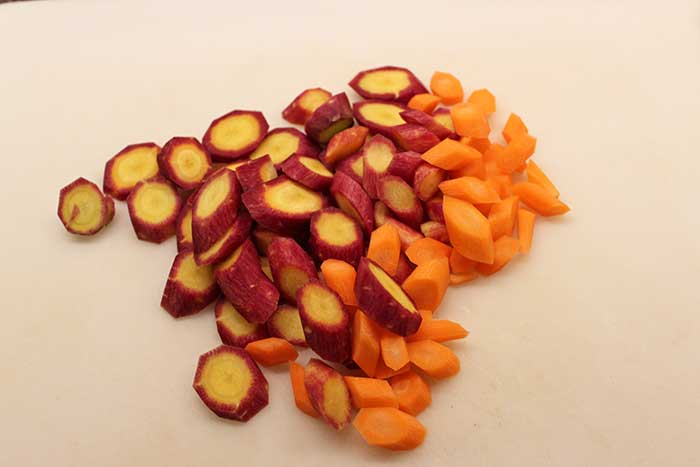 Cook the potatoes in the oven, as it will result in a more concentrated and tasty mashed-potatoes mix.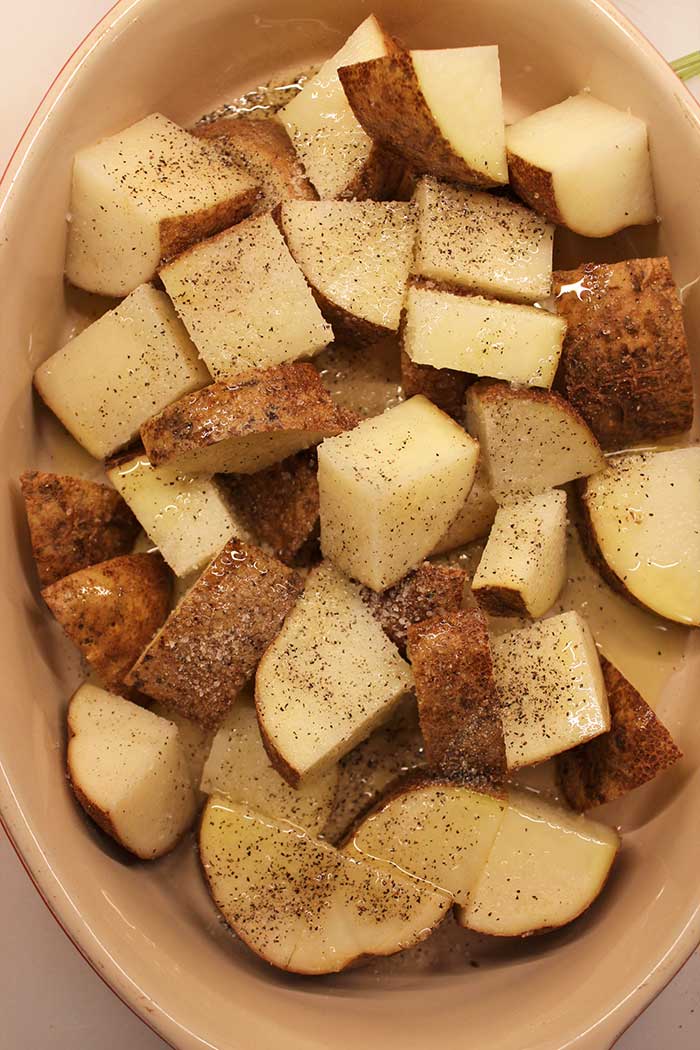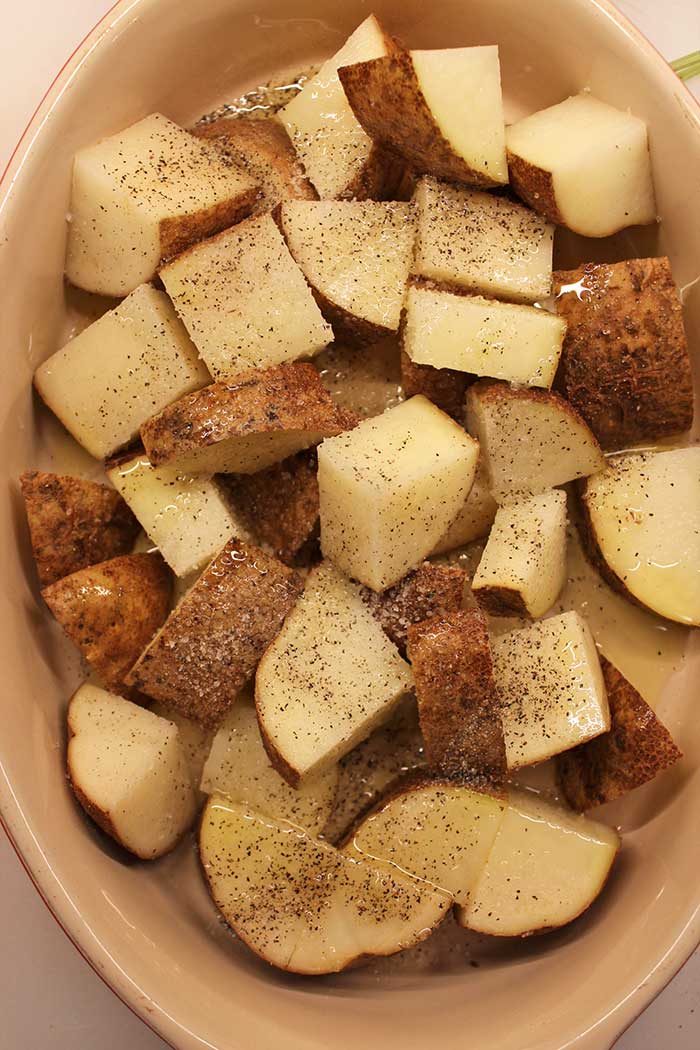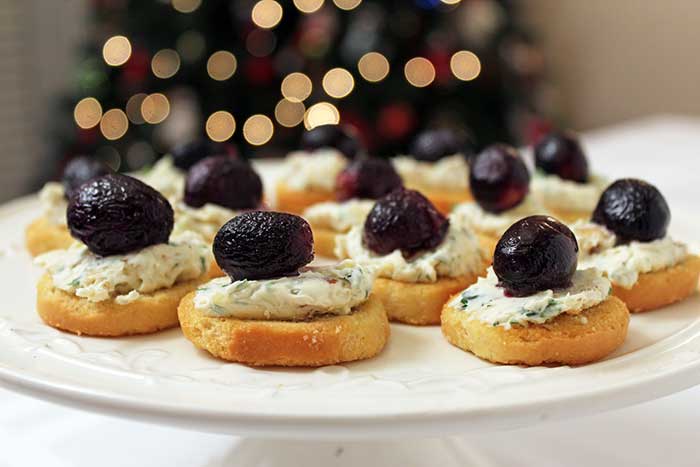 For this appetizer, you should buy some crostini-like small breads that Sprouts sells. Also, buy organic black grapes, which you should spray with olive oil and pepper, and bake for 10 minutes at 350°F (180°C). Meanwhile, use cream cheese mixed with 1 tablespoon of chopped chives, 1 tablespoon of chopped parsley, 1 teaspoon of chopped nuts, salt and pepper.
Cover each bread with this spread, and then place a grape on top.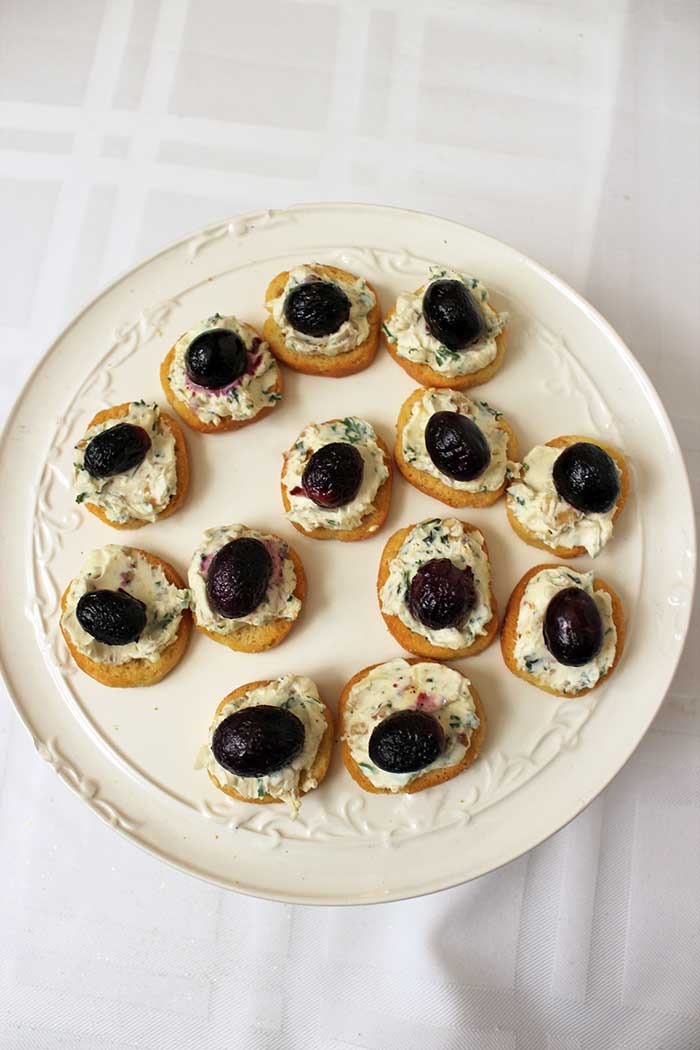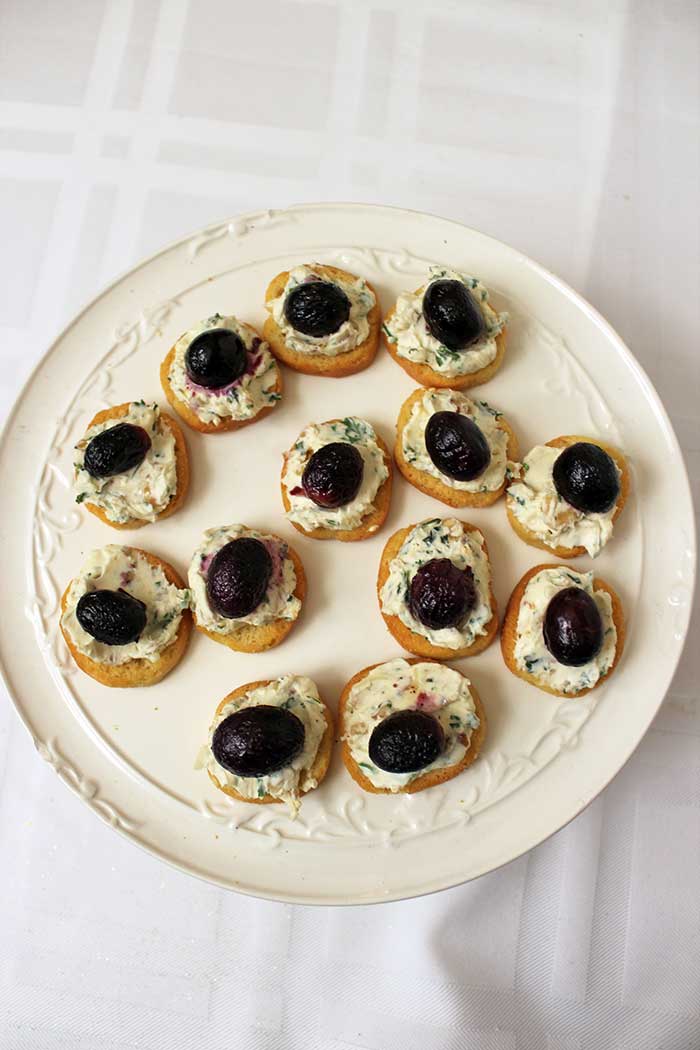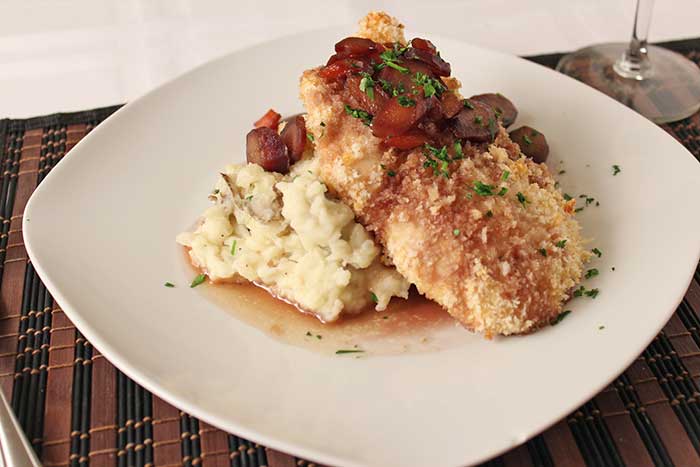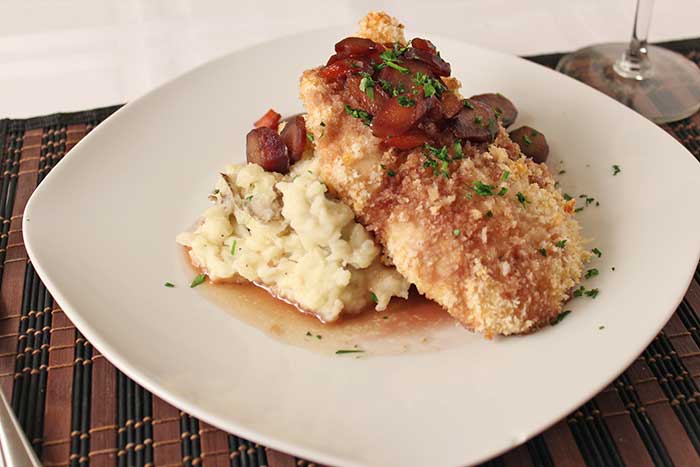 Print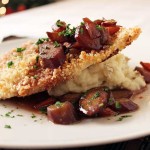 Breaded chicken, with carrots and rustic mashed-potatoes
---
Total Time:

1 hour 5 mins

Yield:

2

1

x
2

small chicken breasts

3/4 cup

of Panko (Japanese breadcrumbs)

1

egg

1/2 cup

of flour
Salt and pepper to taste

4

to

5

units of organic carrots

1 tablespoon

of oil

1 tablespoon

of brown sugar

1 teaspoon

of chopped parsley

2

large potatoes

1 tablespoon

of olive oil
Sea salt to taste
Pepper to taste

1/2 cup

of low-fat milk

2 tablespoons

of unsalted butter
---
Instructions
Preheat the oven to 400°F (200°C).
Cut the chicken in a fillet manner. Season with salt and bring each piece to flour, stirred egg and Panko (if you like, you may season the Panko with some herbs that you may like).
Place the chicken on a tray covered with foil covered with cooking spray or butter.
Bake for 25 minutes.
For the mashed potatoes, cut the potatoes into not very large pieces, and preserving their skin. Season with sea salt, pepper and olive oil. Cover the baking tray (where the potatoes were baked) with aluminum foil, and bake for 25 minutes at the same temperature as the chicken is still cooking.
Before removing from the oven, check that the potatoes are tender.
Once ready, mash the potatoes and mix them with warm milk and melted butter. Rectify flavors, i.e. check if their salt and pepper contents tastes good.
For the carrots, peel them, and cut them into medium pieces. Then, in a skillet with hot oil, saute the carrots for about 4 minutes. Add 1/2 cup of chicken stock. Cook for about 6 minutes more until they get soft. Reduce the broth and add the brown sugar, cook without cover and finally add a teaspoon of butter.
To assemble the dish, place some rustic mashed-potatoes over the breaded chicken and then some carrots in their sauce.
Prep Time:

40 mins

Cook Time:

25 mins