THIS POST HAS BEEN COMPENSATED BY RUMBA MEATS AND DIME MEDIA. ALL OPINIONS ARE 100% MINE
When quality ingredients are available, it will be very easy to obtain incredible flavors in our meals, you just need to encourage yourself and be inspired! And it is not necessary to overcomplicate. In fact, with simplicity, we can achieve tasty recipes for our family.
Pastas are so popular, with which we can make hundreds of food combinations. This time I wanted to use Beef Cheekmeat. And everything started at the time I placed my online purchase order. Can you believe that through Amazon, I searched for Rumba Meats, and found interesting varieties of meats? And I decided to buy an assortment of 4 types of beef cuts, among them came this cut of cheekmeat. After just 3 days, I had my meat order at the door of my home.
In the video below you can see what types of cuts I found, thanks to Rumba Meats. I really recommend to those who live in the United States about this excellent option for buying meat, perfect for those who do not have much time or do not have any good meat store around.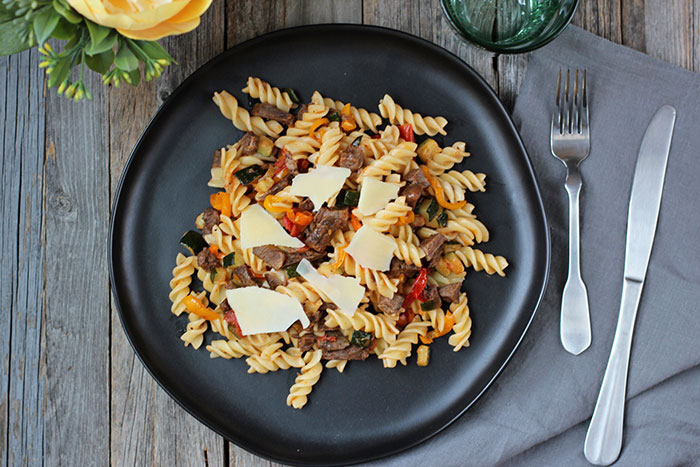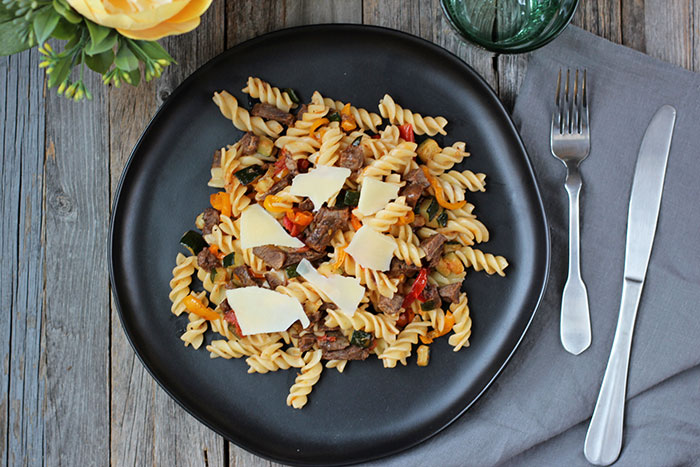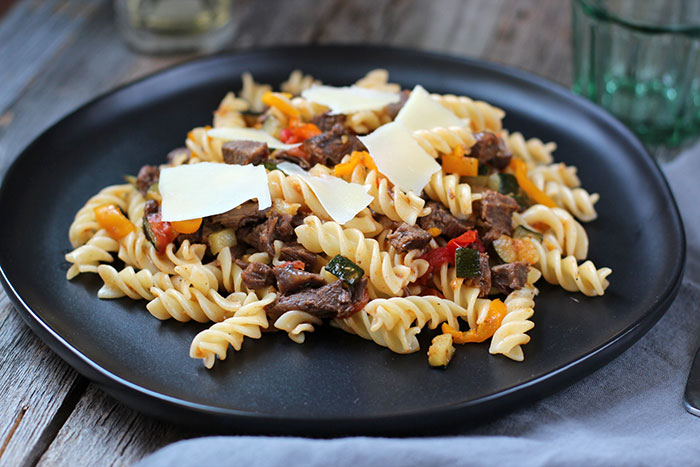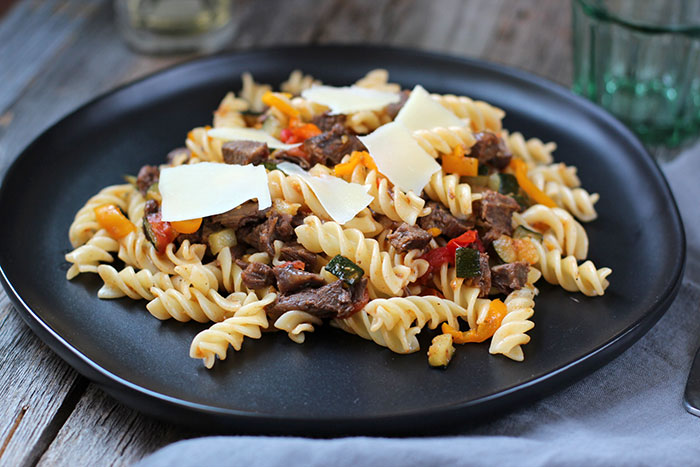 I can tell you that this cut of meat (called cheekmeat), is super tender, soft and juicy. Very tasty if you know how to prepare it. It is perfect for slow cooking.
That is why I used this meat for my pasta. I had the meat prepared ahead of time already, because if you cook it as I indicate below, you can have this meat ready for other preparations too.
Print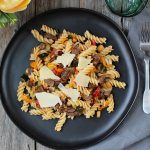 Pasta with beef and vegetables sauté
---
Total Time:

40 mins

Yield:

4

1

x
FOR THE MEAT PREPARATION
Rumba Meats® Beef Cheekmeat (4lbs / 1.8 kg)

1 cup

white wine

2 cups

of meat broth or water

1 teaspoon

cumin

1 teaspoon

salt

1/2 teaspoon

pepper

1

garlic head, halved

1

onion, cut in 4 pieces
FOR THE PASTA
1

pack of pasta of your choice (I used rotini)

1 teaspoon

salt

1 tablespoon

olive oil

1/2

onion, finely diced

1

zucchini

1/2

red or orange bell pepper, cut into small pieces

2

chopped tomatoes
Salt and pepper to taste
Parmesan cheese to taste
---
Instructions
In an iron pan ideally (otherwise you can use any other), add the beef and all the other ingredients: red wine, meat broth or water, cumin, salt, pepper, garlic, and onion. Cook for 2 hours over medium heat. When the meat is soft, remove from the heat and liquid.
Cook the pasta according to the directions in the package, add salt into the water to be used for cooking the pasta.
For the preparation of the pasta, in a frying pan with some olive oil, sauté the onion for 2 minutes, then add the zucchini and paprika, cook for about 3 minutes, and then immediately add the tomatoes. Season with salt and pepper to taste. Then add the minced meat. Cook for about 2 more minutes, so that everything is integrated, and finally add the pasta.
Mix everything very well, and remove from the heat.
Serve the pasta with Parmesan cheese on top.
Prep Time:

20 mins

Cook Time:

20 mins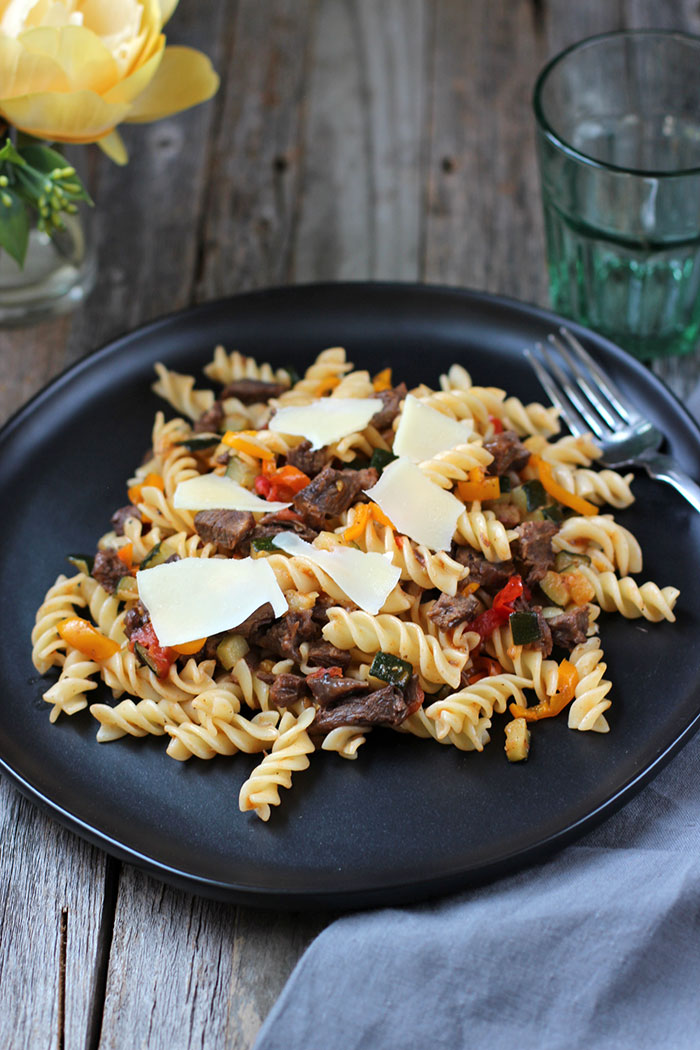 Don't miss this excellent opportunity to purchase Rumba Meats, thus getting quality meat at the door of your home, which is why I want to share this purchase option with you along with a super discount code of 75% off, that will only last until July 23rd, 2018. You just have to click HERE to buy and see the varieties of Rumba Meats products, and add the discount code 75DIARIO.
Share your questions and thoughts in the comments section below!