I am a big fan of this traditional French bread. And quite a while ago I attended a baking workshop in which I learned to make different types of bread, among them was the famous Brioche. That time they taught me a faster alternative way to make it. As you can see in the photos, I made two types of this bread; if you do not have the traditional Brioche mold you can also use a rectangular mold, and this recipe will give you two loaves. If you use the Brioche mold, you'll get just 1 loaf. Nevertheless, there are many forms that chefs have been giving to this delicate, light and tasty bread.
Print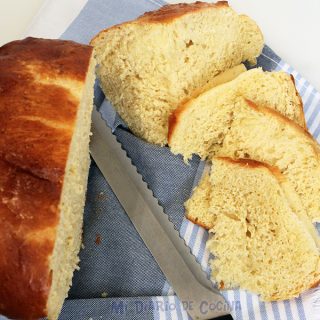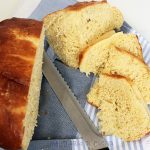 Brioche
---
Total Time:

1 hour 15 mins

Yield:

6

1

x
½ cup

of liquid milk

1 tablespoon

of powdered yeast

3 cups

of (ideally) bread flour

116 grams

of cold unsalted butter

¼ cup

of sugar

1 teaspoon

of salt

4

eggs

1

extra egg for brushing over the brioche
---
Instructions
In a bowl, warm the milk in the microwave. Pay attention not to heat it too much.
In a bowl mix the milk and the yeast, dissolve.
Add a cup of flour, mix well and let it stand for 20 minutes.
Then, ideally in a food processor or by hand with a lot of energy and a good fork, mix the butter, sugar, salt and eggs. If you use the food processor, it will give the impression as if the dough got bad, but don't worry as that will change.
Add the yeast mixture. Unite it well.
Then add the rest of the flour. When everything is very united, let the dough rest for 10 minutes on the same food processor, or in the bowl if you are working by hand.
Once the standing time has finished, knead the dough again, about 6 times until it gets elastic.
Divide the dough into two equal parts if using a rectangular mold. On each mold, place a baking sheet. Place the dough on them, giving them shape previously. If you use a Brioche mold, form a large ball and place it into the pre-buttered mold.
If for some reason the dough got sticky, place it in the refrigerator for about 20 minutes before transferring it to the mold.
Once the molds are ready, let the dough rest for 30 minutes to 1 hour, depending on the temperature you have in your kitchen in general.
Preheat the oven to 180°C (350°F).
Just before placing the Brioche in the oven, brush over it with a mix of stirred egg with a pinch of salt.
Bake for approximately 25 minutes. The Brioche should get a golden color.
Prep Time:

50 mins

Cook Time:

25 mins